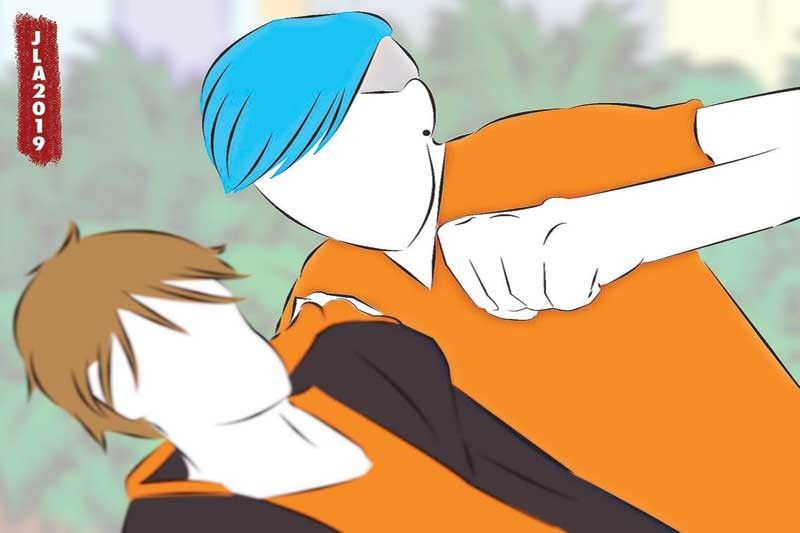 What if your child is the bully?
'Never attempt to rescue your child from the pain of school disciplinary consequences.'
When parents receive a call from the school principal telling them that their child is a bully, the parents' initial reaction would be denial. In order to help the child to stop being a bully, the parents must learn to accept the situation and be open to having their child undergo therapy. Parents should not feel at a loss in helping their child. Yes, there is hope for a bully.
There is no single recommended mode of therapy. First, it is important to figure out the root cause that led to this maladaptive behavior. What went wrong in the attachment relationship of the child with the parents that led to the child assuming the dependent role in the parent-child relationship to that of the dominant role? The child will not be receptive to adequate parenting once the child becomes bossy, dictating to the parents what they should do for him or her and becoming upset over the parents' failure to conform to his or her demands. This is the start of the development of self-entitlement.
This child may further develop into a bully if he or she learns to also exploit or take advantage of the vulnerability of others. Perhaps, this child may have likewise experienced being intimidated and shamed that led to his or her psychological or emotional hardening. Was there emotional separation from his or her primary caregivers/parents that made him or her feel unsafe? In such a scenario, the child's brain will accommodate to make the child not to feel as much, thereby losing the capacity to empathize with the pain of others.
Continuously labeling the child as a bully will definitely not unmake the bully behavior. Therapy must gear towards bringing the child back in the right kind of parent-child relationship and learning again to depend on the parents who are responsible for the child. Parents must be on their child's side, protect him or her and make the child feel that he or she is safe. The emotional hardening of the child will resolve when he or she feels that his or her parents are shielding him or her with a safe relationship. The parents, too, will need guidance on how to handle their child, on how to convey to their child that they can handle and satisfy his or her emotional need for a safe and secure relationship with them.
There are other reasons that lead to bullying. It could be due to peer pressure, the child's incapacity to control his impulses or anger, the child having a sense of entitlement or it could be his or her reaction of being bullied.
Once the parents learn that their child is a bully, they must talk to their child as soon as possible to make the child know that they are aware of the situation and problem and to stress to the child that the bullying is not right, not acceptable and will not be tolerated at home and in school.
Find out the root cause of your child's bullying behavior. If your child has also been a bullying victim, help your child deal and cope with the bullying he or she suffered.
If a child bullies other vulnerable kids to become popular or be part of a peer group, parents should learn to address and relay to their child the importance of healthy relationships and likewise learn to resist unhealthy peer pressure.
Remember that parents should never reinforce their kid's bullying behavior by giving approval of the child's excuse for his or her bullying behavior. Stress to the child that the bullying behavior is his or her choice no matter what his or her reasons are. The child must also learn to accept the responsibility and consequences of his or her bullying behavior. For example, if a child uses a mobile phone or computer for cyberbullying, then a consequence could be loss of computer or mobile phone privilege.
Loss of privilege is an effective way to discipline a child or even a teenager. Parents should clearly communicate the length of time of the revocation of their privileges. Parents should also coordinate with the school and cooperate with its disciplinary strategies. Never attempt to rescue your child from the pain of school disciplinary consequences. Physical punishment is not recommended as this will further maintain the cycle of violence.
Why else does your child bully? What skills does your child lack? Does your child lack impulse control and can't manage his anger, which turns into rage and bullying? Are these problems due to poor self-esteem? Parents will need to help their child see his or her self-worth and value. The therapist can guide the parents in helping their child develop self-esteem and confidence and manage their anger issues.
Parents should avoid bullying or shaming their child in front of others. The child may model after the shaming behavior of the parents and start to bully others by shaming and humiliating others. In this scenario, the therapist will guide the parents in instilling the capacity to respect others and to empathize with their child in order to prevent further bullying. Therapy for the child and parents is needed to unmake the "bully kid" label.
Remember that a child who bullies other kids can still change. But parents must step up and address the situation immediately because once their child perpetuates his or her bullying behavior into his or her teenage years and into young adult life, this will gel permanently into his or her personality as an adult with an antisocial personality disorder. *
(For questions on love, looks and relationship, e-mail the author at nina.halilijao@gmail.com. A blessed and prosperous New Year to all!)