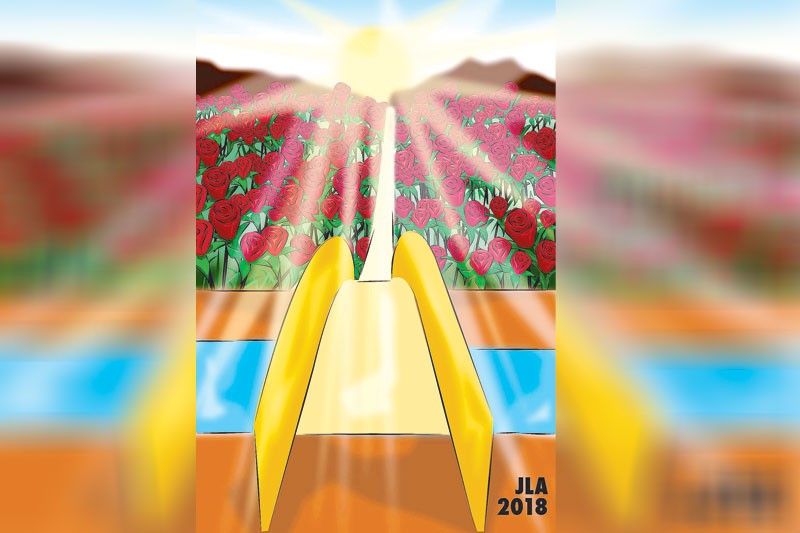 Illustration by JAYMEE L. AMORES
t's like peeping into a keyhole and seeing a world so dark: the voices of man quarreling are too noisy. The spirit of materialism and narcissism is everywhere.
Scenes of war and conflict abound. Every moment around the world, egos go on rampage from bullying, political maneuvering, to heartless and senseless killings. Then, lets add a planet in total environmental disarray. So, I stepped back from the keyhole and refused to be sucked into that world. It is a "lower" material world feeding off itself, where evil is now allowed to run rampant and wild. We are shocked at the audacities of any lack of morality and, in some aspects, jaded at the way the world seems to be spiraling downwards. It is a world I push away from. A world where, like Humpty Dumpty having fallen off the wall, now sees his shattered pieces all over the place. And the wound, now open at its crisis point, streams out pus.
Someone asked me over the holidays if things were going to get better this 2019? And why did it seem that evil has the upper hand? I answered that the "forces of good" were still in pockets and have not come together as a united force. What I was trying to explain to her was that it depends where each one will align with. We have choices to remain asleep and stay in the world of lower vibrational energies or we can awaken, live more conscious lives to create a better, more positive peaceful world. If we subscribe to the new findings of quantum physics that everything in our world is a manifestation of energy, then it's clear which level of consciousness is stronger today. Majority are asleep and need to be jolted to awaken, others see things with clarity and help to build a world on a higher level. What we cannot deny is that we are living in remarkably interesting and exciting times. After all, the birthing of a new world defined by the "Age of Aquarius" is no easy task.
I would define the "darkness" as the present supremacy of the lower negative forces, the absence of soul and spirit, and the reign of the ego in the purely materialistic desire to control the world. It is a dismal, weary humanity that we are becoming. I won't even give local examples because it is a global shift that is happening now as these changes move faster.
Spiritual initiation energies are forcing us to move to the next level. The more conscious and awake we are, we can embrace the new things being born, innovated and created. We are being awakened to spirit's presence in everything, and being nudged to take on our soul (our higher selves), and not merely live from our egoic personality level. We can only build bridges of light above the ensuing darkness when we live our lives from the level of our soul.
I remember describing to a friend last month that in the evolutionary path, the esoteric (formerly hidden knowledge, which is hidden no more as everything is out on the internet) towards the Aquarian Age shift is literally a shake-up. First, the shake-up of institutions: where the re-organization of the political, economic and financial institutions must all be broken up for new ones to emerge. These institutions will be more rational and just, to support a more sharing, inclusive and fair world where there is plenty that can be shared with many. There will be a direction to simplify our lives so our environment can begin to heal itself.
Second is the shake-up of the mind, which the internet is very ably doing. Not only are we addicted to it, but the 24/7 internet culture we are in is information explosion galore. Hopefully with all the information we have, we take them in for knowledge to be transmuted to wisdom. The third shake-up will be that of the earth, a living being — literally shaking up as it begins to groan and moan as our present systems continue to "rape" her. Yes, natural disasters will continue to take its toll on both man and land. If we can see these earth changes with less fear, and understand that these are part of the evolutionary shift that our earth is likewise going through to get to a higher level, then we can pragmatically plan towards sustainable communities and a spiritually attuned life.
The most important thing we can do this 2019 is to build bridges of light.
How do we build these bridges? First we need to begin with ourselves, in embracing a higher divine purpose by choosing to live from the higher aspect of ourselves. We can seriously take on the following:
1. Daily meditation-prayer and quiet time to bring us into our Christ-space, our Buddha nature, the "Kingdom" within, and to study subtle energies. As everything in the universe is energy, it will be wise for us to study these because our inner world is itself a universe within.
2. Lightening and cleansing the body and mind through safer cleaner choices of what we take in, what we eat, read, listen to, etc.
3. Making a choice to serve, and finding ways and means to do this.
4. Flowing in obedience to the Higher command. This last one can be taken in many ways: from listening to your higher soul-self, listening to our intuition, living the religious spirit or philosophies beyond mere doctrines so we can integrate spirit more into our daily lives.
The second step in building bridges of light is to embrace the spirit of collaboration. It's all about the groupie period, where working with like-minded people increases our impact of good we can do in the world. Our collaborations allow us to quiet down our personal egos as they strengthen our ability to see beyond ourselves and to change and compromise on various issues, as we build new things.
The third step is to live sustainably and simplify as we draw ourselves in harmony and closer communion with the planet and yes, the universal cosmic forces, too. It is about right relationships — to ourselves, to the community and the planet.
You will know those who work from the soul level. They shine. They know there is light within that needs to be revealed. All of us can speed things up, we can slow things down, but once we are conscious of this light within, we can never forget it.
So, in this new year, let me share one of my favorite world prayers called "The Great Invocation:"
From the point of Light within the mind of God,
Let Light stream forth into the minds of men, let Light descend to Earth.
From the point of Love within the Heart of God
Let Love stream forth into the hearts of men, May Christ return to Earth
From the center where the will of God is known
Let purpose guide the little wills of men — the purpose which the Masters know and serve
And from the center which we call the race of men, may the plan of Love and Light work out, and may it seal the door where evil dwells.
Let the plan of Love, Light and Power
restore the Plan on Earth.