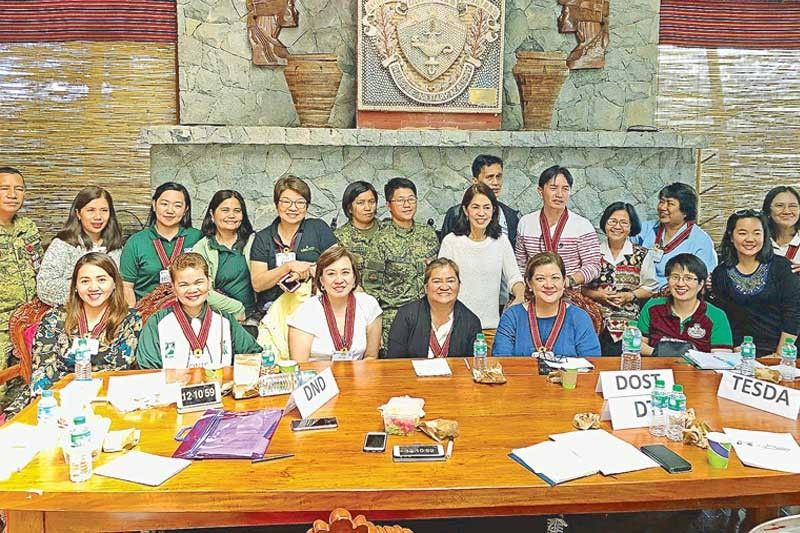 Key players for the Tublay, Benguet eco-tourism development under ILOVE Foundation. Gina Lopez (standing, eighth from left), Tublay, Benguet Mayor Arman Lauro (standing, 10th from left), Onie Aguinalde of the University of the Cordilleras (seated, second from left) and mentors Chit Juan (standing, fifth from left), Reena Francisco (seated, fifth from left) and this writer (seated, third from left) with representatives from local government agencies DENR, DTI, DOST, DA and DND.
Journey to sustainability
After a decade, I made my way back to Mount Banahaw. The barrio was the same yet not. Small market stalls were still there, but now, in a once open rainforest, someone had bought land and fenced a huge part of the entrance to the first puwesto of Sta. Lucia with concrete perimeter walls. While buying vegetables, a lady vendor lamented how she and the rest were all asked to relocate. A resort would be built there, and new shops will come up she told me. I suggested: Perhaps you can supply them or work there? I could empathize with the small vegetable seller. It's the story of the big boys stepping in.
Earlier this year in Singapore, I had the good fortune to attend an executive course on Cross Border Trade at the National University of Singapore. It brought together representatives from the diverse fields of government policy, academe, enterprise and big business. The core discussion was on what we are doing in the region with two big influences looming over everyone. First was China Inc., and second, the omnipresence of technology in all aspects of life. Listening to all these saddens me. What then do small developing nations do in the space of a new economic colonizer, whose economic take over has been laid out so strategically, almost insidiously for the past decade. Meanwhile, technology as a double-edged sword offers a way for the small businesses to expand to the world, and yet, artificial intelligence, too, may slowly take away many jobs.
I think of all the small producers, social entrepreneurs like us push our businesses out there against big businesses. I kept thinking that if we struggle to disrupt ourselves for the next sustainable model, then how much more is the struggle of the microentrepreneurs? The small farmers? the weavers? In the community development work we do at the ECHOsi Foundation, what we have seen as viable formats to support the bottom of the pyramid and to help them (and us, too) survive, is inclusive business. Our model we have been working with since we began was about creating ecosystems of like-minded people, groups, agencies working together in a loop of sustainability. Each is a spoke in the wheel of sustainability. Our journey in the community space has been a decade old. In the beginning, we realized that groups were working in silos and no one was really looking at the gaps and possible solutions. And so our formula became such that we stepped into the gap, with an eye to market through our two brands ECHOstore and GREAT Women, offer market access.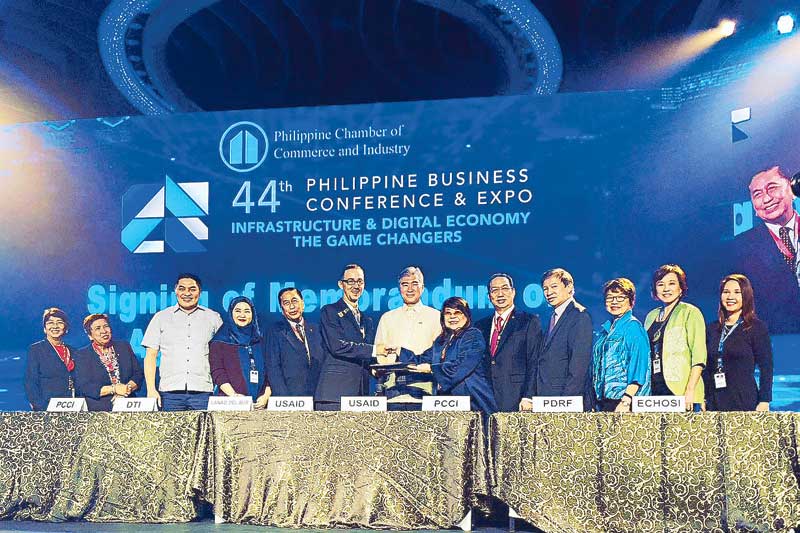 Multi-sectoral partnerships for Marawi City rehabilitation with US Ambassador Sung Kim (center) witnessing signing ceremonies with USAID Surge project. Alongside Ambassador Kim are representatives from the Philippine Chamber of Commerce and Industry, Lanao del Sur local government, Department of Trade and Industry, Philippine Disaster Resilience Foundation and ECHOsi Foundation.
Recently we volted-in with another power lady: Gina Lopez, visionary and earth warrior. Gina sought the ECHOtrio (with Chit Juan, Reena Francisco and myself) for her Quest For LOVE project (LOVE acronym means: Loving Organizations that can build Village Economies) as mentors who can help effect a holistic area development change. The project's vision is to help get the eight communities chosen by the ILOVE Foundation out of poverty. As ECHOtrio, we chose the fifth class municipality of Tublay in Benguet, Cordillera, a community project of the University of the Cordilleras, led by the dynamic VP for administration Onie Aguinalde. Through their project H.E.L.E.N. (Health, Education, Livelihood and Environment), the community arm of the university that aims to develop the Barangay Ambongdolan in Tublay as an eco-tourism destination highlighting the natural beauty of the caves (fantastic caves like Sagada!), forest, hot mineral springs, Ibaloi culture and its weaving, agri-tourism and livelihood. The community lead is the Tublay Mayor Arman Lauro, who is so open and a little overwhelmed with all the work we are guiding him to do. For Chit, the coffee plantation and training for specialty coffee market; for Reena, the food processing and value addition of produce and the café to be set up; for myself, the Ibaloi weaving center and tours training to organize.
Our second area is Busikong Greenland in Upi, Maguindanao. This multi-purpose cooperative is all about creating a model farm with sustainable agricultural practices through a chemical-free organic integrated farming system. Led by Jandatu Salik, an agri-entrepreneur, his roles are to help create a viable model, open markets and help consolidate the other farmers around the area towards the vision of planting organic produce towards agri-tourism.
For our agri-community, we have a concerted effort and plan: to teach them to plant high-value crops, use open-pollinated variety of seeds or heirloom seeds, which are GMO-free. If coffee can be planted, Chit takes the lead. For vegetables, Reena begins a list of high-value crops and plans for value addition. I look for fibers and vegetable dyes for weaving, as well as the cultural differentiator of the place. Together, we position a mind-set of "market-driven" livelihood directions. It's really been the same thing we have been doing for a decade now, telling them look to the market and plant, create, make, weave and service the market. What is different now after 10 years is that we are creating ecosystems of collaborations that support stronger impact on the ground.
Under ECHOsi Foundation, our other "dive project" for textiles is in Marawi City, where the weaving community we are working with is now part of a bigger rehabilitation plan with the USAID Surge Project, the Philippine Disaster Risk Foundation, National Commission for Culture and the Arts' School of Living Traditions, and the local government agencies. In Iloilo, we are working with the Department of Science and Technology's Philippine Textile Research Institute (PTRI), Iloilo provincial government and local mayors of Miagao, Oton, Badjangan, Igbaras and Iloilo, and the Iloilo Science and Technology University, and even the Zonta Iloilo coming through with support at our directions of creating a complete ecosystem to bring back the weaving industry in Panay. In Davao del Sur, with the Bagobos, our ecosystem includes textile innovations alongside coffee value addition trainings aligned with the Philippine Coffee Board and the International Women in Coffee Alliance.
In Quezon, we are focused on the barangays of Dolores (Mount Banahaw) and Kinabuhayan (Mount Cristobal) to consolidate organic planting with the local multi-purpose cooperative and create value-added products and help them open new markets. Working with the provincial government of Quezon, our direction is for supporting livelihood towards faith-agri-eco-wellness tourism destination sites. Other private sector partners are also studying participative collaboration to align their own projects with our holistic area development projects. The collaborations of many groups, these are what create the impact together. More so when funds are joined, when enterprise and development networks are tightened and when real solutions of gaps are answered by like-minded groups and people with a shared vision and commitment to create changes on the ground.