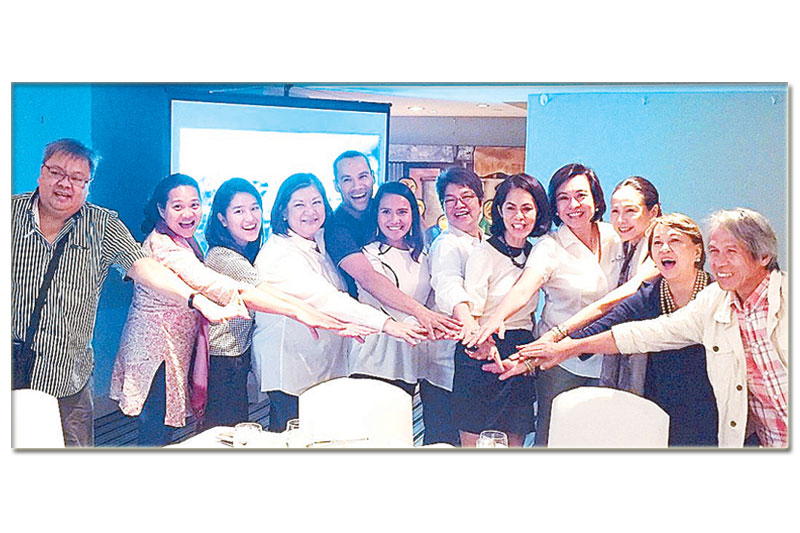 At the launch of I-LOVE (Investments of Loving Organizations for Village Economies) are (from left) Marvin Beduya, Amalia Bernabela, Christine de Joya, Reena Francisco, Ben Bernabela, Cherrie Atilano, Chit Juan, Gina Lopez, this writer, Ota Montinola, Faye Corcuera and Ben Dumaliang.
Living in a world so drastically changing and complex means we also work with new formats and must take on new mindsets.
This interconnected world is so volatile yet so interdependent in the conditions of work. We are constantly this way at the work we do at ECHOsi Foundation, where we strive to find, influence, nurture and develop sustainable practices in the supply chain of the products we sell. "Empowering Communities with Hope and Opportunities through Sustainable Initiatives" is the meaning of our foundation's acronym. What we are seeing is that the work requires us to seek collaborations as we face a world of great complexity. My recent mantra has been "VUCA," a framework acronym used by the Harvard Business School to define our world of "volatility, uncertainty, changeability and ambiguity." VUCA is written all over the situations we find ourselves in now.
How else can we explain delays in deliveries of community woven textiles when the weaving centers gets flooded by typhoon, and or the banca taking the textiles to the city capsizes due to the rough seas? These are real supply chain crisis that are brought on not so much by the community's capacity or desire to produce but what they have to go through in their own VUCA space.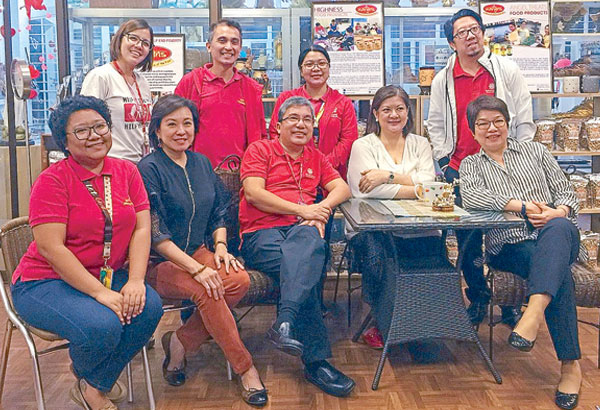 ECHOsi Foundation working with the Church poor communities through Caritas Manila's social enterprise Margins. (Seated, from left) Caritas Margins Inc. store operations officer Maya Gamboa Arcega, this writer, Caritas Margins Inc. executive director Fr. Anton Pascual, Reena Francisco and Chit Juan; (standing, from left) Caritas Manila Inc.'s Kiel Fernandez, Salvador Arcangel III, Roxanne Villanueva and Wency Rafael Lobo.
The changeability of tastes and styles has made fast fashion the "in" consumption trend. Fast fashion's process is make, sell cheap and quickly discard trendy clothes made of synthetic fibers. So in our GREAT Women community work, we push back to focus on developing sustainable fibers, looking to creating slow fashion especially when we see our weavers with no jobs, and that when they weave, they face the difficulty of finding natural fibers as everything is synthetic, and often imported from China. The consumption addiction of purchasing just anything cheap and trendy is a major force we need to fight against. In identifying products that are handmade or from sustainable sources made by small producers many of who are women fighting tooth and nail to keep a diminishing market, is the #buyimpact mindset we embrace. Yes, some products may be slightly more expensive, but just think of the environmental and social values we add points to!
Even preserving culture and traditional cultures means changing the way we run our ECHOsi Design Lab, where we guide our indigenous tribes in the redesigning of their own motifs, re-visioning and re-translation their own unique cultures within a globalized space. No force-feeding, only collaborations.
The GREAT Women coffee development programs take pains to standardize each part of the supply chain from farmer bean, crop yield, roasting and packaging to telling stories of the women farmers. All for empowering the small producers to strengthen and give them a sense of empowerment while VUCA is happening. We — as retailers, producers, manufacturers, and yes, consumers —are all in this together.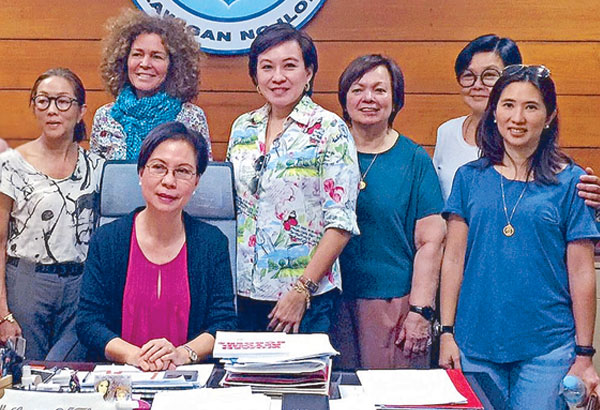 ECHOsi Foundation partnerships with local government support in Oton, Iloilo City. (Seated) Oton Mayor Carina Flores; (standing, from left) Cedie Lopez-Vargas, Dedes Zobel, this writer, Mitos Sansebastian, Candy Sy and Angela Lopez
The Slow Food advocacy of ECHOstore-café-market also stems from our desire to counteract the rise of the fast life and combat people's dwindling interest in the food they buy and eat. We go to the farmer's level to see that what they are planting are non-GMO seeds, or that farm produce are as close to organic as possible so as to try to keep as much of the purity of agricultural processes and prevent the disappearance of local food cultures and traditions. And this is why we take great pains in choosing the kinds of food products we sell at ECHOstore-market and serve at the café. For aside from the social and environmental values, there is the health value we place in life. ECHO's "H" stands not only for "hope" but also for "health."
At the core of the social enterprises and brands, around which we try to drive change towards sustainability, is the community-cooperative-small producers on the ground we need to empower. It becomes necessary to work with strong development partnership, and with partners who share the same values if we are to all strengthen and empower each other through this period of uncertainty, limbo and change. Partnerships of shared values create strong ecosystems to support innovations that can impact lives and sustainable practices.
Interestingly, in the dive to the community level where our ECHOsi Foundation work began a decade back, we are seeing more and more people come together to create greater impact. People and organizations with influence. People who choose to volunteer to work within the social enterprise space that can affect the triple bottom line of people, planet and profit. Governments and big businesses are now in chorus for inclusive business. Our programs at the ECHOsi Foundation have never been more relevant as it is now for the fight for the sustainability of our 3Gs impact: the good, green and gender.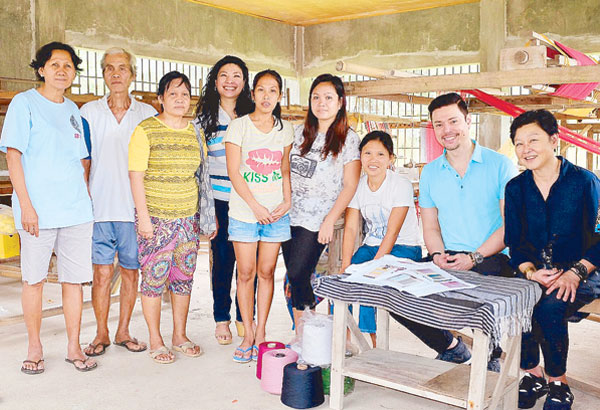 Product development on the ground with our Badjangan community weavers of Iloilo province. (From left) Elda Baldon, Nonito Lutero, Catalina Febe Caballero, GREAT Women's Imelda Canuel, Rylen Baldovino, Welnafe Dumalag, Sharon Remegio, ECHOsi Design Lab lead for GREAT Women Alex Mendoza and in-house textile specialist Candy Sy.