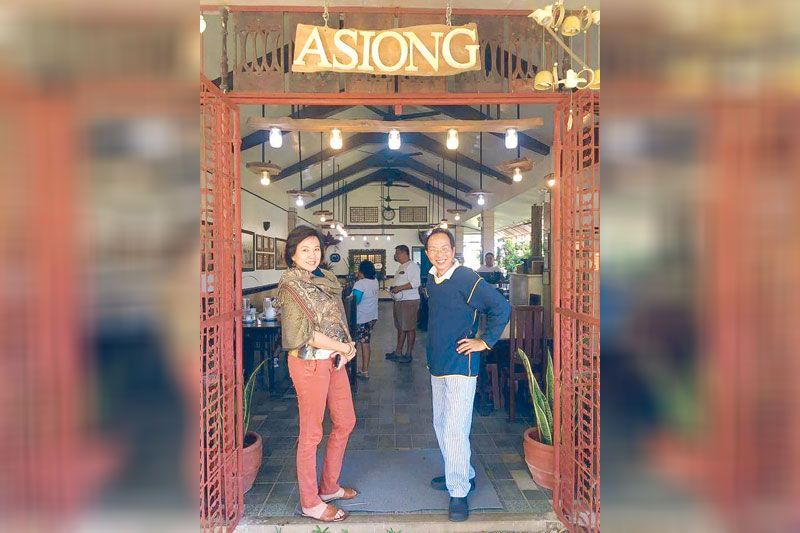 This writer with Sonny Lua.
This year, one of the resolutions we made with my two business partners-friends at ECHOstore was to take off from the city to a green destination at least one or two times a month. For one main reason: we needed to volt in together as the ECHOtrio. Getting us together in the city would be a miracle due to our hectic schedules. So planning, meetings, decision making has always been on-the-go, up in airplanes, or car trips during community visits. R&R, product development strategy and direction setting would somehow always be squeezed in, too, during these travel times. It is an ECHOtrio pattern that we started with and a pattern that has never changed.
There is a conscious choice for a healthier lifestyle of wellness that we are trying to embrace, not only because we are also meeting up with that dreaded word "aging" but we are constantly pushing for our own levels of keeping healthy in body, mind, heart and spirit. Our personal lifestyles always try to define sustainability, health, wellness, advocacies that give meaning in doing good, living green and helping women (gender), our lifestyles have become our businesses. These travels also allow us to continually align to like-minded people who share our same values to strengthen the community space of our various advocacies.
Our first weekend out this 2018 as ECHOtrio was a drive to Silang, Cavite to check out ECHOfarms, except that we went off meandering to other places before we got there!
We started with brunch in a jewel of a farm-to-table destination called Asiong in Silang. There, Sonny Lua, a slow food advocate, runs the place where he continues the heritage dishes of his mother in a simple open-air restaurant. That Saturday we visited, the wind factor made it feel like 18 degrees!
Sonny's entrepreneurial story has much drama, which includes: a family-owned Asiong from a karinderia, being the one in the family who took it on, crisis, betrayal by seeming friends, hitting ground zero with nothing. The support of true friends brought him to where he is now: peaceful, happy, creatively cooking his family's recipes and bottling artisan foods such as spreads, jams and sauces. Sonny puts to good use his interior design background as he designs his space and garden patches of organic vegetables. He refuses to be called a chef (but answers to the title of Beauty Queen!) and agrees that he is a farmer and orchid grower. His local community includes other organic farmers from whom he sources farm-to-table ingredients and fresh produce within a 20-km. radius.
Food writer JJ Yulo of the Pinoy Eats Group discovered Sonny through a common friend of ours, Cavite cultural advocate Ige Ramos, and the crowd started to come. I can keep going back there for the simple but oh-so-tasty food. Pancit pusit, the Caviteño breakfast, the tawilis fish, fresh rainbow-colored flower garden salad and pinakbet, the chorizo, and the garlic fried rice, rosella juice and the slow-brewed coffee. Well, we had the perfect combination: fresh Caviteño home cooking with lots of love, peaceful, happy positive company, shared interests, discussion on local culture and fare, a host who shared his story so honestly plus the bonus of the freshest of air in the simplest of surroundings.
Our next stop was the Nurture Wellness Village for a stress-free nature trip. We walked along its charming pathways and marveled at flowers and plants. I enjoyed my bamboo hilot massage that put me in a blissful state thereafter.
Our friend Cathy Turvill with her husband Mike has really done a great job of creating and running a world-class spa as the Nurture Wellness Village is a constant winner on TripAdvisor.
I also love the fact that the spa's services pay homage to Filipino culture. It pioneered the introduction of the Filipino cultural wellness experience. The spa menu includes Nilaib hot stone massage, Magsing-irog (lovers) couple's massage in rooms with handwoven abel Ilocos textile or Ifugao suites inspired by the Banaue Rice Terraces. Cathy, after all, is a descendant of Gabriela Silang, the 18th-century first female Filipino revolutionary leader, who took the reins of her husband Diego's revolutionary movement after he was assassinated.
Nurture Wellness Village's sustainability and eco-green footprint is central to its brand. Being part of the Zero Carbon Resorts, the spa serves organic food from its own gardens, uses compost from its kitchens for fertilizer, practices waste management and is part of the locavore movement of sourcing ingredients from their own gardens or close by.
A "Farmacy" is set up nearby with all the healing plants. We loved the garden walk that allowed us to learn about healing herbs and plants.
Sometimes, all it takes is a trip away from the city to clear one's mind and lungs, allow the green countryside to melt away stress, and meander on the path of health and well-being.
(Asiong is located at 4455 Buenavista Ave., Barrio Bucal, Silang, Cavite. To get there, use Waze and type "Asiong Silang." For more information, call 0918-5652691 or 0926-7139400. For more information on Nurture Wellness Village, visit www.nurturewellnessvillage.com.)