The miracle of a second life
January 7, 2018 | 12:00am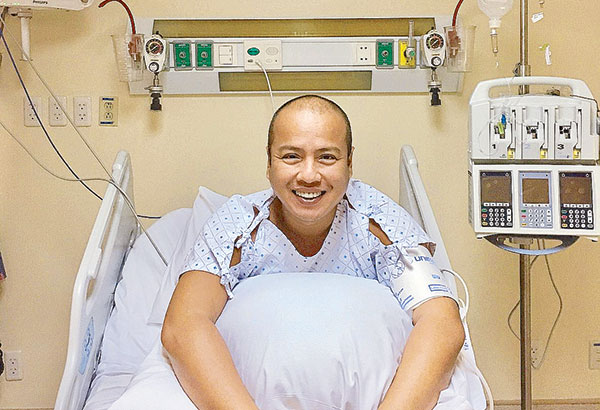 Dec. 16, 2017 was the day I almost bid the world goodbye. It was a day when everything seemed like a quick series of slides and flashes.
On that day, I was having a haircut at a barber shop in Makati when all of a sudden, I felt pain in my chest as if my heart was being crushed. I thought it was a mere heartburn so I ignored the pain. But after a few minutes, the pain still persisted and I felt my chest was getting tighter and I was already having difficulty breathing. At this point, the "crushing" feeling on my heart was so much worse.
I decided to immediately leave the barber shop and called my driver to take me to the hospital. Before heading to the Makati Medical Center, we passed by the Poblacion district to pick up a friend who would accompany me to the hospital. While on the road, I could feel my heart pounding and I was already gasping for breath. It took us 25 minutes to get to the hospital, and for me, it was a blessing that I was able to make final calls, tie loose ends with work and organize things within that span of time.
Upon arriving at the hospital's emergency room, I felt like time slowed down. It was as if everything was in slow motion. Nurses took my initial blood pressure, which was 192/140. I began to worry. Then, machines and apparatus were attached to me, medication and pain killers injected in my system. Nurses asked me repeatedly what my name was to make sure I was still alert and awake.
After a few minutes, my brother-in-law and my sister arrived. Soon, the ER doctors came back and told us that I needed to undergo more tests. During this time, anxiety kicked in and I started to wonder how the day would end because as blood was being extracted from me, I felt like life was being sucked out of me, too. I told my brother-in-law not to tell Mama because I didn't want her to worry.
When the doctors came back, they insisted that I get an angiogram and an immediate angioplasty because based on the test results, I was already going through a heart attack. I saw the numbers escalating on the machine monitoring my blood pressure: 215. 225. 230. 240. Then it stopped at 245/180. For a moment, it dawned on me that death was near and thoughts started to fill my head: Am I ready to die? Is this the end? Did I enjoy the life I lived?
From the ICU, I was rushed to the floor where the procedure took place. It was Dr. Saturnino Javier, one of the best when it comes to matters of the heart, who led the entire procedure. Everything happened fast because Dr. Javier and his team made sure the procedure fell within "the golden hour" or the first hour after the onset of a heart attack.
I was heavily sedated but remained partly conscious during the entire procedure. I knew they were working on me really well. Dr. Javier asked me three or four times to inhale and exhale. I guess to make sure I was still there, conscious and living. During the procedure, my mind was completely blank, no thoughts, just energies and the strong will to survive. After less than 40 minutes, the procedure was done. I survived and that was the beginning of my second lease on life.
After the procedure, I was wheeled back to the ICU and was left alone to recover. I cried, even though I was advised that I should not (because of my condition). The tears I cried were tears of joy because I was given the miracle of life. From the gift of sincere support of friends to the presence of the divine light, my soul came to its knees with all humility and gratitude.
The following morning, on separate times, my doctors (Dr. Javier and Dr. Clavel Macalintal) visited me. Both of them explained that my heart attack was called the "Widow maker," which is when the main artery is blocked right at the beginning of the vessel. Mine was 100-percent blocked.
Based on statistics, from those who suffered this kind of heart attack, there is only a 20-percent survival rate. And from the 20 percent who have survived, only a small percentage go back to normal while most become paralyzed, fall into a coma or are permanently incapacitated.
I felt truly blessed when I learned from my doctors how I survived that life-altering ordeal. I cannot thank enough my family, friends, light workers, spiritual warriors and others, whose collective prayers are what I breathe today.
On my third day at the ICU, I felt I was recovering fast. I did not feel even the slightest chest pain after the procedure. The brilliant work by Dr. Javier was seamless. I was already sitting down, dangling my legs on the side of the bed and in brief moments, standing as I pushed my will power further. "Let the light be my strength and guide on my way to recovery" was my mantra.
Before nighttime, I was transferred to a private room. My doctors, nurses and family were amazed on how quickly I was recuperating. All I really had at the time was a strong bundle of faith in miracles. And on the fifth day, I was discharged and was ready to go home.
"It was a close call. If you had come to the hospital a little later, you wouldn't have made it," my doctor said. Luck was on my side that dreaded Dec. 16, 2017. It made me look back and realize three lessons that saved me:
First is, don't panic. In that situation, one needs to be rational, maintain presence of mind and act quickly instead of overreacting.
Second, be positive. No matter how adverse the situation is, one can turn things around because it's all a matter of perception. Find the good in the situation because it keeps you in the right frame of mind.
Third, do not fear. One of the greatest things that can lead to one's destruction may be stopped if one wills it. It has been said that the existence of fear creates illusions, doubts, anxieties, hypertension, paralysis and a lot more. Fear is a "mother monster" — the root of all weakness and a destructive figment of our imagination.
Life is good, it's all there is. To find the good and be good at the end of the day is all that matters in life. When thrown into our most challenging experiences, our faith and beliefs become our realities.
I have always believed in miracles for as long as I can remember. For me, miracles are symbolical embodiment of all the good and love there is in the world. This has been my refuge and comfort in times of weakness. Today, this belief has become my reality.
My heart beats anew with overflowing joy towards life. Filled with love. Filled with the abundance of miracles.