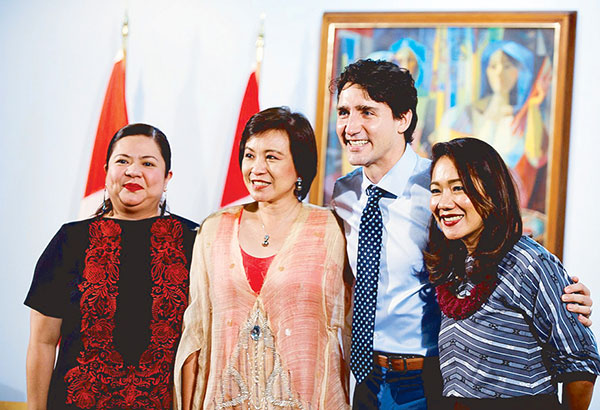 With Canadian Prime Minister Justin Trudeau are (from left) Zarah Juan, this columnist and Anya Lim.
A rock star descends on RCBC Plaza
A SPIRITED SOUL
-
Jeannie E. Javelosa
(The Philippine Star) - November 18, 2017 - 4:00pm
Rock-star power with screaming women swooning. Social media reportage. The imprimatur of impact for a small seemingly insignificant project in a developing country. These: ingredients for a world leader's power to add to his political and economic agenda. This is what happened last Tuesday, Nov. 14, in a small, tightly guarded confidential event held at the Yuchengco Museum in Makati City amidst the ASEAN Summit activities.
A week or so before this, I was getting "urgent," "urgent," "urgent" text messages while I was traveling in Iloilo to our weaving communities under the GREAT Women Project of our ECHOsi Foundation in partnership with the Philippine Commission on Women (PCW). Apparently, as part of his trip to the Philippines for the ASEAN Leaders Summit, Canadian Prime Minister Justin Trudeau was asked which of the Canadian-supported projects he wanted to highlight during his trip. Top on his list was GREAT Women. On its Phase 2, the gender-responsive economic action for the transformation of women (that the meaning of the acronym GREAT) is the flagship gender program of Canada in partnership with the Philippine government, and our ECHOsi Foundation is the private sector signatory to the agreement. We had helped innovate and bring this whole program together for the past six years.
The choice was apt, especially since one of the keystone foreign and domestic policies of the Trudeau government was the feminist agenda with gender equality and women's economic empowerment central.
The choice of venue was the Yuchengco Museum, which was perfect as this is also where the GREAT Women Brand was launched in 2014. Located at the RCBC Plaza, where the Canadian Embassy also is, the museum offered a perfectly intimate venue with tight security for the 45 people chosen to be present. The Prime Minister, I was told, wanted to be like a talk show host for a panel segment to be aired in Canadian TV. The only people they wanted there were representatives of the PCW, selected women microentrepreneurs participating in the project, entrepreneurs and some businesswomen supporting the inclusive value chain.
Charmer. That's what he is. The moment he stepped into the RCBC Plaza, women started to scream. We had set up a small exhibition of products at the entrance of the museum, and members of the GREAT Women Collective were there to greet him. Yoling Sevilla of the Leather Collection was tasked to highlight our leather and Bagobo textile collection corporate gifts and Reena Francisco of ECHOstore, who leads the food product development, showed off food products we sell at ECHOstore, as well as those supported by the Department of Trade and Industry.
"This is the GREAT Women CVO," PCW executive officer Miyen Verzosa said when she introduced me to the Canadian Prime Minister. Trudeau's questioning look made Miyen respond, "CVO is chief visionary officer," which lit up his smile. "I am the madwoman, Mr. Prime Minister, who does the crazy things," was my response and he started to laugh and say we need more of such women today to make things move. The laughter made all of us relaxed and with two other panelists, Anya Lim of Anthill Fabrics Gallery and Zarah Juan of Greenleaf Ecobags, we entered the hall.
The "talk-show" panel was fun, comfortable, intimate, substantive with much storytelling of our experiences and impact on the ground. Armed with a set of cue cards, the Prime Minister, with his boyish smile, charmed the predominantly female audience. He gamely responded to my asking him to open trade markets for us in Canada, and help us bring the GREAT Women beyond the Philippine shores to the ASEAN region. "This is an extraordinary success that you can all be incredibly proud of. But more than just the success here, it's a model for the world." I heard him say as I struggled to hold back the tears welling up. This was, after all, the golden pot at the end of this one-rainbow journey of GREAT Women I had started on years back. In the struggle to get it going, in the networking, and explaining, the confusion, the hard work for the advocacy to keep the passion going to help the small women microentrepreneurs and producers move forward. Many times, in deep frustrating times, I questioned why I was doing this. Countless times, my ECHOstore business partners Chit Juan and Reena Francisco would sit me down trying to understand where I was driving this, and my only frustrated response was that I couldn't sleep as something deep inside kept pushing me to move things forward. I couldn't even make business sense from all this. But the brand we created, GREAT Women was given to us in 2012 by Canada to push markets forward, and we responded. Then in 2013, in an APEC Women in the Economy Meeting in Bali, I was asked to represent private sector on behalf of the GREAT Phase 1 program that had ended. The result of that meeting with a number of ranking Canadian ministers, was a positive decision of the government to give the Philippines' Phase 2 (2015 to 2020) aid funds of eight million Canadian dollars, with focus to "intensify the role of private sector in the equation."
When Prime Minister Trudeau chose to miss one of the major ASEAN Summit panels he was supposed to be in at Solaire, everyone was wondering where he was. He was with us. In our intimate event, one big man put his mark behind many small GREAT Women to inspire once more our work as development workers, as entrepreneurs and as businesses to work together to push the gender needle forward.
More laughter was exchanged when we handed him our official gift with a small crochet Justin doll holding a Canadian flag dangling from the ribbons. "Does my hair look like that?" (doll had mop-like hair), he exclaimed in good fun. After all the hugging, kissing, photo-taking, I stepped away from all the mingling swooning audience. I managed to get to the entrance to see him out. And with the wonderful opportunity to speak with him alone. He asked me, "What else do you need from me, Jeannie?" A photo alone with you would be great I said, as he obliged. Then, I sneaked into his hands the book I wrote titled Women Beyond Borders, the Beginning of GREAT Women in ASEAN. This, Mr. Prime Minister, is where we are heading to next. And with a firm handshake exchanged, a twinkle in his eye, he gave me a buss on the cheek and stepped out of the museum to more screaming fans.