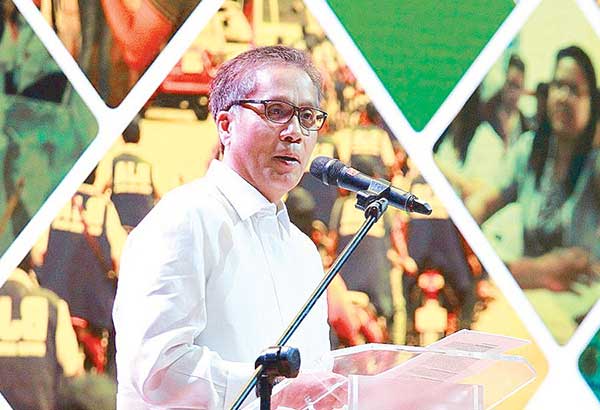 Mar Roxas talks about the legacy of his father, the late Sen. Gerry Roxas.
The legacy of Gerry Roxas
(The Philippine Star) - October 28, 2017 - 4:00pm
The whole first floor of Kia Theater in Cubao, Quezon City was full to the brim with friends and supporters of the Gerry Roxas Foundation (GRF) that celebrated its 60th anniversary and at the same time recognized the 2017 Gerry Roxas Leadership Awardees.
Founded in 1958 by the late Sen. Gerry Roxas, GRF — acknowledged as one of the oldest foundations in the country — has become a well-respected institution that empowers not only exemplary young men and women through various leadership programs, but also enables public servants and barangay justice advocates in pursuit of the foundation's mission of "creating a nation of leaders for change."
Over the years, the foundation has partnered with local and global partners to provide college scholarships, conduct community outreach activities, mobilize barangay justice advocates and become an enabler in dispute resolutions in Mindanao. Under the Barangay Justice Program, governance and the rule of law is promoted through community participation and citizen empowerment.
The GRF has also awarded numerous grants for noteworthy projects in the areas of biodiversity conservation, economic growth, anti-trafficking in persons, governance and education through the Philippine-American Fund project provided by the USAID in recognition of the foundation's major role as technical service provider to civil society organizations.
Under its community outreach program, GRF works with volunteers and local partners to provide opportunities for health improvement and economic well-being of its target groups. Victims of disasters such as typhoons are also given assistance through relief and reconstruction activities.
Were he alive today, Sen. Gerry Roxas would have been proud to see that his values of integrity, excellence and service to the nation as well as his passion for championing the cause of the poor and underprivileged continue to live on through the institution that he founded 60 years ago. - Photos by Ramon Joseph J. Ruiz