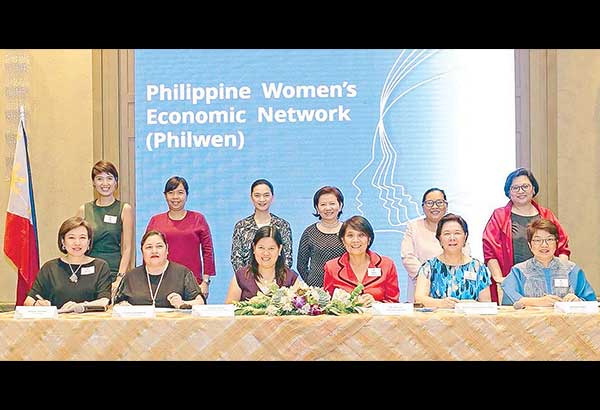 Philippine Women's Economic Network (PHILWEN) founding members. (Seated, from left) This writer, Business and Professional Women chair; Filipina CEO Circle president Cristina Concepcion, Network of Enterprising Women president Myren Garcia, PHILWEN chair Aurora Garcia, Samahan ng mga Pilipina para sa Reporma at Kaunlaran chair Vicky Garchitorena and Women's Corporate Directors president Chit Juan; (standing, from left) Bea Lim, Racquel Cagurangan, Farah Acierto, lawyer Benedicta Du-Baladad, Jenny Lind Elmaco and Sharon Dayoan.
The women issue under the regional grouping of ASEAN (Association of Southeast Asian Nations) has always been looked at as a social issue, rather than an economic one. Women are lumped together with the youth, elderly and persons with disabilities. But half of our region's population are women and are the backbone of our economies.
How can a small woman producer, microentrepreneur or a woman entrepreneur starting off, do it alone? She can, but with great difficulty. But by stepping into an inclusive, gender sensitive, ecosystem for enterprise, she will be able to move up the value chain by preparing her products for other markets, introduce her to a network and teach her to access credit or capital.
Insights from the ground show how much women hunger to learn more about business and how to be financially independent from their spouses. With 300 million women in ASEAN, and where poverty is predominant in the lesser developed member countries, there are social and human rights issues of trafficking across borders and domestic violence in all strata of society. So, the answer is to empower our women and begin with our young girls, while teaching our young boys a new gender paradigm.
Majority of women are caught in the balancing act of family and livelihood, often forgetting their own health and well-being. Unlike men, women's time is given to family with so little left for themselves to build or work a network. But this space of the network is precious, and women must seek this. Power is obtained through the network and collaborations for all women in various stages of their career and enterprise.
What we see in the Philippines is mirrored in all the countries of ASEAN, even made more challenging in the less developed countries like Laos, Cambodia, Myanmar and Vietnam. While inclusive growth is the banner cry of governments, we believe that the convergence of government in partnership with the private sector, and in close alignment with donor international groups, should be pursued to reach the microenterprises, especially those owned by women. Strategic partnerships are key to collaboration. A complete ecosystem must be created to support them.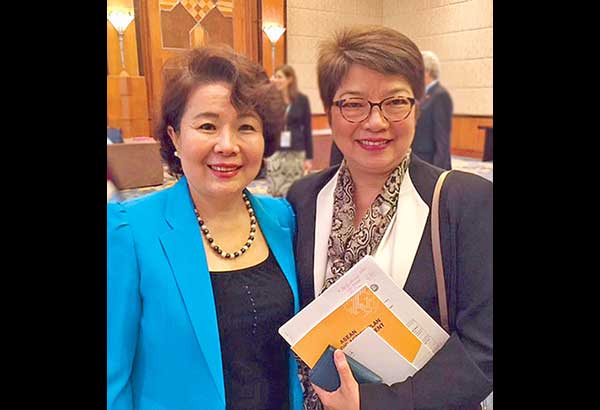 ASEAN Women Entrepreneur Network (AWEN) founding chair Minh Nguyen Thi Tuyet and current chair Chit Juan.
This is why the push for policy changes must be from the ground up. This August, as one of the activities of our country's hosting of the 50th founding anniversary of ASEAN, Filipino women groups with the government have been planning the ASEAN Women's Business Conference to be held at the Philippine International Convention Center beginning tomorrow until Aug. 31. It will bring together multi-stakeholder partners in big business, government, academe and small enterprises from around ASEAN and its key dialogue partners like the US, Australia, Japan and Canada.
Taking the policy lead in the private sector is the ASEAN Women Entrepreneur Network (AWEN), a regional grouping that was started by Vietnam (2014 to 2016, founded and chaired by Minh Nguyen Thi Tuyet) and now led by the Philippines (2016 to 2018). AWEN is now co-chaired by Chit Juan, who is the chair of the Women's Business Council; and Aurora Garcia, who chairs the newly formed Philippine Women's Economic Network (PHILWEN).
Why all these aggrupations, acronyms and groupings? What we have come to realize is that strength comes in numbers and results are seen through strategic collaborations. Where Vietnam's role was to start it, Philippines is out to structure it. Following the Singapore model, all women groups focused on economic empowerment have come under one banner group to represent the country. So we have PHILWEN, with Thailand, Cambodia and Myanmar organizing themselves to date.
Chit Juan says, "This is the opportune time for women in ASEAN to leverage their skills and talents towards successful entrepreneurship." This can easily happen with the AWN network, which can connect with government representatives and more importantly, with other sister entrepreneurs throughout the region. On policy, it is AWEN that will be put to task for the concerns of the smaller voice and how they can be heard in the very noisy negotiation tables dominated by the big boys or the multinational corporations and publicly listed companies.
On finance, AWEN will push for gender lens impact investments in the region. It is a daunting task for the Philippines but we know that our best practices and our experience with our very own micro, small and medium enterprises will form the backbone of knowledge to share with our sisters across the region. Even in information communication technology, we will be at the forefront of showing them how business process outsourcing (BPO) and the like provide our economy with a lot of economic opportunities. In corporate leadership and management, we top global surveys in women in senior executive positions. We also have started our "women on boards" initiative to bring diversity to the boardroom.
In the game for the region's economic success, women will be the winning card we deal out.