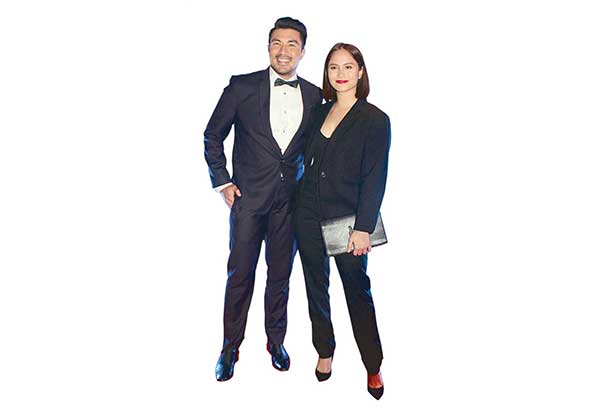 Luis Manzano in Paulo Lazaro with Jessy Mendiola in Patty Yap.
The fashion of men in modern times is of relevance in the life+style landscape. In the past, the spotlight predominantly focused on what women would wear, season after season, with a plethora of grandstanding trends and forecasts. Collections of women's latest wear, accessories, bags and shoes unfold while not much is heard of their counterpart.
But through the recent decade, when the rise of the "metrosexual" and androgynous dressing has taken center stage, fashion is balancing out the attention equation, not to mention the current of genderless dressing.
In addition, the proliferation of menswear websites like Mr. Porter and The Fashionisto has greatly contributed to current state of fashion equilibrium. Furthermore, social media platforms such as Instagram and Pinterest are overflowing with style, blogger, personality, designer and retail accounts that focus on men's fashion.
In the Philippines, only a handful of magazines celebrate men. Now on its 12th year, PeopleAsia magazine's much awaited "Men Who Matter 2017" was an astounding success held last July 25 at the Grand Ballroom of New World Makati Hotel.
Fashioned in their individualistic tailored masterpieces at the "Men Who Matter" event were actor and TV host Luis Manzano, Leon Gallery owner Jaime Ponce de Leon, PhilSTAR Media Group executive vice president Lucien Dy Tioco, Conrad Manila general manager Harald Feurstein, Booky app founder Ben Wintle, New San Jose Builders Inc. chairman Jerry Acuzar, four-time PBA champion June Mar Fajardo, broadcast journalist Julius Babao, RCBC senior vice president Chester Luy, Calata Corp. chairman Joseph Calata, fashion designer Francis Libiran and Henann Group of Resorts president Alfonso Chusuey.
Style in the now salutes men and their relevance of dressing. No longer trailing behind women, the men of today give their own style that is a sign of the forward change of the times. Men today have become an important "matter-of-fact" in fashion. - Photos by JOEY MENDOZA and JESSE BUSTOS