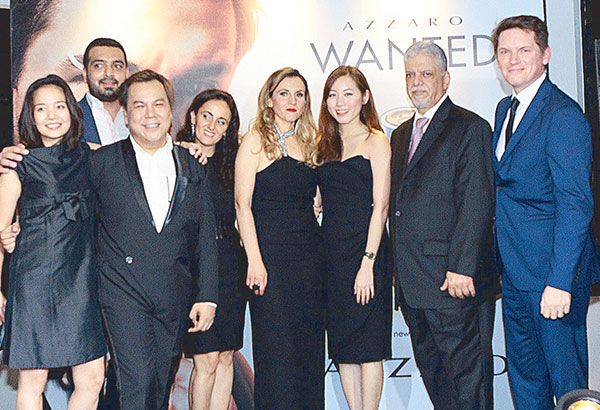 At the Manila launch of Azzaro Wanted are (from left) Scent and Beaute Inc. brand development head Samantha Yen, CEO Ken Jeswani, marketing and business development head Francis Labora, CFG regional marketing director for Asia Pacific Alexia Honig, Clarins president for fragrance and fashion Sandrine Groslier, CFG sales and marketing assistant manager for Asia Pacific KC Lim, Scent and Beaute Inc. chairman Charlie Jeswani and Clarins group EVP for North and Southeast Asia Jean Marie Le Roy.
Staring down an olfactory barrel
In his time, fashion designer Loris Azzaro was known for his exuberance, color and flamboyance. He gained recognition in 1967 for his fluid, shimmering creations, a riposte to the little black dress that was the rage at the time.
Born in Tunisia to Italian parents, Azzaro believed that "life is an endless summer" and always said the sun, the sand and the blue sky inspired him the most. He may have passed away in 2003, but one manner in which his legacy lives on is through the fragrances that bear his name. Part of the Clarins brand portfolio is the new Azzaro fragrance for men Wanted, which is now available here at the Art of Scent and Fresh stores. Created by the legendary Fabrice Pellegrin, it's a woody-spicy-citrus melange, packaged in a conversation-piece bottle!
Why conversation piece? Because the bottle is like the barrel of a revolver, the big idea being the fragrance is a man's weapon of seduction. It's for the man who is independent and rebellious, daring enough to use a fragrance that's rich, sensuous, and aromatic. The top notes of Azzaro Wanted are lemon, ginger, lavender and mint, while the middle notes consist of Guatemalan cardamom, juniper, apple and geranium. Making up the base notes are Haitian vetiver, Brazilian tonka bean and amberwood. It's an assault that's first led by the citrus notes, giving it a strong summer-y feel, but as time passes, the spicy notes come into play in a teasing manner. The deep woody notes are part of what linger.
Introduced by Scent & Beaute CEO Ken Jeswani, Clarins president for fragrance and fashion (Mugler and Azzaro) Sandrine Groslier was happy to share with us the Wanted campaign film that was both sexy and classy. Held at Blackbird, the launch night was a great way to announce the arrival of Azzaro Wanted here in the Philippines.
Walks on the wild side
While we use the term "wild" in context per novel, these three novels are also "guided tours" to worlds worth discovering. Manhattan from the 1930s to the '80s, a notorious neighborhood in Cork, Ireland and Little Vietnam in America — all come to life in these stories.
Lillian Boxfish Takes A Walk by Kathleen Rooney (available on Amazon.com) On New Year's Eve 1984, Lillian, an elderly woman, takes a walk across Manhattan — and it becomes an illuminating tour of her interesting life. Interspersing poignant reveries with reflections on 1984 New York, we discover a singular life refracted in this intrepid hike for in the 1930s, Lillian worked for the department store Macy's, writing advertising copy at a time when women were not regularly seen in this particular workspace. Feted for that achievement, and a published poet to boot, Lillian could be seen as an early version of the 20th-century independent woman. Her subsequent marriage, giving birth to a son, the downward spiral and dissolution of career and wedded bliss and the grim choices taken, all form part of this wonderful novel.
The Glorious Heresies by Lisa McInerney (available on Amazon.com) The seamy underbelly of Cork, Ireland is the setting for this gritty, realistic novel. When the slightly mental mother of a local gang lord accidentally murders a home intruder, our story is set in motion. In Dickens-style, McInerney brings in a host of characters to help establish a vivid sense of time and place. Jimmy Phelan is the neighborhood kingpin, and he dispatches old friend Tony to get rid of the body. Recognizing the "victim," Tony experiences qualms about his involvement, exacerbated by problems he is experiencing with his eldest, Ryan, and by Georgie, a street prostitute who was the girlfriend of the corpse. It's the interaction between the characters and understanding their motivations that propel this novel to become a charged societal snapshot.
The Sympathizer by Viet Thanh Nguyen (available at National Book Store) Winner of several major literary prizes (including the Pulitzer), this novel may be of special interest to us Filipinos as early on, a lengthy section is devoted to our protagonist working as a consultant to a major Hollywood studio's Vietnam film shot in the Philippines (veiled reference to Coppola and his Apocalypse Now). We start off in the final days leading to the Fall of Saigon, then experience the life of the evacuated Vietnamese in America. The twist, our hero is a deep penetration agent, working for the North Vietnamese forces, regularly sending reports about the refugee Vietnamese community — whether they are planning a return, or still plotting to undermine Hanoi's initiatives. Writing is impeccable and convincing — it deserves every award it garnered.