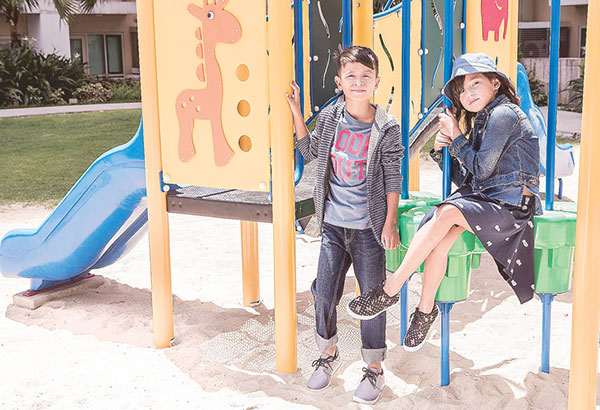 On Tyler: 'Miles' sneakers by Airwalk; hoodie, graphic shirt and jeans by Joe Fresh. On Ystelle: Polka dot sneakers by Disney's Minnie Mouse; jacket, hat and skirt by Joe Fresh.
The end of summer is the start of the school year. After spending the season's longest vacation going to the beach, traveling here or abroad, engaging in sports, recreational activities or hobby or simply staying at home, it's time to go back to the classroom to meet new friends, learn new things and take part in this important aspect of life.
Kiddie school fashion has become reasonably relevant especially during the start of the school year, which later on becomes integral in one's development of personal style. Aside from their school supplies, children look forward to having new hairstyle, clothes, bags, accessories and most importantly, shoes. Nothing can replace the joy in a child's eye when he or she fashions a new pair of shoes.
This season, Payless ShoeSource — the leader in stylish practical footwear — presents its back-to-school offerings with a new street-style energy that's versatile in the classroom to the playground. The brand's latest shoe collection is a fashion-forward style for a wide range of looks that's affordably chic.
For girls, pretty sneakers come in both plains and prints. Dress up modern classics with current must-have monochromatic hues and eyelet textures for the traditional and conservative. For the adventurous dresser, fashion is fun as floral, graphic and polka dot prints come into play.
For the boys, the look has been influenced by active and go wear. A new lineup of kicks adds punch for their everyday school lifestyle. Updated sneakers and rubber shoes are ready for fun and games with lightweight materials and color blocking style.
The current crop of school shoes is a fusion of both function and form. Stylizing kids' everyday ensemble has become trendy with a range of footwear to choose from. These are pairs that can be worn from the classroom to the playground. In-house brands such as Airwalk, Champion, Disney and SmartFit have taken a step forward by adding function into sole.
The new kids on the block are ready to step into the future in their wardrobe of everyday fashion. Noteworthy styles are breaking into school with a diversity of trends that are on point. Though the move forward maybe radical, the synergy with modern design and the comfort it brings gives us a hint of the bright future in children's footwear.
Photography by MAU AGUASIN • Styling and creative direction by LUIS ESPIRITU JR. • Associate stylists: BANG MARTINEZ and TARA SUBALDO • Makeup by BABA PARMA • Hairstyling by JJ GALLEGO • Models: Tyler Creek and Ystelle Gaboriault • Shot on location at The Grove by Rockwell • Smartfit, Airwalk, Champion and Disney shoes are all available at Payless ShoeSource stores.