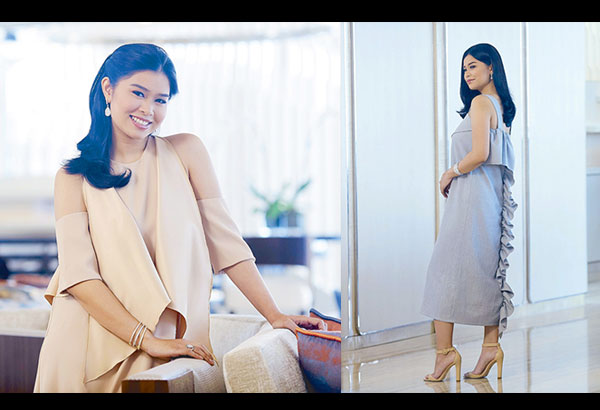 Brit Romero: Brit & bubbly
MANILA, Philippines - Medicine or fashion? That was the question.
For then teenager Brit Romero, Medicine sounded like the road to a more lucrative future. But being a fashion designer was something she had always dreamt of since she was a child. "I was planning to go for Medicine. I didn't really like it but I wanted a 'real' profession, something my parents would be proud of," she shares.
Yet in the midst of her applications, Brit's father, who was involved in construction, raised the red flag. "Just go to fashion," she remembers her father telling her. "Because if you do something you don't like, then you're just going to quit and do what you love anyway, so you might as well do it now."
And here stands Brit now, a graduate of Fashion Design and Merchandising from the De La Salle-College of Saint Benilde; an alumna of the London College of Fashion; and more importantly, she is what she was always meant to be: a fashion designer.
"I took the risk. I wanted to offer something new to the Philippine fashion industry," she says. Young and beautiful and gifted with a glittering smile, she has pursued her passions, and to a certain extent, has lived out her dreams.
Such dreams take form in Weave, a brand she established with her business partner Thias Tanbonliong immediately after graduating from London in 2015. With Weave, she serves up a maelstrom of modern minimalist silhouettes reflecting her aesthetics as both woman and designer. But as any girl with a dream knows, things like these, while magical, do not happen with a flick of a magic wand. "It was a lot of hard work," says Brit. "We needed to get the right connections to the right suppliers. Finding seamstresses was another thing. It took us a year before we could finally have a complete team."
Naysayers also tried to discourage Brit by airing their lack of confidence, or understanding rather, of her business model. In the end though, Brit and her business partner stuck to their guns, and with a deep breath, took the plunge. "I'm a risk taker. If I don't try, I'll never know. That's how I was then. That's how I am now."
Today, Weave has made waves on the internet, with an online store that ably introduced Brit and her team's designs to the world. She also came up with a one-time pop-up store for Weave. "It wasn't really publicized, except to some of our friends and family. And then word just got out and we had more and more visitors, sales really went up," she says. This soon gave birth to an actual, physical store at the Uptown Bonifacio Mall in Taguig City, where Weave pieces can now be bought.
Despite her success, Brit continues to be a humble student; always eager to learn, always yearning for inspiration. She admits to being buoyed by architectural designs, shapes and patterns that strike her senses whenever she travels. Brit also makes sure that she gets critics for her designs, before bringing them out to the world.
And more importantly, despite her success, Brit has remained grounded. "We chose that name (Weave) because we're a team of designers, seamstresses, and basically different sorts of people working together collectively. And I think that's the beauty of it," she concludes.
Photography by JO ANN BITAGCOL • Creative direction by Luis Espiritu Jr. • Makeup by KLENG ONING • Hairstyling by MACKY HILARIO • Fashion styling by DIANE LASAM • Jewelry by Miladay Jewels • All clothes by WEAVE • Shot on location at the PRESIDENTIAL SUITE of Conrad Manila