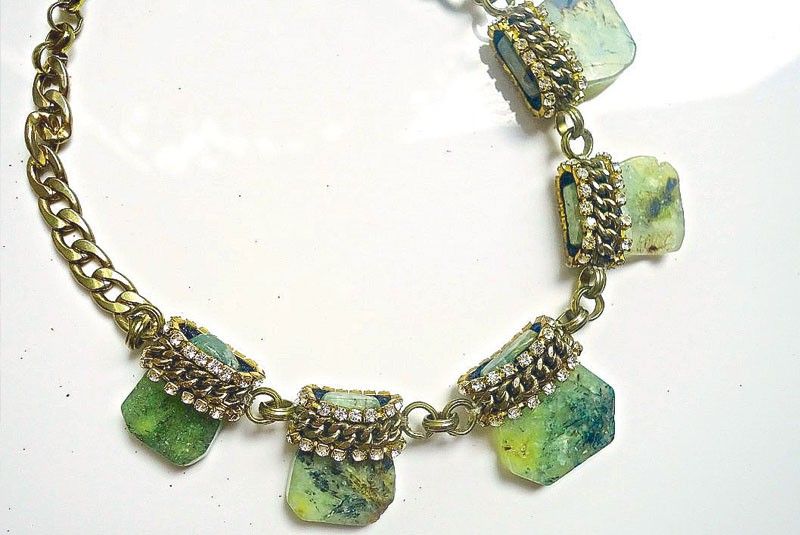 There is no stopping designer Ericson Manansala in his quest to create eye-catching accessories. Not wanting to be pigeonholed into a single theme, the Pampanga-born Manansala's latest pieces are diverse in color and design. His interests range from art nouveau, art deco, period and tribal art.
On his source of inspiration, Manansala shares, "Most of my pieces were formed from visualization of materials and possibilities on design. I do not usually draw my designs rather I spontaneously make them. I also tend to be inspired by other jewelry and accessory pieces, they inspire me to create more, to try new materials and create new forms. I like trying out new materials but I always tend to go back to colored stones, crystals and glass beads. Like a beautiful slice of agate, its beautiful color and the uniqueness of its shape and design make a real statement piece. I also like to explore on fabrics and leather because of their textures."
Manansala's fashion goddesses are likewise diverse in style. He appreciates Michelle Obama for her classic statement pieces, Olivia Palermo for her jewelry color choices and the great Iris Apfel for her bold and daring maximalist approach to wearing accessories.
When asked how Manansala characterizes the woman who wears his pieces, he says, "She is not afraid to show her personality and her style. She is confident, current but not dated. She can go out with just a simple shirt and jeans but will always pair that with a statement neckpiece or a large dangling pair of earrings." *
Photography by JOANNE ZAPANTA-ANDRADA • Accessories by ERIC MANANSALA (Check out @Eric_Manansala on Instagram, e-mail ericsonmanansala@gmail.com or call 0977-0185851.)