MANILA, Philippines - When sisters are bound by faith and love for family, they resonate positivity that is carried on through their journeys in life.
Sisters Dianne and Katrina Medina, daughters of businessman Prisco Tito Medina and the late Maria Josefa "Vicky-Jo" Medina, share an irreplaceable relationship that allows them to have a deeper appreciation of life. Their closeness brings passion to everything they do.
Dianne, Ever Bilena's newest endorser for EB Naturals, is an actress and currently one of the hosts of People's Television's Good Morning, Boss! She also works for Radio Television Malacañang (RTVM) as a host for special projects, which include shows like Say Mo, Sec? that allows her to interview Cabinet secretaries with comedian Isko Salvador.
Love for her craft is what pushes Dianne to work harder and pursue the things she wants to do — be it acting, dancing or hosting TV programs. "Juggling everything I do is hard but rewarding at the same time. As an actress, I have scripts to memorize and I have to work for long hours. As a TV host, I also have materials to study for the news program I will be hosting early the next day. I am just thankful that I am given the chance to do the things that I love," shares Dianne, a former Philippine STAR Dream Girl.
Dianne, together with some friends, also recently ventured into organizing events and personality development trainings through her company Sun Image Marketing and Events Management (SIMEM).
For Dianne, at the end of a long, busy day, it is her family, aside from her boyfriend actor Rodjun Cruz, that keeps her sane.
"My sister Katrina, a nurse, and I are very close. We make sure to make time for each other despite our busy schedules. When I arrive home late from work and find her already sleeping, I would wake her up so we can talk about how our days went. That's one bonding we do with our mom that we miss," says Dianne, who looks up to her mom Vicky-Jo who succumbed to breast cancer in 2011 after a 10-year battle.
"Upon diagnosis, the doctors said that my mom only has 50 percent chance to live, but she was blessed with 10 more years to spend with us," Dianne recalls.
"My mom's cancer journey gave way for our family to be closer and for us to be closer to the Lord. She taught us the importance of giving back. My sister and I serve in our local church as members of the Lectors and Commentators Ministry. Helping Child Haus Foundation also became our advocacy, continuing what our mom started, which is helping out cancer-stricken kids," shares Katrina. "Our mom instilled in us the importance of serving the Lord and seeking one's purpose in life," Dianne says.
The sisters also value the wisdom imparted to them by their dad Prisco. For Katrina: "My dad always tells us to be humble and be others-centered. Be kind always and help without expecting anything in return." Dianne recalls how their dad stood strong for the family during their mom's cancer journey: "He had to be strong during the time when my mom was sick. I admire him and through that, I learned how to be strong and independent."
Dianne and Katrina consider themselves best friends, sisters who serve as safety nets whenever one is pushed to the edge. "I consider my sister as my best friend. We share the same love for fashion — clothes, shoes beauty products and makeup! She is very supportive and very protective. The best thing about her is you can always count on her," says Katrina, who's also into modeling, dancing and hosting corporate events. "I used to be shy. It was my sister, together with my mom, who helped boost my confidence. With their help, I've outgrown my shyness," she shares.
Meanwhile, Dianne admires her sister for what she has accomplished and what she has sacrificed for the family. "Kat is wise beyond her years. I pray for her success as a registered nurse because that profession is not easy. I admire her for giving up everything, including certain plans in her life, to take care of our mom when she was sick," shares Dianne.
The love between sisters is powerful. For Dianne and Katrina, what's important is celebrating family, giving back to the community and being grateful for all the blessings they have received.
Katrina shares one of her life lessons: "No matter how big your problems are, you can face anything with the Lord and you can conquer anything."
"I'm thankful for all the Lord's blessings to me and my family. Everything in our lives is just secondary, our main purpose here on Earth is to serve God," Dianne concludes.
Photography by RITA MARIE • Styling by NASIA CAMMAYO • Makeup and hairstyling by FROILAN SULLIGUE • On Dianne: Pink three quarter-sleeved dress with shoulder cutouts, green skirt and green tube playsuit all by THE FLORENCE FLING; on Katrina: Multi-colored striped three quarter-sleeved dress with shoulder cutouts by The Florence Fling and pink dress with sheer details and gems by KARIMADON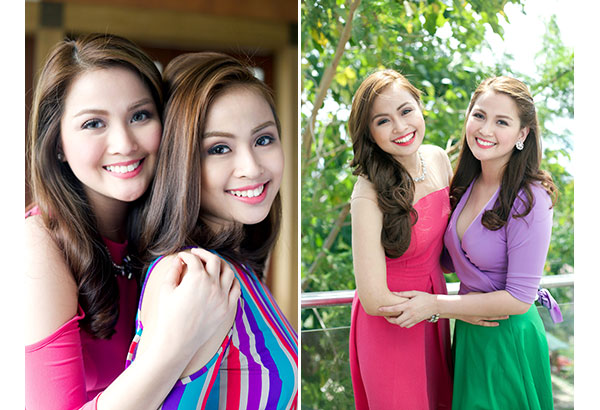 Sisters bound by faith and love for family, Dianne and Katrina Medina., Katrina and Dianne Medina.