Just like champagne, couture technically belongs to France. An essential part of Parisian life, couture was born in Paris in the House of Worth (pioneer couturier Charles Worth) and was soon revolutionized by Paul Pioret with his integration of Orientalism into couture pieces. The idea behind couture was to push the limits in workmanship, materials, man-hours and yes, even cost to literally create wearable pieces of art made out of one's wildest dreams. To qualify as a couture piece, it had to be expertly created (be several tiers of workers) in specialized ateliers or maison particuliéres using the most exquisite of materials and intricate techniques.
Today, couture shows in Paris are still some of the most anticipated each year. But they are hardly the most profitable. Jean Paul Gaultier, for instance, reveals that in a recent show, the house has had to sell a couture piece below cost. At LVMH, houses like Givenchy and Dior continue to present couture shows solely as a marketing tool, allowing these established brands to maintain its image of luxury and heritage. Moreover, that spectacle and sense of fantasy that couture shows provide leave audiences wanting for a piece of this dream, which subsequently translates into increased sales of the accessories, perfume and ready-to-wear lines of the houses. There are less than 4,000 around the world who still purchase couture pieces and only 11 houses registered at the Chambre Syndicale de la Haute Couture that have not yet closed shop.
As the question of couture's survival continues to raise debate (mostly in the favor of its eventual extinction), the fashion world still remains in awe at the masterpieces sent down the runways each year.
Dior has long been a leader in the realm of couture. This year, creative director Raf Simons concocted a collection that transported one from the Belle Époque to the Space Age. A collection that spanned several eras, Dior's presentation featured shimmery fabrics, flapper-inspired silhouettes that further emphasized the house's mastery of intricate detailing and construction. But more than the aesthetic wonder brought about by the pieces, it was Simons' subliminal message beneath each piece as in the case of the coat, that resonated the most: Couture need not only be for special occasions but also for everyday dressing.
Meanwhile, Atelier Versace geared towards a more nostalgic direction as it presented classic, '50s-inspired silhouettes such as the hourglass each intricately embellished in the most precious of crystals and other ornaments. Each look was, in true Versace form, sharp — from necklines, slights and even that open back details. What stood out, however, was that the house integrated a relatively mundane white shirt, turning it into couture piece through impeccable embellishment as if to suggest that this couture presentation was one that could be translated into modern wear.
A relatively new player in couture, Armani Privé wowed this year with a collection that was a refreshing departure from the brand's signature "greige" (a combination of gray and beige) palette. This year's show told the story of a dancing lady in red. The shapes remained essentially Armani but the otherworldly approach at creating new textures was absolutely astounding. Rhinestones were all meticulously placed to create a sense of luminescence; tulles were playfully integrated with patterns; organza was worked to create the illusion of fur; and nylon has been woven to create a modern type of mohair. If anything, Armani's new proposition to texture only reinforced how couture remains the birthplace for bright and innovative ideas in fashion.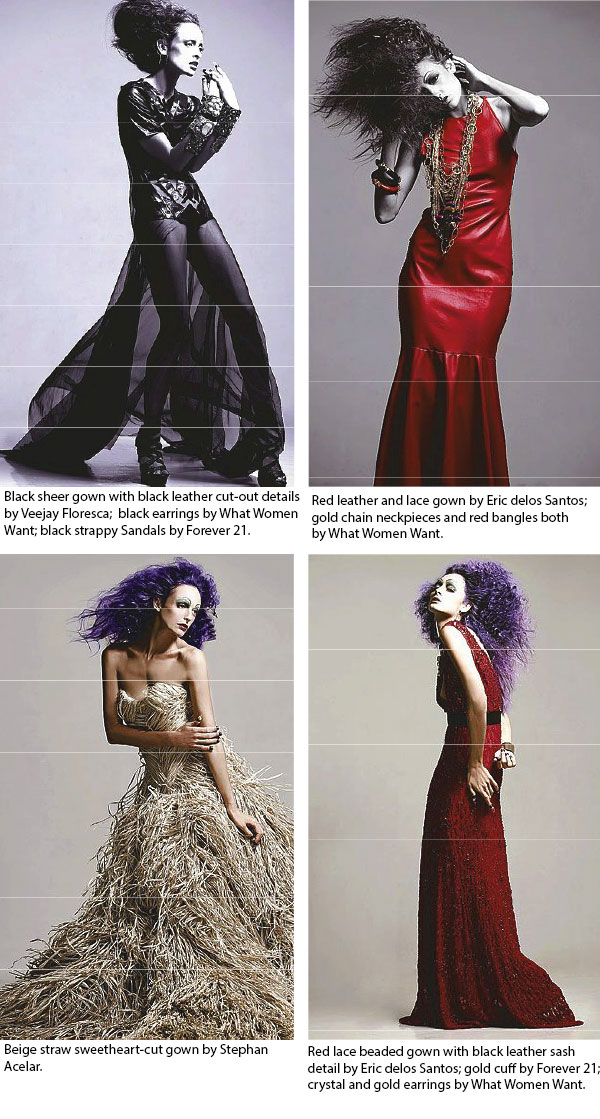 Photography by RXANDY CAPINPIN, assisted by ACE DELA PEñA • Styling by LOI VILLARAMA • Makeup by HANNA PECHON • Hairstyling by BRYAN YOKOTA • Model: NADINE LIMA (Mercator)