A 'time-piece' de resistance
For watch collectors and timepiece aficionados, an Audemars Piaget (AP) launch/event is always a red-letter day; a moment in time suspended for technological and aesthetic appreciation. It may have been in 1875 that Jules Louis Audemars and Edward Auguste Piaget first collaborated and began their enviable legacy of watchmaking. But in the century and decades that have since passed, the company has steadfastly been run directly or indirectly by a family member (current president is Jasmine Audemars), and they've upheld the standard of excellence that has made such renowned brands as Cartier, Bvlgari and Tiffany have their watches and timepieces manufactured by AP and then, rebranded. In fact, when watch enthusiasts speak of "The Big Three" of Swiss watchmaking, they are referring to Patek Philippe, Vacheron Constantin and Audemars Piaget.
Exclusively represented in the Philippines by the Lucerne Group, the AP event held at Hyve was a celebration of the latest edition of that iconic timepiece, the Royal Oak Offshore. First designed by the legendary Gerald Genta in 1972, the Royal Oak was conceptualized as the luxury "sports watch for all occasions with exceptional finishes." Looking back, the Royal Oak practically created the market for stainless steel luxury watches. Inspired by the traditional brass diver's helmet; the trademark octagonal shaped bezel, secured by eight exposed hexagonal gold screws, and launched with a self-winding Calibre 2121 movement, remains one of Genta's crowning achievements in watch design. By his own admission, Genta, who has also designed for Patek, Omega and Universal Geneve, considers the Royal Oak as his "piece de resistance." The Royal Oak Offshore came into existence in 1993, with its 42-mm. face, a fun, brash and adventurous "offspring;" and it has not looked back since. Debunking the notion that luxury stainless steel watches have to be formal or stiff, the Offshore 2014 edition even employs such material as Titanium, Carbon, Ceramic and Rubber, and isn't shy about using vivid colors.
While Audemars Piaget has also joined the ranks of watchmakers who have contracted personalities and celebrities to help create brand awareness via ambassadors — they've been very selective, counting among others, LeBron James, Michael Schumacher, Lionel Messi, Stanislas Wawrinka and Michelle Yeoh. Of less common knowledge is that they've created special edition timepieces for the likes of Shaq, Rory McIlroy, Jay Z and Quincy Jones. With your own AP watch on your wrist, this is the kind of company with whom you'll be sharing something in common!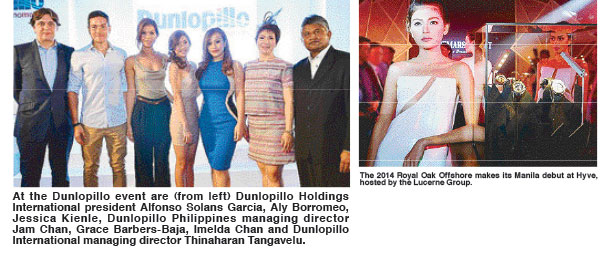 Counting sheep on foam heaven
It was back in 1929 that a Dunlop scientist named EA Murphy, working at Fort Dunlop, Birmingham (in Central England) surrendered to the suggestion of his wife, and used a common cake mixer to aid him in creating the right consistency to the latex foam he was experimenting with. In order to make the bubbles stay and still maintain the desired consistency, the mixer solved most of Murphy's problems, and by 1931, the latex foam mattress was "born" and went on sale. A subsidiary of Dunlop, Dunlopillo quickly became the standard in the UK for foam mattresses and pillows.
Dunlopillo remains at the forefront of latex foam technology, developing a premium range that now includes pressure relieving qualities and climate control features, as seen in the Dunlopillo Star Collection. The climate control feature stores body heat and gently releases warmth when the body temperature goes down, or it dissipates body moisture when the one sleeping is warm, to keep one cool. The open cell structure of latex can be optimized for comfort and support, while the anti-microbial properties of Dunlopillo's quality latex helps alleviate allergies and other respiratory problems.
At the recent Dunlopillo event held at the Rigodon Ballroom of The Peninsula Manila, interior designer Jessica Kienle, football player Aly Borromeo and blogger Grace Barbers-Baja extolled the virtues of the mattresses and pillows they had personally selected as most suitable for their respective lifestyles and predilections.
Hosted by Issa Litton, the event was a potent reminder of just how important quality rest and sleep is; after all, it comprises practically one-third of our lives!
Now distributed here in the Philippines by the Metal Lite Group, Jam Chan, the young, personable managing director of Metal Lite was charming the crowd, enticing them to try out the mattresses and pillows, to experience firsthand how the latex foam mattress has evolved through the years.