With summer hitting an all-time high, some of fashion's brightest finds are merging nostalgic silhouettes with bold prints and bright colors. As one gets ready for the season's last hurrah, one luxuriates in two key pieces that accentuate form while still highlighting a natural penchant for all that is eternally elegant: the jumpsuit and the maillot.
Reviews of the recently concluded fashion month for 2014 had many heads turning towards one major trend: the jumpsuit. Designers like Ellie Saab, Roland Mouret and Stella McCartney were showcasing their skill at tailoring with slim silhouettes, cinched waists and panel details. Admittedly, the jumpsuit is not one that everyone can easily relate to. However, this season's edit makes this one-piece wonder more accessible to a variety of body types and personalities.
For instance, Martin Bautista's bias-cut jumpsuit creates an elongating illusion. A play in shape, as in the case of an asymmetric neckline, results in a look that is both effortless yet feminine. A quintessential minimalist will relate to the nonchalance of this piece. Similarly, the glamour goddess will equally adore that brilliant infusion of flounce.
Meanwhile, nautical prints abound in Maureen Disini's jumpsuit, bringing to mind idyllic cruises to some of the world's top summer destinations. What's brilliant about this nautical piece is that it brings forth a young vibe while remaining perpetually classic. The very epitome of a day-to-night ensemble, this nautical number is the kind you'll keep in your wardrobe for seasons to come.
While not necessarily a jumpsuit, this crop-top and palazzo pants ensemble from Eric delos Santos reflects what the young and stylish are clamoring for. On the red carpet, fashion's A-listers (and we're talking by the handfuls) have all been spotted donning this refreshing variation to the jumpsuit. Floral prints and cutout details add balance out the severe silhouette, creating the perfect balance of structure and play.
The one-piece suit
When it comes to swimwear, the trend for many years now has been to show more skin. This year, however, with pin-up influences dominating, a "less is more" mantra to swimwear has finally paved the way for far more creative patterns, color blocking and details. It takes a certain level of inner confidence to pull off the one-piece suit in an ocean full of bikini-clad women. Once you've made that transition towards swimwear elegance and distinction, however, you'll discover greater style possibilities while lounging by the poolside or by the shoreline.
Undeniably, no one does maillots the way Ricky Vicencio can. His skill at creating the most unpredictable shapes and silhouettes make the one-piece suit an instant conversation piece. His red halter maillot, for example, utilizes sports-inspired elements while still creating a complete look that works to complement the female form. His cutout details show just the right amount of skin while the panel details work well with one's natural curves.
Working from a completely different plane, Vicencio does a criss-cross maillot that is essentially a one-piece suit but shows ample amount of skin — in all the right places. This masterpiece works with the body to elongate and emphasize a small waist. At the same time, it works wonders to showcase those toned shoulders and a swan-like neck.
Also making her mark in swimwear brand is Wanderlust by Maggie Wilson-Consunji. Herself a sun worshipper, Wilson-Consunji understands what women want and what concerns them when it comes to the rather unforgiving swimsuit. With that in mind, Wanderlust's pieces have become known for their nostalgic, '50s-inspired swimwear that are both stunning as they are figure-friendly. This pearly white halter one-piece is what one will consider as a summer heaven-sent. The neckline works wonders to create a narrow bodice while its ruched waist cinches in all the right places. What women love even more about this piece is that its every detail falls perfectly such that one is still afforded the luxury of ease and movement.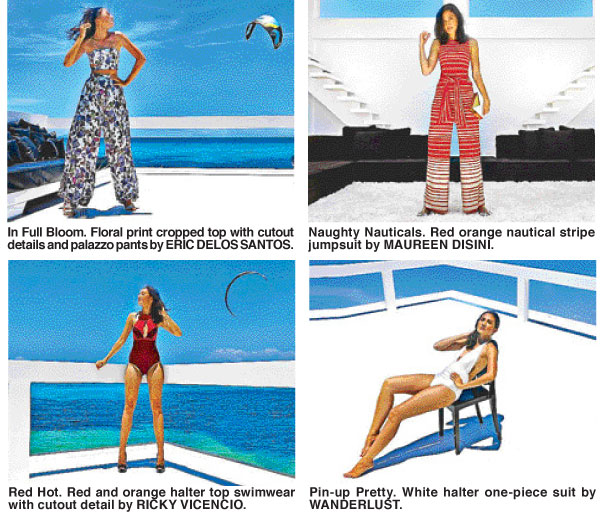 Photography by RONNIE SALVACION, assisted by MARK LOO • Fashion styling by CORINE ALEGRE • Makeup by XENG ZULUETA • Produced by NOONIE BAYQUEN • Model: SARA BLACK •
Shot on location at PALASSA PRIVATE RESIDENCES, Bulabog, Boracay • Special thanks to JP AVENDAÑO • All clothes are available at VITOSTUDIO.COM (info@vitostudio.com; Tel. No. 0917-7142339)