Dinner with flair & elegance
A dinner fit for kings was hosted in honor of Austrian Ambassador Josef Müllner and his lovely wife Kai Wang by Johann Strauss Society of the Philippines (JSSP) chairman and Monaco Consul General Fortune Ledesma and yours truly at Mandarin Oriental Manila's signature restaurant, The Tivoli.
The elegant restaurant — best known for its contemporary and innovative European menu, impeccable staff service and luxurious ambiance — made the occasion a truly memorable evening for the guests and hosts alike.
Seen sharing in the merriment of the evening were Foreign Affairs Secretary Albert del Rosario, retired Chief Justice Artemio Panganiban, JSSP president Olga Martel, Cultural Center of the Philippines president Raul Sunico, McDonald's Philippines founder and chairman George Yang, Mövenpick Hotels & Resorts director for business development Helmut Gaisberger and Susie Madrigal-Bayot.
Many thanks to Mandarin Oriental Manila general manager Torsten van Dullemen, hotel manager Oliver Kreuzer and communications director Charisse Chuidian for all the attention that spelled the difference between a good and great dinner party.
Cheers to all!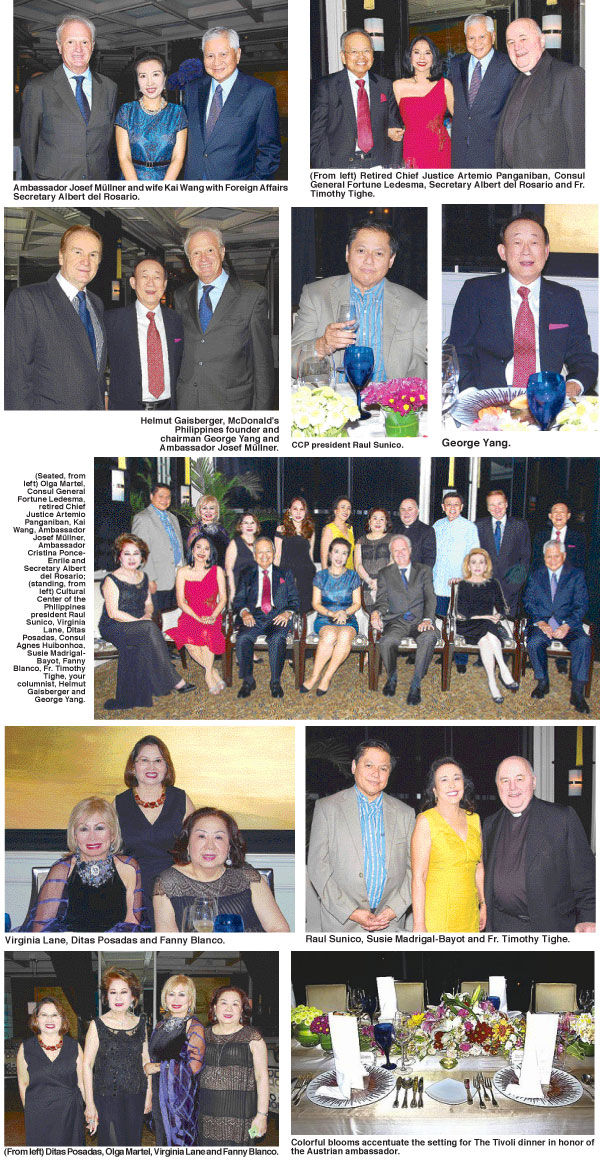 GREETINGS
Advance birthday greetings to George Sison, Beth Day-Romulo, Enrique "Iking" Araneta and Ping Valencia, May 26; Marissa Concepcion, Dina Gaerlan and Marissa Araneta, May 27; Guilly Rufino, Archie Lacson and Mark Dayrit, May 28; Ali Sotto, Celia Diaz-Laurel and Inno Sotto, May 29; Glenda Baretto, Jerry Barican and Mary Jane Ortega, May 30; Budji Layug, May 31.
So, how was your week?
(For comments or inquiries, please e-mail me at jjlitton@indanet.com.)