A slice of Japan in BGC
November 24, 2022 | 12:00am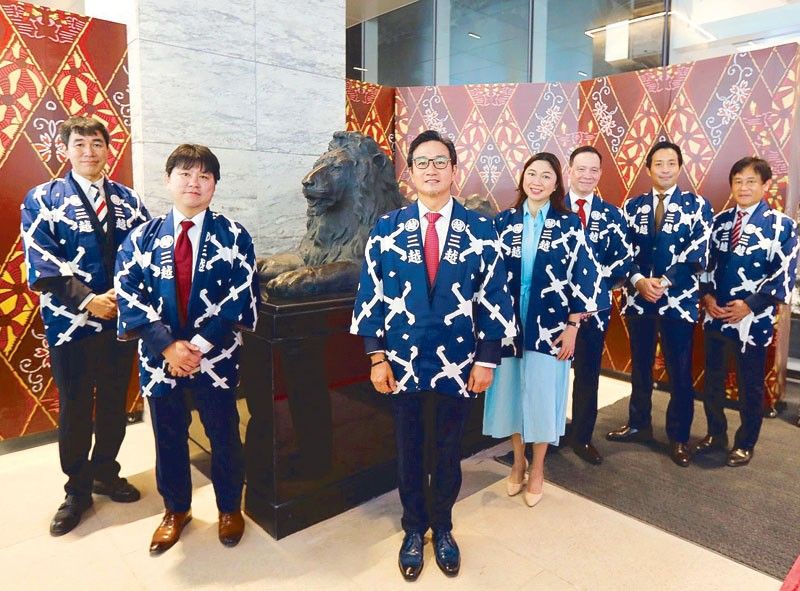 Federal Land chairman Alfred V. Ty feels that the newly opened Mitsukoshi Mall in BGC will appeal to travel-loving Pinoys who have a soft spot for Japan.
"The basement supermarket Mitsukoshi Fresh has something to enjoy for everyone," he says. "Of course, not everything is open yet, but there's a lot to look forward to with the Japanese goods in the grocery and the food offerings downstairs.
"And Mitsukoshi Beauty is directly operated by Mitsukoshi Japan," Ty continues, "so you will see the beauty products are Japanese brands that's the first time to be available here."
It took eight years for Mitsukoshi, Japan's oldest and most venerated department store, to set up shop on Philippine soil — built by Federal Land in partnership with Isetan Mitsukoshi Holdings and Nomura Real Estate Development — and Ty admits there were challenges along the way.
It took three years of familiarizing the Japanese with our country before "the decision makers, the board members, one by one flew in to explore and to understand," Ty says. "We had to explain a lot and we wanted to be transparent to them. We also researched the retail market here, but they truly see the potential, and that was the only time that their management and head office opened their doors to the Philippines. So after that, it was just construction and design, but of course the pandemic was very challenging. That delayed us by over a year."
Challenges notwithstanding, Ty signed with the Japanese principals in 2017, and they broke ground in BGC together with his late father, George SK Ty, and Taguig City officials that same year.
Fresh japanese food
Mitsukoshi BGC general manager Mitsunori Morohoshi toured us around the mall, which soft-opened on Nov. 18 and will have its grand opening in the first quarter of 2023.
When you enter your eyes are immediately drawn up to the pitched roof beams, which are meant to look like shaking hands, signifying the friendship and support between the Japanese and Filipinos. The column of the torii entrance gate is hand-wrapped with thread (a process that took 600 hours) representing Shimenawa, or the connection between gods and men.
Near the entrance is The Matcha Tokyo, a tea brand that delivers the highest-quality, 100%-organic matcha drinks and powders to the world in a mindful and sustainable way.
Next to it is Prologue, an all-day, casual-dining restaurant opening next year (they already have branches on Tomas Morato and Greenhills). Head chef Hiroyuki Meno is the former chef of Hiramatsu, Japan's leading restaurant group, who specializes in European food with Asian influences.
Behind Prologue is Dough Grocer, a specialty grocery featuring imported and exclusive brands from Europe and Japan that you can gift in pretty boxes.
Downstairs is Mitsukoshi's food level presented in Japanese depachika style, where customers can choose freely from different counters offering sweets and deli items.
There's a popup for Kirin beer and a new concept store for Tokyo Milk Cheese Factory featuring special takeaway products like pistachio milk cheesecake and Nama filled doughnuts, made of special imported Japanese flour and fried in oil and Hokkaido butter, in flavors like custard cream and mascarpone.
Avocadoria features all things avocado, and then you see a bar beside Eurocave, a wine cellar. Raymond Joseph of Ralph's and the Philippine Wine Merchants says the Ralph's shop at Mitsukoshi will focus only on fine wines. "We'll have a complete sake bar where we will be also serving Japanese small-plate dishes to complement all our sakes," Joseph said. "We represent around 24 sake breweries from different prefectures in Japan."
They also offer Spanish and Italian cuisine to go with the wines. "Soon we will conduct sake flights, whiskey tastings, shochu tastings, and beer tastings. We will also be doing regular wine dinners where we will feature the winemaker of different vineyards."
A 'grocerant' & tasting market
The best thing about Mitsukoshi Fresh is that you can "try before you buy." Yes, you can choose from the fresh seafood on display, have it cooked for you on the spot and eat it right there, "grocerant" style.
Yoji Kawaguchi, who's in charge of Mitsukoshi Fresh and Mitsukoshi Beauty, says, "Nowadays, food is not only for the mouth but also for the eyes, ears, nose and hands, so I want every customer to enjoy in every sense. Our concept is the tasting market, so the customer can try the taste before he purchases."
Fresh fruit and vegetable stands display colorful produce, while the Delica kiosk offers the karaage fried chicken and tebasaki wings Ikomai made famous in Makati.
Mitsukoshi Fresh also has three bread outlets: The Bakery by Cafe Dolci (sister company of Auro Chocolate), Eric Kayser and Bread Talk.
Exclusive J-beauty
Sure to be a big draw is Mitsukoshi Beauty, a curated beauty and wellness shop filled with Japanese beauty brands making their first appearance in the country.
An Apothecary area inspired by the one in Isetan Japan offers natural, organic brands like E Standard, a salon hair-care brand that five-star hotels and lounges use as amenities. Customers who try E Standard reportedly get obsessed with the brand thanks to their unique formulations that are gentle on hair, skin and the environment; the exquisite packaging doesn't hurt, either.
La Casta is another pioneering natural hair-care brand incorporating Japanese essential oils, the scent of which acts as aromatherapy. They have specific lines for different hair concerns and promise visible results.
Waphyto is one of Japan's leading experts in natural organic cosmetics: the brand has skincare, hair care, body care and intimate care, and their unique and sophisticated packaging represents Japan's four seasons in traditional colors.
Fragrance fans should try Sholayered, a brand that introduces a new way of choosing and layering Japanese-made scents. What's popular about Sholayered is that they smell and feel luxurious but are very affordable for their quality, plus they're unisex. You can layer any scent and use it on your body or as a room spray.
Mitsukoshi also houses a large Shiseido store and Wellness Plus, which specializes in organic beauty from Australia and New Zealand like Trilogy, which started the rosehip oil revolution; Hope's Relief, creams for symptomatic relief of eczema, psoriasis, dermatitis and dry, itchy skin; and Comvita, the world's largest manufacturer and marketer of premium UMF Manuka honey.
As we restart our lives from the wrath of the pandemic, travel is always a big source of escape for many of us, and it is not surprising to know that Japan will be on the list of many families," Ty said. "Filipinos enjoy the products available in Japan and we hope that we will be able to give a slice of Japan in our four-level mall that will feature retail stores rich in Japanese culture and customer service."
* * *
Mitsukoshi Mall is located on 8th Avenue corner 36th Street, Bonifacio Global City, Taguig, tel. 8359-6756.