Philippines, Japan, US reaffirm cooperation
September 24, 2023 | 12:00am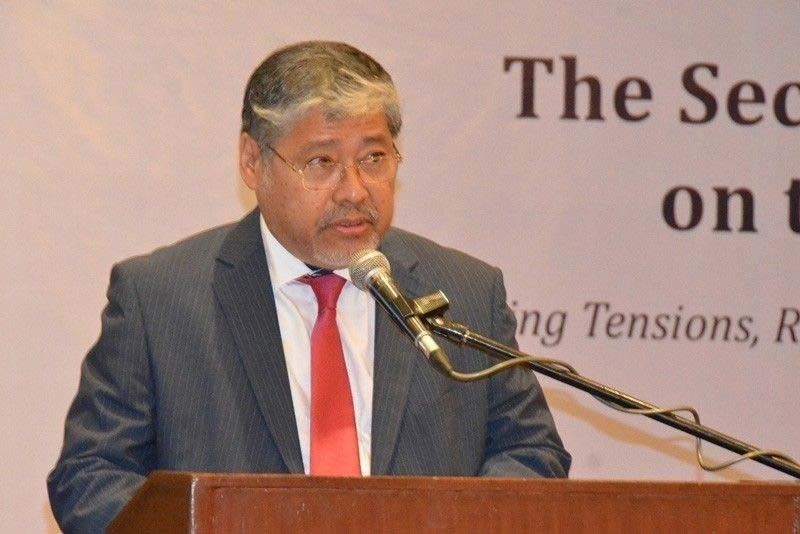 MANILA, Philippines — Foreign Affairs Secretary Enrique Manalo held a trilateral meeting in New York with US Secretary of State Antony Blinken and Japanese Foreign Minister Kamikawa Yoko to ensure cooperation in establishing a rules-based order in the South and East China seas and in the Indo-Pacific region.
The three officials met on Friday during the UN General Assembly (UNGA) High-Level Week in New York.
In his remarks before the meeting held at the Palace Hotel, Blinken said the three countries "believe strongly that our collaboration, not only on a bilateral basis but on a trilateral basis, can produce very positive benefits not only for our countries but also for other countries and partners in the region and beyond."
Blinken added that the US would continue to extend assistance to the Philippines and strengthen cooperation with their allies "to maintain peace and stability in the Indo-Pacific and also to foster, to strengthen economic resilience and to promote the common prosperity of our people."
In a statement, US Department of State spokesman Matthew Miller said the three countries "committed to uphold our shared values of freedom, democracy and respect for human rights, and reaffirmed our shared vision, as equal and sovereign partners, for a free and open Indo-Pacific region that upholds international law."
Miller also said that the three countries vowed to "call out behavior that is inconsistent with international law," citing China's recent actions near Second Thomas Shoal, also called Ayungin Shoal, "that interfered with the Philippines' lawful exercise of high seas freedom of navigation."
Chinese Coast Guard and maritime militia vessels had interfered in recent Philippine resupply missions to the grounded wartime ship BRP Sierra Madre in the shoal, through the use of a water cannon, dangerous maneuvers and shadowing tactics.
Besides the South China Sea issue, the three officials also talked about "ways to support economic resiliency and deepen trilateral cooperation on energy, infrastructure and digital economy issues, and to enhance trilateral security cooperation, including on maritime domain awareness, humanitarian assistance and disaster relief efforts," Miller said.
"The three officials reaffirmed their commitment to promoting peace and stability in the South and East China Seas," he added.
The Friday meeting was a follow-up to previous meetings among officials of the three allied countries this year – the meeting of President Ferdinand Marcos Jr., US Vice President Kamala Harris and Japanese Prime Minister Kishida Fumio in September during the ASEAN Summit in Jakarta; Manalo, Blinken and former Japanese Foreign Minister Hayashi Yoshimasa in July also in Jakarta and that of National Security Adviser Eduardo Año, US National Security Adviser Jake Sullivan and Japanese National Security Adviser Akiba Takeo in June in Tokyo.
On X (formerly Twitter), Japanese Ambassador to the Philippines Kazuhiko Koshikawa described the foreign ministers' meeting as "fruitful… our leaders stand as one to uphold multilateralism based on rule of law and stand firm against our common challenges."
"Unity of three countries serves as the foundation of free and open Indo-Pacific," Kazuhiko said.
Meanwhile, at an event hosted by the Asia Society in New York on Friday, Manalo affirmed the Philippines' commitment to strengthen its partnership with the US by ensuring that "our economic cooperation with the US should keep apace with our defense-related activities."
Manalo said the Philippines' stronger defense ties with the US, in light of the establishment of more military bases that are accessible to US troops, should not distract the Philippines from pursuing its national interests for economic growth.
"(A)nxieties on geopolitical tensions should not detract or prevent the region from the pursuit of economic prosperity and development… Philippine-US partnership should continue to support the Philippines in enhancing our defense capabilities and building a credible deterrent against challenges to our sovereignty and territory as well as improve our overall capacity to protect our national interests," Manalo said.
The Philippine diplomat is in New York as lead of the Philippine delegation to the 78th Session of the UNGA High-Level Week from Sept. 18 to 26.
Besides Manalo, the delegation includes Department of Environment and Natural Resources Secretary Maria Antonia Yulo Loyzaga, Department of Health Secretary Teodoro Herbosa, National Economic Development Authority Undersecretary Rosemarie Edillon, an official of the Department of Finance, Special Envoy of the President to UNICEF Monica Louise Prieto-Teodoro and local executives from the League of Cities of the Philippines.