PNP claims slain journalist involved in land dispute
December 13, 2021 | 12:23pm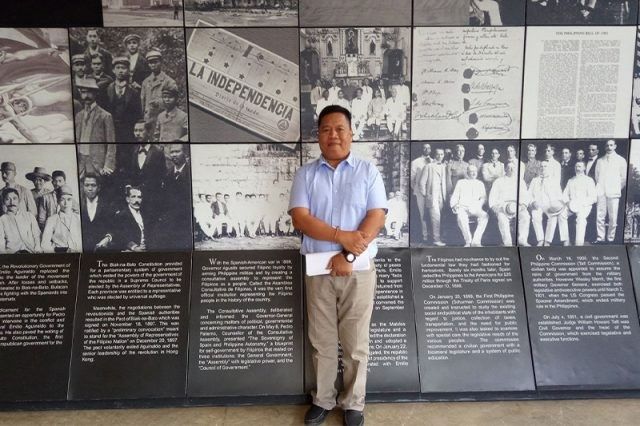 MANILA, Philippines — The Philippine National Police is looking at a possible land dispute as the motive behind the shooting of Pampanga journalist Jesus Malabanan, who was shot dead by a motorcycle-riding assailant in his native Samar province.
According to initial reports from the Calbayog City Police Station, Malabanan was shot in the head while watching television inside his store in Brgy. San Joaquin, Tinambacan District around 6:30 p.m. on Wednesday.
Speaking to reporters at his press briefing Monday, Police Gen. Dionardo Carlos, PNP chief, said that a Special Investigation Task Group had already been formed and assigned to investigate the case.
"It's being investigated. The PNP condemns the murder of Jess Malabanan, being a member of the media... We're looking at the motive: Is it connected to the job or not? He is from Pampanga but is married to someone from Calbayog, a Waray," he said.
"Initially, the angle they're looking at is land dispute. Is the work of Malabanan connected to the land dispute?"
Carlos added that the SITG already had a person of interest in connection to the land dispute angle.
In law enforcement, the term "person of interest" is used when identifying someone who is only possibly involved in a criminal investigation but who has not actually been arrested or formally accused of a crime.
Per the PNP's Procedures in the Investigation of Heinous and Sensational Crimes, shootings against media practitioners are considered heinous crimes.
'We reject the emerging narrative'
The PNP is harping on the same angle as the Presidential Task Force on Media Security, which claimed over the weekend that Malabanan's killing was carried out for reasons not related to his work, despite his reportage on President Rodrigo Duterte's brutal "war on drugs" which has killed at least 6,100 according to official police figures.
"That's one of the things we're looking into, his changing of career. We're taking a look at land negotiations, maybe he fought with someone over this," PTFoMS Executive Director Joel Sy Egco told state-run People's Television in Filipino.
Egco went as far as saying that personal conversations he had with Malabanan's colleagues at the Manila Standard found that the slain journalist had not been writing critically about anyone and had only produced "feel good" stories.
His task force continues to claim that the Duterte administration "is truly working [to safeguard] press freedom" and has often brushed off claims that the government is clamping down on press freedom in the country.
At least 22 journalists have died since President Rodrigo Duterte assumed power in 2016.
READ: Media watchdog lists Duterte among world 'press freedom predators'
In an editorial published Monday, the Manila Standard said that Egco did not reach out to any member of the Manila Standard's news desk in any official manner before he came up with this conclusion.
"Nobody is boasting that media practitioners are getting killed here. We are ashamed of this. We are making our outrage known, and hoping we would have leaders who would care enough to act decisively on this," the Manila Standard said in its editorial.
"We reject the Palace narrative that all is well and that journalists are finally safe, because this is an insult to our colleagues who have been killed, and to all journalists who are still fighting daily, big and small battles, just to do their job."
Malabanan was a defense reporter in the '80s and '90s, then based in Angeles City, Pampanga. He served as a stringer for the Manila Times and Reuters as well as a correspondent for Bandera before writing for the Standard.
Manila Standard in its editorial pointed out that Malabanan assisted a Reuters team in its coverage of the drug war in 2018. Reuters eventually had to help the journalist go into hiding after he received death threats.
"Why, then, would somebody who wrote feel-good stories resort to these measures?" the paper asked. "That's a fact, not propaganda."
"Under this administration, journalists are being attacked – killed, threatened, insulted, persecuted – for daring to do their jobs in an environment that claims to value press freedom but tries to justify all the ways to stifle it."
— with reports from Xave Gregorio and The STAR
As It Happens
LATEST UPDATE: January 12, 2022 - 4:40pm
Dennis Denora, a Sun.Star reporter and publisher of the Trends and Times community paper, has been shot dead by unidentified killers, according to the Davao chapter of the National Union of Journalists of the Philippines.
Denora was killed near the wet market of Panabo City in Davao Del Norte on Thursday afternoon, NUJP Davao says.
The Davao del Norte Press & Radio-TV Club says in a statement that is is angered and saddened by news of the killing.
"His death awakens the anger and pains of journalists who do their job and yet are being judged by the pistol," the group also says.
January 12, 2022 - 4:40pm
The Department of Interior and Local Government has ordered the Philippine National Police to designate "Media Security Focal Persons" in each province and city nationwide to provide a mantle of protection for members of the media who may face threats or intimidation in the course of the 2022 elections.
Interior Undersecretary Jonathan Malaya said the memorandum was issued by Secretary Eduardo M. Año to PNP Chief General Dionardo Carlos upon the request of PTFoMS Executive Director Joel Sy Egco in anticipation of a possible increase in violent incidents involving mediamen during the election season.
This at the heels of the killing Wednesday morning of broadcaster Jaynard Angeles, also former station manager of Radyo ni Juan-Tacurong in that city. — The STAR/Artemio Dumlao
December 16, 2021 - 1:08pm
There are currently 488 media professionals imprisoned around the world, the highest number since Reporters Without Borders began counting more than 25 years ago, the NGO announced Thursday.
By contrast, the number killed this year -- 46 -- was the lowest since it began issuing annual tallies, due to the relative stabilisation of conflicts in the Middle East. — AFP
December 9, 2021 - 2:47pm
The number of journalists jailed around the world hit a new record in 2021, the New York-based Committee to Protect Journalists said Thursday, with China and Myanmar having put a quarter of the 293 media workers behind bars.
In its annual report, the CPJ listed 50 journalists imprisoned in China, 26 in Burma, 25 in Egypt, 23 in Vietnam and 19 in Belarus.
Adding those jailed in Saudi Arabia, Iran, Turkey, Russia, Ethiopia and Eritrea, the CPJ said a total of 293 journalists were in prison worldwide as of December 1 — up from 280 the year before. — AFP
November 15, 2021 - 6:57pm
A US journalist detained in Myanmar since May has been released and will be deported soon, a junta spokesman told AFP on Monday.
Danny Fenster was being taken to the capital Naypyidaw from Yangon where he was jailed and will be deported, another government source told AFP, speaking on condition of anonymity.
Fenster, who had been working for local outlet Frontier Myanmar for around a year, was arrested as he headed home to see his family in May.
"We can confirm that he has been released and will be deported. Detail will be released later," spokesman Zaw Min Tun said.
Fenster, who spent 176 days in detention, was sentenced to 11 years in prison last week for encouraging dissent against the military, unlawful association and breaching immigration law. — AFP
November 14, 2021 - 5:44pm
Sudanese security forces have arrested the bureau chief of Qatari-based Al Jazeera TV network, the media outlet said on Sunday, a day after the latest crackdown on anti-coup protesters left at least six dead.
"Security forces raided the house of Al-Musalami al-Kabbashi, the Al Jazeera bureau chief in Sudan, and detained him," the network said on Twitter without elaborating.
Al Jazeera has given prominent coverage to demonstrations against the October 25 coup but last week it also aired a detailed interview with top general Abdel Fattah al-Burhan, one of only two he has granted.
Demonstrations against Sudan's latest coup, including by tens of thousands of people nationwide on Saturday, have occurred regularly despite a rigorous internet outage. — AFP