PNP claims slain journalist involved in land dispute
December 13, 2021 | 12:23pm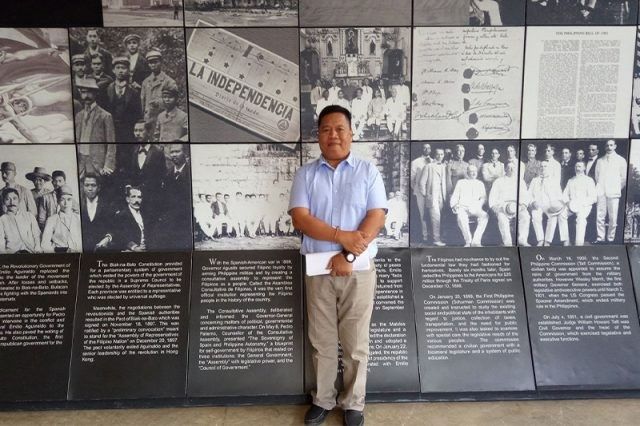 MANILA, Philippines — The Philippine National Police is looking at a possible land dispute as the motive behind the shooting of Pampanga journalist Jesus Malabanan, who was shot dead by a motorcycle-riding assailant in his native Samar province.
According to initial reports from the Calbayog City Police Station, Malabanan was shot in the head while watching television inside his store in Brgy. San Joaquin, Tinambacan District around 6:30 p.m. on Wednesday.
Speaking to reporters at his press briefing Monday, Police Gen. Dionardo Carlos, PNP chief, said that a Special Investigation Task Group had already been formed and assigned to investigate the case.
"It's being investigated. The PNP condemns the murder of Jess Malabanan, being a member of the media... We're looking at the motive: Is it connected to the job or not? He is from Pampanga but is married to someone from Calbayog, a Waray," he said.
"Initially, the angle they're looking at is land dispute. Is the work of Malabanan connected to the land dispute?"
Carlos added that the SITG already had a person of interest in connection to the land dispute angle.
In law enforcement, the term "person of interest" is used when identifying someone who is only possibly involved in a criminal investigation but who has not actually been arrested or formally accused of a crime.
Per the PNP's Procedures in the Investigation of Heinous and Sensational Crimes, shootings against media practitioners are considered heinous crimes.
'We reject the emerging narrative'
The PNP is harping on the same angle as the Presidential Task Force on Media Security, which claimed over the weekend that Malabanan's killing was carried out for reasons not related to his work, despite his reportage on President Rodrigo Duterte's brutal "war on drugs" which has killed at least 6,100 according to official police figures.
"That's one of the things we're looking into, his changing of career. We're taking a look at land negotiations, maybe he fought with someone over this," PTFoMS Executive Director Joel Sy Egco told state-run People's Television in Filipino.
Egco went as far as saying that personal conversations he had with Malabanan's colleagues at the Manila Standard found that the slain journalist had not been writing critically about anyone and had only produced "feel good" stories.
His task force continues to claim that the Duterte administration "is truly working [to safeguard] press freedom" and has often brushed off claims that the government is clamping down on press freedom in the country.
At least 22 journalists have died since President Rodrigo Duterte assumed power in 2016.
READ: Media watchdog lists Duterte among world 'press freedom predators'
In an editorial published Monday, the Manila Standard said that Egco did not reach out to any member of the Manila Standard's news desk in any official manner before he came up with this conclusion.
"Nobody is boasting that media practitioners are getting killed here. We are ashamed of this. We are making our outrage known, and hoping we would have leaders who would care enough to act decisively on this," the Manila Standard said in its editorial.
"We reject the Palace narrative that all is well and that journalists are finally safe, because this is an insult to our colleagues who have been killed, and to all journalists who are still fighting daily, big and small battles, just to do their job."
Malabanan was a defense reporter in the '80s and '90s, then based in Angeles City, Pampanga. He served as a stringer for the Manila Times and Reuters as well as a correspondent for Bandera before writing for the Standard.
Manila Standard in its editorial pointed out that Malabanan assisted a Reuters team in its coverage of the drug war in 2018. Reuters eventually had to help the journalist go into hiding after he received death threats.
"Why, then, would somebody who wrote feel-good stories resort to these measures?" the paper asked. "That's a fact, not propaganda."
"Under this administration, journalists are being attacked – killed, threatened, insulted, persecuted – for daring to do their jobs in an environment that claims to value press freedom but tries to justify all the ways to stifle it."
— with reports from Xave Gregorio and The STAR
As It Happens
LATEST UPDATE: September 24, 2023 - 1:02pm
Dennis Denora, a Sun.Star reporter and publisher of the Trends and Times community paper, has been shot dead by unidentified killers, according to the Davao chapter of the National Union of Journalists of the Philippines.
Denora was killed near the wet market of Panabo City in Davao Del Norte on Thursday afternoon, NUJP Davao says.
The Davao del Norte Press & Radio-TV Club says in a statement that is is angered and saddened by news of the killing.
"His death awakens the anger and pains of journalists who do their job and yet are being judged by the pistol," the group also says.
September 24, 2023 - 1:02pm
The National Union of Journalists of the Philippines reports four student journalists of The Democrat, student publication of University of Nueva Caceres were intimidated and subjected to surveillance by members of the Philippine Army.
"The other soldiers took their photos without consent. Democrat editor-in-chief Aila Joy Esperida protested, and told the soldiers to delete the photos. She also asked for the identity of the soldier asking for their personal data. The soldier introduced himself as Sergeant Creo," NUJP says.
It adds that students were asked what they were doing at the plaza and claimed that they will be holidng a rally. NUJP says Creo went to say "that activists are often recruited to the New People's Army."
"The following day, Esperida received a letter signed by their barangay captain summoning her and her parents for a dialogue with the Philippine Army on Sept. 24. On Sept. 23, The Democrat photojournalist John Harvee Cabal also received a similar letter from their barangay," NUJP reports.
July 16, 2023 - 10:55am
A Mexican journalist was shot to death in a store parking lot on Saturday in the southern tourist town of Acapulco, regional authorities said, in the country's second journalist killing in a week.
Prosecutors said they have opened an investigation for homicide with a firearm in the killing of Nelson Matus, days after the body of fellow journalist Luis Martin Sanchez was found "with signs of violence" after he had been reported missing. — AFP
July 9, 2023 - 10:33am
A regional correspondent for leading Mexican newspaper La Jornada was found dead on Saturday, a day after he went missing in the western state of Nayarit, the daily said.
"A body found in the village of Huachines... in the municipality of Tepic was identified as Luis Martin Sanchez Iniguez, 59 years old, correspondent for La Jornada," the Mexico City newspaper said on its website.
The journalist's wife, Cecilia Lopez, told investigators that she had been unaware of his whereabouts since Wednesday night, when she was in another town visiting relatives, the newspaper reported, citing local authorities.
Sanchez Iniguez's body was found on Saturday morning in a rural area near Tepic, the capital of Nayarit. Some unconfirmed local media reports said he was found wrapped in plastic bags and had a message on his chest.
Sanchez was at home Wednesday night and spoke to his wife on the phone. — AFP
July 4, 2023 - 9:05am
A respected South African investigative journalism organisation has won a legal battle against a powerful businessman in a case that tested the country's media freedom.
The amaBhungane Centre for Investigative Journalism had earlier been barred from using documents acquired from a source in its reporting on controversial businessman Zunaid Moti -- who claimed they were stolen.
But High Court Judge Roland Sutherland on Monday set aside that order, describing it as "an abuse of the process of court". — AFP
June 25, 2023 - 5:49pm
The amaBhungane Centre for Investigative Journalism draws its name from the Zulu word for dung beetle -- a diligent species that fulfils a crucial role.
The tiny South African non-profit specialises in delving into political corruption -- "digging dung and fertilizing democracy," its editor-in-chief, Sam Sole, said with a chuckle in a recent interview with AFP.
Sole, a lean and bearded 61-year-old, has had little opportunity for laughter of late.
His organisation has been running a lengthy investigation into a powerful businessman accused of unscrupulous business dealings, including with President Emmerson Mnangagwa of neighbouring Zimbabwe.
The probe has unleashed a legal and financial headache for the centre as it faces a full-throated challenge from Zunaid Moti, the tycoon in question.
The case reaches a key stage on Tuesday when the High Court will hear Moti's objections that the investigation is based on stolen documents which should be handed over.
The outcome has huge importance for whistleblowers who until now have been largely shielded from identification by the law. — AFP