Sputnik financier eyes vaccine facility in Philippines
November 28, 2021 | 12:00am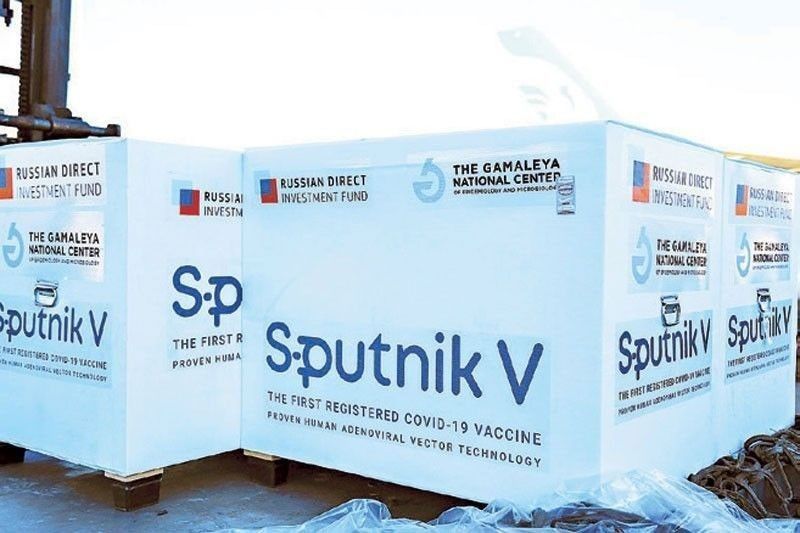 MANILA, Philippines — The Russian Direct Investment Fund (RDIF) is looking at establishing a COVID-19 vaccine facility in the Philippines "hopefully" by the first quarter of next year, an official said.
In an interview with 'The Chiefs' on OneNews Friday night, RDIF chief executive officer Kirill Dmitriev noted that they are now working on the possibility of having a vaccine facility in the Philippines.
RDIF is the financier of COVID-19 vaccines Sputnik V and Sputnik Light.
"It's taking a bit longer because we were focused on facilities that are sort of manufacturing vaccines before. But we believe that the Philippines is feasible," he said.
This will come in several stages, he explained, but they will initially do the "fill and finish" process before going to actual production sometime next year. Fill and finish pertains to the process of filling the vials with vaccines and then finishing the process of packaging for distribution.
According to Dmitriev, they already have "great production" in Russia and in other countries such as China and Korea.
He also cited that Serum Institute of India, the largest vaccine producer in the world, is now producing Sputnik Light, along with five other Indian manufacturers.
"We know it can be done and it has been done because Argentina already produces Sputnik. Many other countries produce Sputnik so it's just the question of finding the right partner in the right facilities," Dmitriev said.
He maintained that their goal is to produce 10 million doses of COVID-19 vaccine in the Philippines, noting that the country has "additional capacity and additional vaccine independence to produce its own vaccine."
Dmitriev also announced that they will apply for emergency use authorization in the Philippines for their "intranasal vaccines" against COVID-19 among the pediatric population.
He said the vaccines would come in "very lower doses" for the pediatric population.
"If we need to change vaccine for any upcoming variants later on in the time, we'll also do it," he added.
Booster
Dmitriev also revealed that the Philippine government has already approved the use of the single-dose Sputnik Light vaccine as a booster shot for those who have completed their COVID-19 vaccination.
"This is a way to go, particularly in light of those dangerous new mutations that we see coming from South Africa. And we believe it should be about vaccine combinations and vaccine combinations with Sputnik Light will provide for long immunity," he said.
Food and Drug Administration director general Eric Domingo confirmed this yesterday, saying the vaccine can be used by those who received Sputnik V as their primary vaccine series as well as by those who received other vaccine brands in the country.
Dmitriev explained that "vaccine combos provide longer immune response because they basically have broader array of antibodies."
"Sputnik was the first vaccine combo. Sputnik Light (was specifically designed to be) a universal booster to other vaccines as well," he said.
Citing studies in Argentina, San Marino and Hungary, the RDIF official said the protection provided by Sputnik vaccines "last much longer" than mRNA vaccines.
He underscored that mRNA vaccine efficacy declines to less than 50 percent after four months while Sputnik jabs' efficacy is at 80 percent at six to eight months after vaccination. The study in Hungary, he added, placed Sputnik vaccines at "number one" in terms of efficacy (98 percent) against mortality from COVID-19.
"This is not to say that we should only use Sputnik. But this is to say that the combination of Sputnik Light vaccine with mRNA vaccines as booster can really play a key role to lengthen the response of mRNA vaccines," Dmitriev said.
The Department of Health (DOH), however, is not currently recommending the use of Sputnik vaccines for the booster shots because of supply issues.
Under the DOH guidelines for booster vaccination, those who were given Sputnik V vaccines in the primary vaccination drive could get either AstraZeneca, Pfizer or Moderna jabs as booster or third dose.
Homologous or same brand inoculation is "not yet for implementation" for Sputnik, it added.
Dmitriev confirmed there were delays in the delivery of supplies because of the huge demand for the vaccines in Russia.
He assured though that the issue has been resolved. "We are completely on schedule. We completely fulfilled our delivery to Philippines … And we deliver completely on schedule right now," Dmitriev stressed.