5 AFP medical teams sent to NCR hospitals
September 25, 2021 | 12:00am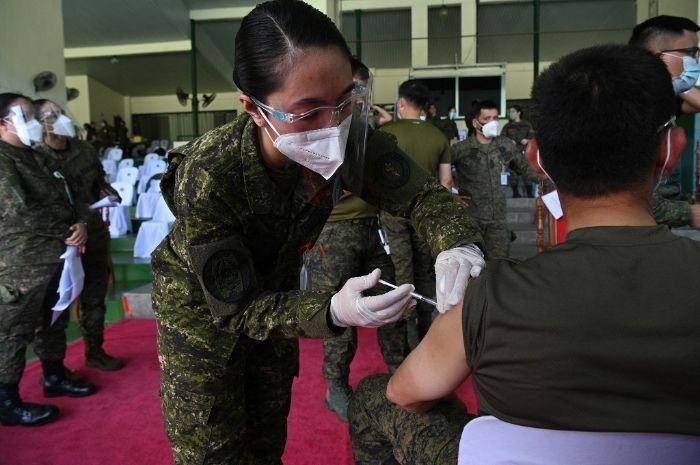 MANILA, Philippines — The Armed Forces of the Philippines (AFP) would be deploying five medical teams to augment the strained workforce of public and private hospitals in Metro Manila that were hard hit by the COVID-19 pandemic.
In a statement issued yesterday, the AFP said two teams from the Philippine Army and one team each from the AFP Health Services Command, Philippine Navy and Philippine Air Force would be assigned to hospital deployment.
The national government will decide which medical facilities would be augmented by a medical team composed of one doctor, one nurse and three aidmen.
"The deployment, which is similar to the AFP's past missions in Cebu and Davao in 2020, is over and above its current distribution of medial frontline workers in mega swabbing and quarantine facilities in Metro Manila," the AFP statement read.
Earlier this week, President Duterte ordered Department of National Defense Secretary Delfin Lorenzana to bring medical practitioners "on deck" as there is a "dearth of supply" because many medical personnel of hospitals are getting COVID or being quarantined.
Proposal
Private Hospitals Association of the Philippnes Inc. (PHAPi) president Jose Rene de Grano yesterday proposed that police and military medical personnel deployed to understaffed private hospitals be made to take over COVID-19 wards so their personnel can focus on non-COVID patients.
"Right now, our problem with our hospitals is the diminished number of health care workers (HCWs) which is affecting our bed capacity. Even if we have adequate number of beds, if there are no HCWs, then we cannot admit enough patients to fill up the beds," de Grano told The STAR.
Philippine National Police (PNP) chief Gen. Guillermo Eleazar said 150 police medical workers of the PNP Medical Reserve Force are ready for deployment.
He instructed Lt. Gen. Joselito Vera Cruz to coordinate with the Department of Health (DOH) to create a deployment system for medical corps members assigned to hospitals.
For his part, Sen. Bong Go said he supports President Duterte's directive to deploy the medical corps of the AFP and PNP to hospitals as he stressed the need to have an adequate health workforce that can respond to surging cases.
"Some hospitals, like St. Luke's Medical Center, are nearing or already at full capacity level because of the continuing increase in the number of COVID-19-infected people requiring immediate medical attention," Go said.
Go, chair of the Senate committee on health, filed Senate Bill No. 1451 in April 2020 seeking to a establish a Medical Reserve Corps made up of degree-holding medical field graduates that have yet to obtain professional licenses.
DOH Undersecretary and treatment czar Leopoldo Vega said the emergency hiring of HCWs is ongoing and that they already hired almost 10,300 HCWs, deployed in different health facilities nationwide. "There is really a challenge to hire. Mostly (because) of hesitation to work in a COVID environment," Vega said.– Sheila Crisostomo, Ghio Ong, Paolo Romero