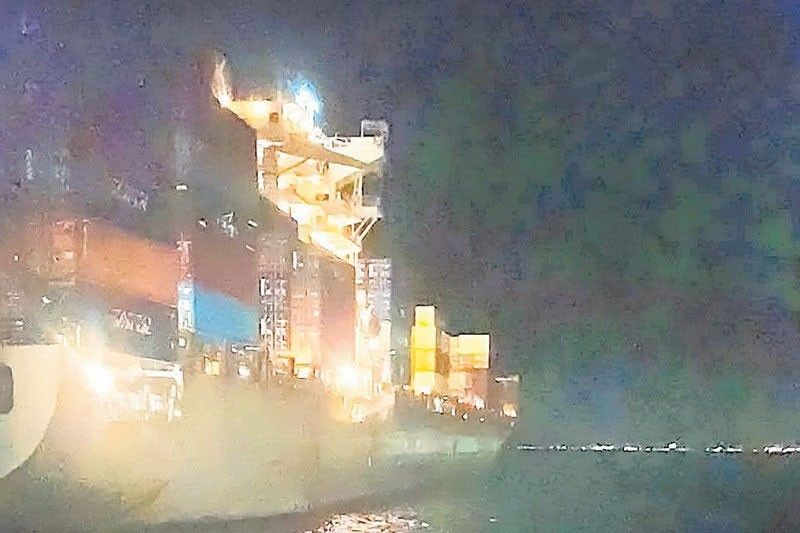 The M/V Athens Bridge, a cargo vessel with a dozen Filipino seafarers infected with COVID after a port call in India, is anchored off Sangley Point in Cavite last Thursday.
DOTR, PCG images
2 Pinoys from COVID-19 hit cargo ship in stable condition
MANILA, Philippines — Two Filipino crewmembers who were in critical condition due to COVID-19 infections are now stable, a few days after they were extracted from the coronavirus-stricken cargo vessel, an official of the Maritime Industry Authority (MARINA) reported yesterday.
Luisito delos Santos, MARINA officer-in-charge for management information system service, said the two COVID-19 patients are now being closely monitored at a still undisclosed quarantine facility, along with 10 other Filipino asymptomatic patients.
At least 12 of the 21 all-Filipino crew of the Panamanian-flagged M/V Athens Bridge that docked at the ports of Chennai and Kattupalli in India last month were found positive for COVID-19 when they had their RT-PCR test at their next port of call in Hiphong, Vietnam on May 1.
Santos said they are closely working with the Bureau of Quarantine and the Philippine Coast Guard (PCG) to ensure that no one will come close to Athens Bridge that was allowed to anchor off Sangley Point in Cavite City last Thursday.?The vessel's shipping agent asked the PCG last May 6 for help and to allow an immediate medical evacuation for the two Filipino seafarers that were described to be in critical condition.
Santos said Athens Bridge was greenlighted to anchor off Sangley Point despite the government's measure to temporarily prohibit travelers who visited India in a bid to curb the spread of the B.1.617 variant of COVID-19.?He noted that the vessel has already left India when the Philippine government implemented the travel ban.
"I think when the IATF (Interagency Task Force for the Management of Emerging Infectious Diseases) guidelines were issued, the ship was already out of India. We have to consider that they are also Filipinos. I think our government allowed their entry, so there could have been considerations," he pointed out.
Based on the list of the last 10 ports visited by M/V Athens Bridge, the container vessel docked at the ports of Shanghai, Ningbo, Hong Kong and Shekou – all in China – from April 2 to 10 before arriving at the port of Singapore on April 14.
It then sailed to the port of Klang in Malaysia on April 16 and to the port of Chennai in India on April 20. It also went to the port of Kattupalli, also in India, on April 21.
Athens Bridge made its way back to the port of Klang in Malaysia on April 26 before arriving on May 1 at the port of Hiphong in Vietnam where they tested positive for COVID-19.
Citing the vessel's list of port calls, Santos said "it is too early to tell that the Filipino seafarers were infected with the contagious B.1.617 Indian variant of COVID-19."
"We have to wait for the release of the official results of the genome sequencing on their COVID tests… It's too early to claim that they got the Indian COVID-19 variant because they went through many ports. The Department of Health will issue their test results," Santos added.
"Let us avoid speculating (on) the results because this is a matter of national interest," he stressed.
Santos said the COVID-19 patients were allowed to disembark to save the lives of the Filipino seafarers who are not infected with the virus as he emphasized that the vessel was deemed unfit to be used for isolation due to lack of rooms.