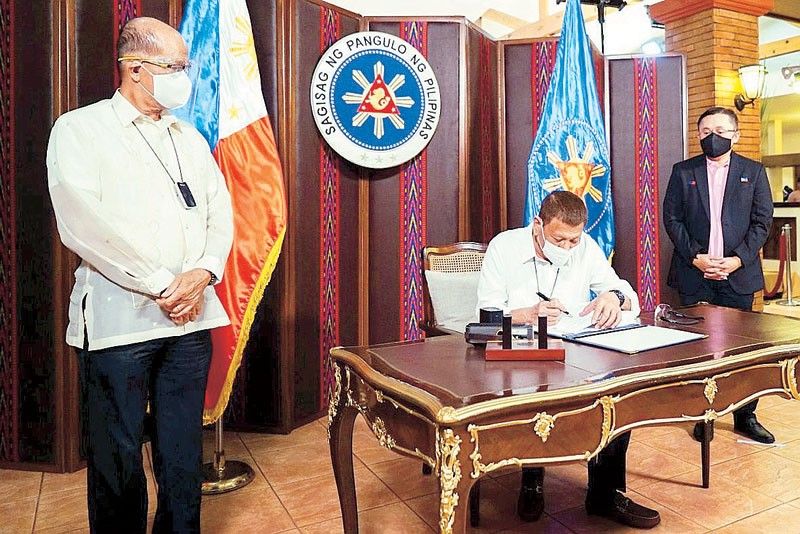 President Duterte signs the Bayanihan to Recover as One Act, or Bayanihan 2, at Malacañang yesterday. Looking on are Sen. Bong Go (right) who provided the photo and Defense Secretary Delfin Lorenzana.
STAR/ File
Duterte signs P165.5 billion economic stimulus law
MANILA, Philippines — President Duterte signed yesterday the Bayanihan to Recover as One Act, allocating P165.5 billion for an economic stimulus package to help the country recover from the impact of the COVID-19 pandemic.
Executive Secretary Salvador Medialdea and Sen. Bong Go confirmed the signing of the measure, which was ratified by the Senate and the House of Representatives last month.
Bayanihan 2 was ratified by the Senate on Aug. 20, with the House of Representatives following a week later.
The stimulus plan is deemed necessary as the country grapples with the coronavirus disease and its severe impact on the economy.
Bayanihan 2 requires the President to submit a report to Congress monthly until the end of the year – a departure from the old requirement of a weekly formal report under the first measure or the Bayanihan to Heal as One Act.
The plan consists of P140 billion worth of regular appropriations and an additional standby fund of P25.5 billion.
The Bayanihan 2 likewise provides for a P10-billion fund that will be on standby for COVID-19 testing and purchase of medicines and vaccines once they become available.
Bayanihan 2 stipulates that the Department of Health will receive P3 billion for additional face masks, personal protective equipment, shoe covers and face shields, alongside P13.5 billion for emergency employment and compensation of health workers.
Another P4.5 billion for the construction of temporary isolation and quarantine facilities as well as the expansion of existing public hospitals shall also be taken from the Bayanihan 2 law.
The Department of National Defense shall get P4.5 billion to cover expenses in isolating and treating returning overseas Filipino workers who test positive for COVID-19.
The Department of Foreign Affairs shall also be getting P820 million for repatriation efforts.
And while certain areas in the country are subjected to lockdowns from time to time, P6 billion will be given to the Department of Social Welfare and Development for cash assistance to affected Filipinos.
Displaced workers shall also get assistance through cash-for work programs wherein a P13-billion fund is allocated for such purpose.
Government shall also hire and train some 50,000 contact tracers, with P5 billion provided for such purpose under the Bayanihan 2.
Reports have it that Bayanihan 2 shall likewise provide subsidies to certain sectors and government initiatives in combatting the effects of the pandemic. For instance,
state-run banks shall get subsidy for the payment of interest on local government loans. Local government units shall get P1.5 billion in assistance, while P1 billion has been allocated for TESDA scholarships.
Another P600 million will be earmarked as subsidies and allowances for students severely affected by the pandemic; and P300 million in subsidies and allowances to teaching and non-teaching personnel and part-time faculty in state universities and colleges.
National athletes and coaches shall get P180 million as allowances and subsidies.
University of the Philippines-Diliman's Computational Research Laboratory shall get P15 million.
Another P10 million shall be used for the research fund of the Health Technology Assessment Council and at least P2.5 million has been allocated for the computer-based licensure of the Philippine Red Cross.
The fund also provides P9.5 billion to the Department of Transportation to assist businesses critically affected by the pandemic.
The tourism sector shall also get P4.1 billion which includes P100 million for training and subsidies to tour guides.
The Department of Education shall get P4 billion for the implementation of blended learning and another P3 billion for the development of smart campuses across the country. – Christina Mendez