Airline passengers must also wear face shields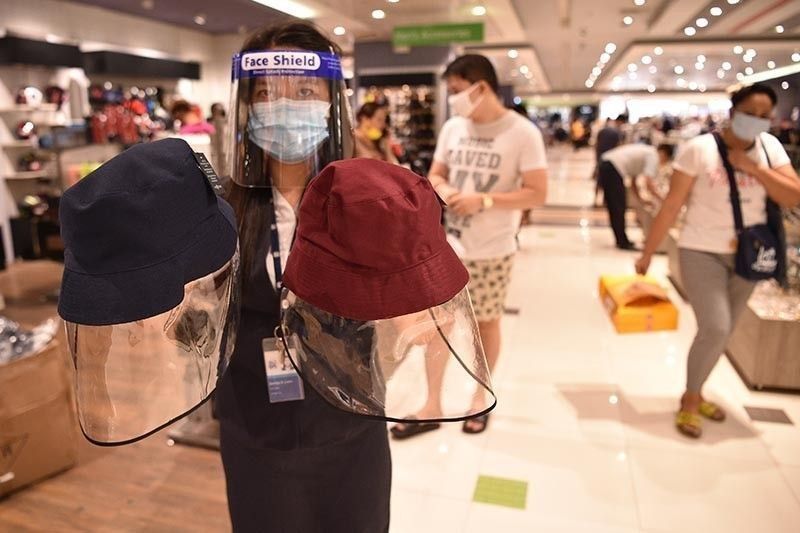 MANILA, Philippines — All international and domestic passengers will be required to wear face shields aside from face masks starting Aug. 15 following a Department of Transportation (DOTr) directive after the National Capital Region (NCR) and nearby provinces were placed anew under a modified enhanced community quarantine.
The Civil Aviation Authority of the Philippines (CAAP) said that international and local carriers in every international and domestic airport in the country would implement the DOTr directive to reduce the transmission of coronavirus disease in all public transportation vehicles and facilities.
CAAP spokesman Eric Apolonio said airline officials at every airport would require all passengers to wear a face mask upon arrival at the airport and wear the face shield prior to boarding the aircraft.
Aside from the face mask and shield, passengers are also required to bring their negative COVID-19 results or certification and to present this to airline staff at the counters, Apolonio added.
Health authorities pointed out that the use of face shields and masks considerably reduces exposure to and the emission of respiratory droplets.
"Let us not think of this requirement of using face shield as an additional cost or inconvenience," Transportation Secretary Arthur Tugade said, adding that no amount of protection is too much when battling an invisible enemy.
Philippine Airlines (PAL), Cebu Pacific (CEB) and AirAsia have cancelled their flights from Manila to other domestic destinations, but they continue to serve some international destinations with restrictions.
The local carriers continue to implement enhanced bio-security preventive measures to keep their passengers and personnel safe. These safety measures include daily extensive cleaning and disinfection protocols for all aircraft and facilities, rapid antibody testing for frontliners and crew, and contactless flight procedures – all based on global best practices and highest safety standards.
As local government units might have separate requirements and regulations, passengers are advised to check first with the LGUs of their destinations.
The airlines said passengers who fail to follow the requirements may be denied check-in or boarding. They also advised all departing passengers to check the real time flight status on airline websites and refrain from going to airports unless their flight schedules are verified and confirmed.
Meanwhile, the Metropolitan Manila Development Authority (MMDA) said medical and government frontliners who would use the Pasig River ferry service should also wear face shield as an additional protection .
MMDA general manager Jojo Garcia told The Chiefs on One News last Wednesday that this is in line with the DOTR's directive for those using public transport to wear face shields and masks to decrease virus transmission. – Richmond Mercurio, Marc Jayson Cayabyab