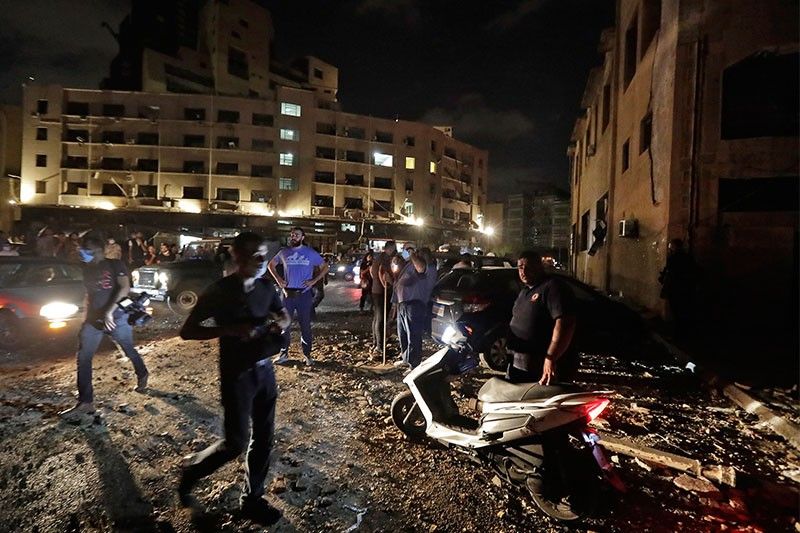 People and journalists, some clad in masks due to the COVID-19 coronavirus pandemic, gather at the scene of an explosion at the port of Lebanon's capital Beirut on August 4, 2020. Two huge explosion rocked the Lebanese capital Beirut, wounding dozens of people, shaking buildings and sending huge plumes of smoke billowing into the sky. Lebanese media carried images of people trapped under rubble, some bloodied, after the massive explosions, the cause of which was not immediately known.
AFP/Joseph Eid
2 Filipinos killed, 8 injured in Lebanon blasts
(Philstar.com) - August 5, 2020 - 8:28am
MANILA, Philippines (Updated 2:46 p.m.) — Two Filipinos have been reported killed while eight others were injured following two powerful explosions in Beirut, Lebanon on Tuesday, the Department of Foreign Affairs confirmed.
"Per latest report from the Philippine Embassy 2 Filipinos have been reported killed and 6 injured. All were in their employers homes during the explosion," Foreign Affairs Assistant Secretary Ed Menez tells reporters Wednesday morning.
DFA Undersecretary Sarah Arriola later on gave an update that two more Filipinos are injured while 12 are missing.
Among the eight injured, seven sustained minor injuries while one is in critical but stable condition. All of the injured are household service workers who were at their work place when the blast devastated Lebanon's capital.
Meanwhile, 11 of the missing Filipinos are seafarers aboard cruise ship MV Orient Queen, which was docked 400 meters from the blast zone.
"They decided to jump from the ship because they felt that they will sink. Two of them arrived at the embassy and they are now at the chancery," Arriola said in a virtual briefing.
Arriola said the Philippine Embassy in Lebanon is reaching out to the hospitals to look for the missing Filipinos.
The other reported missing Filipino is a household service worker believed to have also sustained injuries from the explosion.
"As of now we are looking at all hospitals and we are relying on the reports of the Filipino community," Arriola said, adding that the DFA will be giving all kinds of assistance to those who may need on the ground.
The Philippine Embassy is coordinating with the Filipino community in Lebanon to assess the situation and provide assistance to any affected Filipinos, the DFA said.
According to Menez, approximately 33,000 Filipinos are in Lebanon, 75% of whom are in the Greater Beirut area.
For those who may need assistance, the Philippine Embassy may reached through the following:
Telephones: +961 3859430, +961 81334836, +961 71474416, +961 70681060 and +961 70858086
Email: beirutpe@gmail.com
Facebook: Philippine Embassy in Lebanon
At least 73 people were dead and thousands injured after two explosions devastated Beirut's port on Tuesday.
Lebanon's Prime Minister Hassan Diab said that 2,750 tonnes of fertiliser ammonium nitrate that had been stored for years in a portside warehouse had blown up, sparking "a disaster in every sense of the word".
"What happened today will not pass without accountability," said Diab. "Those responsible for this catastrophe will pay the price." — Patricia Lourdes Viray with AFP
RELATED VIDEO:
As It Happens
LATEST UPDATE: September 2, 2020 - 7:14am
The powerful explosions that rocked the port of Beirut on Tuesday left "people dead and injured", the Lebanon's National News Agency reports
Georges Kettaneh, the president of the Lebanese Red Cross, referrs to "hundreds of wounded" in a statement on Lebanese LBC television, adding: "We are overwhelmed by phone calls."
Lebanon's Prime Minister Hasan Diab has declared Wednesday a day of mourning, and President Michel Aoun called for "urgent" defence council talks. — AFP
September 2, 2020 - 7:14am
Lebanese leaders have promised to form a new government within two weeks, visiting French president Emmanuel Macron said Tuesday after talks with political blocs who designated a new prime minister a day earlier.
"What I have asked for, what all political parties without exception have committed to this evening right here, is that the formation of this government will not take more than 15 days," Macron said in a speech.
He said the cabinet would be comprised of "competent personalities" and would be an "independent" entity with the backing of political parties. — AFP
August 14, 2020 - 7:39am
UN human rights experts on Thursday demanded a swift, independent investigation into the catastrophic Beirut explosion, citing deep concern about irresponsibility and impunity in Lebanon.
The group also called for a relatively-rare special debate at the United Nations Human Rights Council this September.
UN experts do not speak for the United Nations but report their findings to it. — AFP
August 13, 2020 - 7:43am
The massive blast at Beirut port on August 4 caused more than $15 billion in damages, Lebanese President Michel Aoun says.
"Preliminary estimates of the losses suffered following the port explosion top 15 billion dollars," he was quoted as telling Spain's King Felipe in a phone call, in a message on the presidency's Twitter account. — AFP
August 12, 2020 - 7:34am
The death toll from Beirut's massive August 4 explosion has climbed to 171, a health ministry spokesman told AFP on Tuesday.
The new figure, up from 160, came exactly one week since the mega-blast ravaged swathes of the Lebanese capital, wounding more than 6,000 and temporarily displacing 300,000 people from their homes. — AFP
August 11, 2020 - 9:45am
Lebanon's premier Hassan Diab stepped down Monday amid fury within and outside his government over the deadly Beirut port blast he blamed on the incompetence and corruption of a decades-old ruling class.
"Today we are heeding the people and their demands to hold accountable those responsible for a disaster that has been concealed for seven years" he said in a televised address, blaming a "corrupt" political elite for the August 4 explosion.
"This is why today I announce the resignation of the government." — AFP