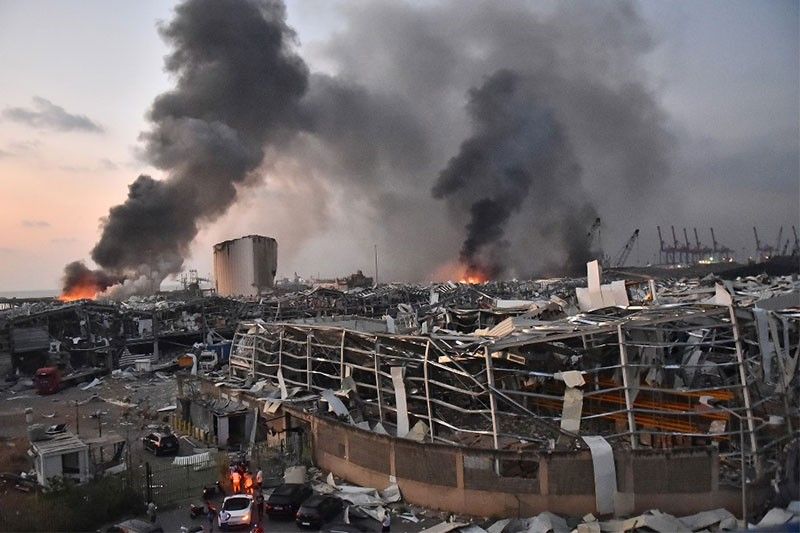 This picture taken on August 4, 2020 shows a general view of the scene of an explosion at the port of Lebanon's capital Beirut. Two huge explosion rocked the Lebanese capital Beirut, wounding dozens of people, shaking buildings and sending huge plumes of smoke billowing into the sky. Lebanese media carried images of people trapped under rubble, some bloodied, after the massive explosions, the cause of which was not immediately known.
AFP/STR
World offers support, condolences to Lebanon after devastating blasts
(Agence France-Presse) - August 5, 2020 - 7:51am
BEIRUT, Lebanon — Close allies and traditional adversaries of Lebanon paid tribute on Tuesday to the victims of massive, deadly twin blasts in Beirut, as condolences and offers of help poured in.
Lebanon's Prime Minister Hassan Diab called on "friendly countries" to support a country already reeling from its worst economic crisis in decades and the coronavirus pandemic.
UN chief Antonio Guterres expressed his "deepest condolences ... following the horrific explosions in Beirut" which he said had also injured some United Nations personnel.
US President Donald Trump said "it looks like a terrible attack" and that US generals had told him that the powerful explosions appeared to have been caused by a "bomb of some kind", without offering evidence.
Secretary of State Mike Pompeo tweeted that "we are monitoring and stand ready to assist the people of Lebanon as they recover from this horrible tragedy".
In the region, Gulf nations were among the first to react, with Qatar promising to send field hospitals to support the medical response.
Qatar's ruler Emir Sheikh Tamim bin Hamad Al-Thani wished "a speedy recovery for the injured," while the United Arab Emirates' Vice President and ruler of Dubai, Sheikh Mohammed bin Rashid Al-Maktoum, tweeted "our condolences to our beloved people in Lebanon."
Kuwait said it would also send emergency medical aid.
Egypt expressed "deep concern" at the destruction, and Arab League chief Ahmed Aboulgheit offered condolences, stressing "the importance of finding the truth about the explosions".
And unusually, neighbouring Israel offered humanitarian aid -- to a country with which it is still technically at war.
"Defence Minister Benny Gantz and Foreign Minister Gabi Ashkenazi, on behalf of the State of Israel, have offered the Lebanese government -- via international intermediaries -- medical and humanitarian aid, as well as immediate emergency assistance," a statement read.
'Stay strong, Lebanon'
Jordan's Foreign Minister Ayman Safadi said Amman was ready to provide any help Lebanon needed, while Iran said it was "fully prepared to render assistance in any way necessary".
"Our thoughts and prayers are with the great and resilient people of Lebanon," Iranian Foreign Minister Mohammad Javad Zarif tweeted.
"Stay strong, Lebanon."
Syria's President Bashar Al-Assad wrote to Lebanese President Michel Aoun that "on behalf of the Syrian Arab people, we extend our sincere condolences to you and the Lebanese people".
Outside the region, President Vladimir Putin said that "Russia shares the grief of the Lebanese people," according to a Kremlin statement.
"I ask you to convey words of sympathy and support to the families and friends of the victims, as well as wishes for a speedy recovery to all affected."
French Foreign Minister Jean-Yves Le Drian said the country was "ready to provide assistance according to the needs expressed by the Lebanese authorities".
Britain's Prime Minister Boris Johnson called the pictures and videos from Beirut "shocking".
"All of my thoughts and prayers are with those caught up in this terrible incident," he wrote on Twitter. "The UK is ready to provide support in any way we can, including to those British nationals affected."
Canadian Prime Minister Justin Trudeau wrote on social media to say "we think of all those who were injured in this tragic explosion, as well as those who are trying to find a friend or family member or who have lost a loved one. We're ready to help you."
Related video:
As It Happens
LATEST UPDATE: September 2, 2020 - 7:14am
The powerful explosions that rocked the port of Beirut on Tuesday left "people dead and injured", the Lebanon's National News Agency reports
Georges Kettaneh, the president of the Lebanese Red Cross, referrs to "hundreds of wounded" in a statement on Lebanese LBC television, adding: "We are overwhelmed by phone calls."
Lebanon's Prime Minister Hasan Diab has declared Wednesday a day of mourning, and President Michel Aoun called for "urgent" defence council talks. — AFP
September 2, 2020 - 7:14am
Lebanese leaders have promised to form a new government within two weeks, visiting French president Emmanuel Macron said Tuesday after talks with political blocs who designated a new prime minister a day earlier.
"What I have asked for, what all political parties without exception have committed to this evening right here, is that the formation of this government will not take more than 15 days," Macron said in a speech.
He said the cabinet would be comprised of "competent personalities" and would be an "independent" entity with the backing of political parties. — AFP
August 14, 2020 - 7:39am
UN human rights experts on Thursday demanded a swift, independent investigation into the catastrophic Beirut explosion, citing deep concern about irresponsibility and impunity in Lebanon.
The group also called for a relatively-rare special debate at the United Nations Human Rights Council this September.
UN experts do not speak for the United Nations but report their findings to it. — AFP
August 13, 2020 - 7:43am
The massive blast at Beirut port on August 4 caused more than $15 billion in damages, Lebanese President Michel Aoun says.
"Preliminary estimates of the losses suffered following the port explosion top 15 billion dollars," he was quoted as telling Spain's King Felipe in a phone call, in a message on the presidency's Twitter account. — AFP
August 12, 2020 - 7:34am
The death toll from Beirut's massive August 4 explosion has climbed to 171, a health ministry spokesman told AFP on Tuesday.
The new figure, up from 160, came exactly one week since the mega-blast ravaged swathes of the Lebanese capital, wounding more than 6,000 and temporarily displacing 300,000 people from their homes. — AFP
August 11, 2020 - 9:45am
Lebanon's premier Hassan Diab stepped down Monday amid fury within and outside his government over the deadly Beirut port blast he blamed on the incompetence and corruption of a decades-old ruling class.
"Today we are heeding the people and their demands to hold accountable those responsible for a disaster that has been concealed for seven years" he said in a televised address, blaming a "corrupt" political elite for the August 4 explosion.
"This is why today I announce the resignation of the government." — AFP