Duterte bans Philippines from joining naval exercises in South China Sea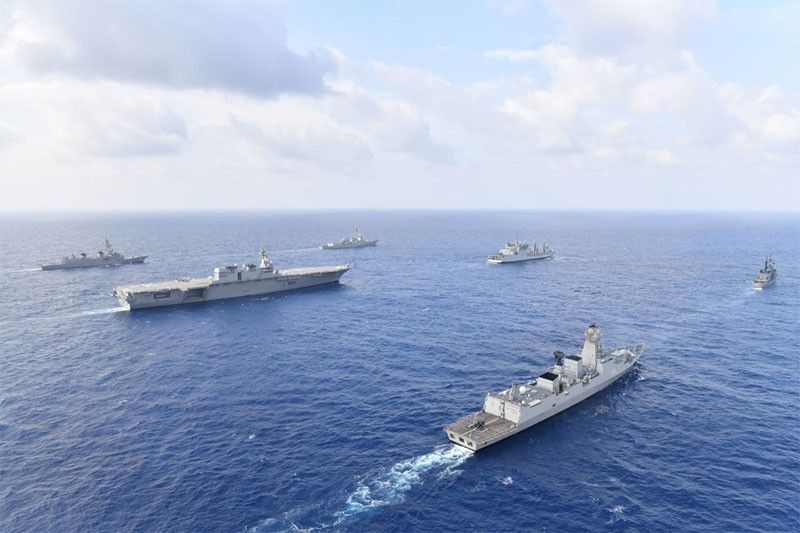 MANILA, Philippines — The Philippines will no longer be participating in joint maritime exercises in the South China Sea with other countries, Defense Secretary Delfin Lorenzana said Monday.
According to Lorenzana, President Rodrigo Duterte issued this directive to reduce tension in the contested waterway.
"President Rodrigo Duterte has a standing order to us, to me, that we should not involve ourselves in naval exercises in the South China Sea except our national waters, the 12 mile distance from our shores," Lorenzana said at an online press briefing.
Just last month, the United States declared that it would treat China's pursuit of resources in the South China Sea as illegal. Beijing rejected this, claiming that the accusation was "unjustified."
The US, along with allies such as Australia, has been recently conducting joint maritime exercises in the South China Sea following its latest policy on the maritime disputes.
"If one country's action is considered as belligerent, another tension will normally rise, so I hope that all the parties in this exercise will have, will work on their actions there, to exercise prudence and carefulness so that there will be no miscalculations that could further increase the tension," the defense chief said.
Duterte: I am 'inutil'
In his penultimate State of the Nation Address last week, Duterte admitted that he is "useless" on the West Philippine Sea issue as China has "possession" of the area. The West Philippine Sea is the portion of the South China Sea which is within Philippine exclusive economic zone.
The president, once again, insisted that asserting the Philippines' sovereign rights over the West Philippine Sea would entail going to war with China.
"China is claiming it, we are claiming it. China has the arms. We do not have it. So, it's simple as that," Duterte said.
Instead of supposedly going to war, Duterte said the issue should be treated "with a diplomatic endeavor."
"They (China) are in possession of the property, so what we can do? We have to go to war and I cannot afford it. Maybe some president can but we cannot. Inutil ako d'yan," the president said.
This, despite the Philippines' July 2016 arbitral win that invalidated China's historic nine-dash line claim over the South China Sea. Beijing continues reject the ruling while Manila, under the Duterte administration, refuses to invoke the award.
Naval powers in West Philippine Sea
In response to Duterte's remarks, retired Supreme Court Senior Associate Justice Antonio Carpio said the president should not say that China is in possession of the Philippines' exclusive economic zone in the West Philippine Sea because this is not the case.
"China does not possess Philippine EEZ which is beyond the 12-nautical mile territorial seas of disputed islands or high-tide geologic features," Carpio said in a statement.
Carpio, part of the Philippine delegation in the South China Sea arbitration, stressed that naval power like the US, the UK, France, Australia, Japan and Canada regularly sail in the West Philippine Sea, proving that Beijing is not in possession of the area.
He also pointed out that Vietnam, Malaysia and Indonesia are asserting their sovereign rights to their maritime zones against China's claims without going to war.
"A country does not need to go to war to assert its sovereign rights. There are lawful and peaceful means of asserting sovereign rights," Carpio earlier said.
As It Happens
LATEST UPDATE: November 26, 2022 - 1:48pm
November 26, 2022 - 1:48pm
Palawan Rep. Edward Hagedorn files a bill declaring 3 nautical miles surrounding the Kalayaan Island Group and Scarborough Shoal in West Philippine Sea as marine protected area. — The STAR/Sheila Crisostomo
November 22, 2022 - 7:03pm
Philippine President Ferdinand Marcos says the country will ask Beijing to explain its "more benign" account of an incident involving Chinese coastguard taking rocket debris from Filipino soldiers in disputed waters.
A senior Filipino navy official on Monday accused the Chinese coastguard of "forcefully" seizing parts of a rocket fairing that landed in the waters of the Spratly Islands in the hotly contested South China Sea.
Beijing insisted the handover took place after "friendly consultation". — AFP
February 28, 2022 - 10:29am
Around 68 foreign vessels were near Julian Felipe Reef and 39 near Union Banks on February 17, satellite image show.
Liz Derr, CEO of the geospatial data provider Simularity, says this at a Stratebase ADR-hosted conference.
In March 2021, over 200 Chinese vessels were sighted near the reef. — report from News5/Marianne Enriquez
November 22, 2021 - 3:54pm
President Rodrigo Duterte condemns the latest flare-up in the disputed South China Sea after Chinese coastguard ships fired water cannon at Filipino boats.
"We abhor the recent event in the Ayungin Shoal and view with grave concern other similar developments," Duterte tells the meeting of the Association of Southeast Asian Nations and China, using the Filipino name for the shoal.
"This does not speak well of the relations between our nations and our partnership." — AFP
November 22, 2021 - 8:41am
The European Union expresses "strong opposition" against China's unilateral actions in the South China Sea, including the West Philippine Sea.
This statement comes after Chinese coast guard ships blocked and water cannoned Philippine boats transporting supplies to military personnel stationed at Ayungin (Second Thomas) Shoal.
"In this context, the European Union recalls the Arbitration Award rendered under UNCLOS on 12 July 2016, which found that Second Thomas Shoal lies within the Philippines' exclusive economic zone and continental shelf," the EU says in a statement.