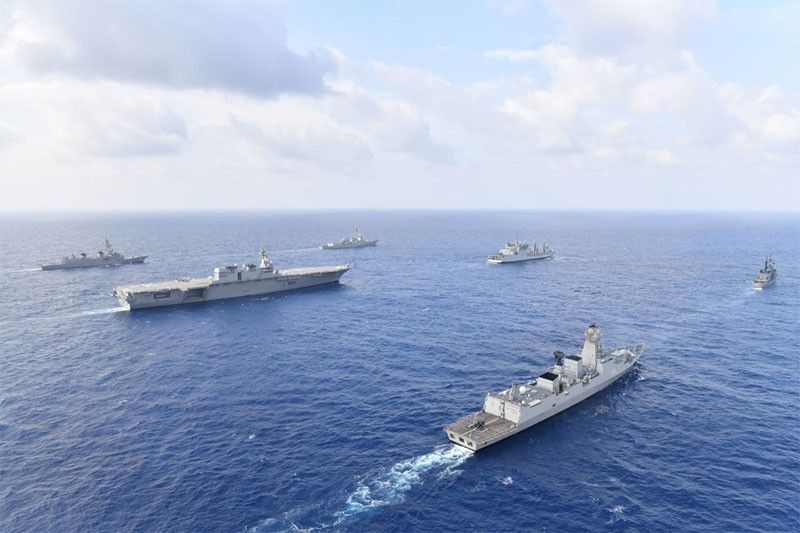 In this May 5, 2019 photo, the US Navy guided-missile destroyer USS William P. Lawrence (DDG 110), upper left, transits international waters of the South China Sea with the Indian navy destroyer INS Kolkata (D 63) and tanker INS Shakti (A 57); the Japan Maritime Self-Defense Force helicopter carrier JS Izumo (DDH 183) and destroyer JS Murasame (DD 101); and the Republic of the Philippines navy patrol ship BRP Andres Bonifacio (PS 17).
US Navy/Japan Maritime Self-Defense Force/Released
Duterte bans Philippines from joining naval exercises in South China Sea
MANILA, Philippines — The Philippines will no longer be participating in joint maritime exercises in the South China Sea with other countries, Defense Secretary Delfin Lorenzana said Monday.
According to Lorenzana, President Rodrigo Duterte issued this directive to reduce tension in the contested waterway.
"President Rodrigo Duterte has a standing order to us, to me, that we should not involve ourselves in naval exercises in the South China Sea except our national waters, the 12 mile distance from our shores," Lorenzana said at an online press briefing.
Just last month, the United States declared that it would treat China's pursuit of resources in the South China Sea as illegal. Beijing rejected this, claiming that the accusation was "unjustified."
The US, along with allies such as Australia, has been recently conducting joint maritime exercises in the South China Sea following its latest policy on the maritime disputes.
"If one country's action is considered as belligerent, another tension will normally rise, so I hope that all the parties in this exercise will have, will work on their actions there, to exercise prudence and carefulness so that there will be no miscalculations that could further increase the tension," the defense chief said.
Duterte: I am 'inutil'
In his penultimate State of the Nation Address last week, Duterte admitted that he is "useless" on the West Philippine Sea issue as China has "possession" of the area. The West Philippine Sea is the portion of the South China Sea which is within Philippine exclusive economic zone.
The president, once again, insisted that asserting the Philippines' sovereign rights over the West Philippine Sea would entail going to war with China.
"China is claiming it, we are claiming it. China has the arms. We do not have it. So, it's simple as that," Duterte said.
Instead of supposedly going to war, Duterte said the issue should be treated "with a diplomatic endeavor."
"They (China) are in possession of the property, so what we can do? We have to go to war and I cannot afford it. Maybe some president can but we cannot. Inutil ako d'yan," the president said.
This, despite the Philippines' July 2016 arbitral win that invalidated China's historic nine-dash line claim over the South China Sea. Beijing continues reject the ruling while Manila, under the Duterte administration, refuses to invoke the award.
Naval powers in West Philippine Sea
In response to Duterte's remarks, retired Supreme Court Senior Associate Justice Antonio Carpio said the president should not say that China is in possession of the Philippines' exclusive economic zone in the West Philippine Sea because this is not the case.
"China does not possess Philippine EEZ which is beyond the 12-nautical mile territorial seas of disputed islands or high-tide geologic features," Carpio said in a statement.
Carpio, part of the Philippine delegation in the South China Sea arbitration, stressed that naval power like the US, the UK, France, Australia, Japan and Canada regularly sail in the West Philippine Sea, proving that Beijing is not in possession of the area.
He also pointed out that Vietnam, Malaysia and Indonesia are asserting their sovereign rights to their maritime zones against China's claims without going to war.
"A country does not need to go to war to assert its sovereign rights. There are lawful and peaceful means of asserting sovereign rights," Carpio earlier said.
As It Happens
LATEST UPDATE: May 31, 2021 - 11:14am
May 31, 2021 - 11:14am
The government should name and identify rocks and features in the Kalayaan Island Group to assert Philippine sovereignty in the West Philippine Sea, a senator says Monday.
"The features we occupy in the KIG remain unnamed. Mapapalakas ang paggiit natin ng ating karapatan sa WPS kung malinaw ang pangalan, katangian, at sakop ng mga inaangkin nating teritoryo. Udyukin na ng DENR ang National Mapping and Resource Information Authority (NAMRIA) para simulan ang pag-papangalan ng mga ito," Sen. Risa Hontiveros says in a statement.
May 18, 2021 - 10:04pm
The Philippines protests China's unilateral fishing ban in the South China Sea, including the West Philippine Sea.
The Department of Foreign Affairs says the Philippines does not recognize China's fishing moratorium as it covers areas over which the country exercises sovereignty, sovereign rights and jurisdiction.
"China's annual fishing moratorium extends far beyond China's legitimate maritime entitlements under UNCLOS and is without basis under international law," the DFA says in a statement.
JUST IN: The Philippines protests China's unilateral fishing ban in the South China Sea. @PhilstarNews pic.twitter.com/imoUaKNwFN

— Patricia Viray (@patriciaviray) May 18, 2021
May 3, 2021 - 8:58am
The DFA protests the illegal presence of Chinese Coast Guard vessels in Panatag (Scarborough) Shoal and their belligerent actions against the Philippine Coast Guard.
DFA also rejects the statement of Chinese foreign ministry spokesperson Wang Wenbin that China enjoys sovereignty over Panatag Shoal/Bajo de Masinloc.
"China has no enforcement rights in these areas... The unauthorized and lingering presence of these vessels is a blatant infringement of Philippine sovereignty," the DFA says in a statement.
April 28, 2021 - 12:24pm
Foreign Affairs Secretary Teodoro Locsin Jr. orders the filing of another diplomatic protest against China following the statement of a Chinese official on the Philippine Coast Guard's exercises in the West Philippine Sea.
"They can say what they want from the Chinese mainland; we continue to assert from our waters by right of international law what we won in The Hague. But we must not fail to protest. @DFAPHL have we fired off a diplomatic protest? Do it now," says Locsin on Twitter.
April 25, 2021 - 1:08pm
The Philippine Coast Guard sends BRP Malapascua and BRP Francisco Dagohoy (MMOV 5002) — a fisheries bureau vessel manned by PCG personnel — to Pagasa Island in the West Philippine Sea for maritime exercises.
Pagasa Island is in the Kalayaan Island Group of Palawan province.