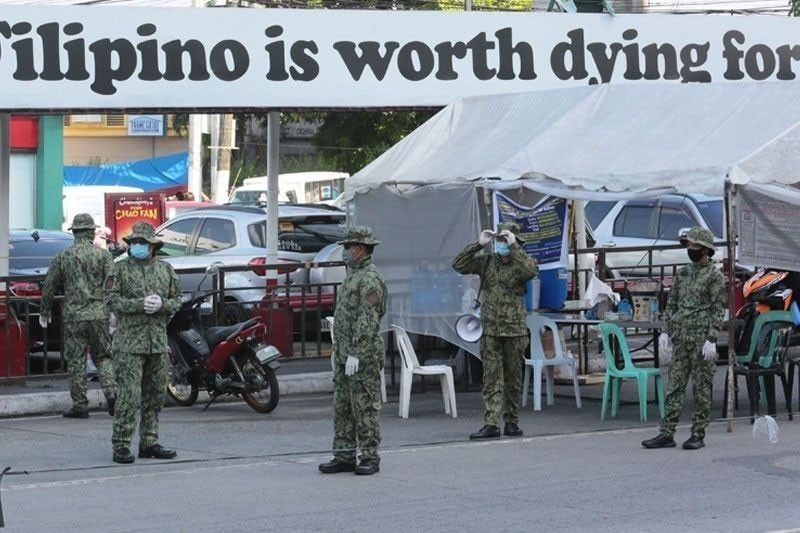 With localized lockdowns and continued mass testing, private sector initiative Project Antibody Rapid test Kit (ARK) spearheaded by Concepcion presented the initial cost for its planned pooled swab testing.
STAR/Michael Varcas. file
Mayors, conglomerates back localized lockdowns
MANILA, Philippines — As the rising cases of COVID-19 threaten to revert the country to stricter quarantine levels, Presidential Adviser for Entrepreneurship and Go Negosyo founder Joey Concepcion, along with mayors and conglomerates, yesterday called for the implementation of localized lockdowns to allow businesses and economic activities to continue.
With localized lockdowns and continued mass testing, private sector initiative Project Antibody Rapid test Kit (ARK) spearheaded by Concepcion presented the initial cost for its planned pooled swab testing.
Concepcion said he discussed the strategy to fight the virus via Zoom meeting with presidential spokesman Harry Roque, Finance Secretary Carlos Dominguez III, chief implementer of the National Policy Against COVID-19 Carlito Galvez Jr., deputy chief implementer of the National Policy Against COVID-19 Vince Dizon, Interior and Local Government Secretary Eduardo Año, Defense Secretary Delfin Lorenzana, Labor Secretary Silvestre Bello III, Mayors Menchie Abalos (Mandaluyong), Imelda Calixto-Rubiano (Pasay), Vico Sotto (Pasig), Joy Belmonte (Quezon City), Abby Binay (Makati), Lino Cayetano (Taguig) and Benjamin Magalong (Baguio), as well as Ayala Corp. chairman and chief executive officer Jaime Augusto Zobel de Ayala, MVP Group chairman Manuel V. Pangilinan and International Container Terminal Services Inc. chairman and president Enrique Razon.
Instead of locking down an entire city or region with rising number of COVID-19 cases, Concepcion said a lockdown should be focused and limited to barangays or local clusters with high infection rates.
"Switching to granular lockdown measures and giving more power to LGUs (local government units) to enforce the lockdowns is something I presented to the President in a meeting. Economic activities may continue and businesses may resume operations, especially MSMEs (micro, small and medium enterprises) affected by the pandemic. Going back to ECQ (enhanced community quarantine) will destroy businesses and people who are trying to restart," he said.
Galvez said the country could not afford to have Metro Manila under ECQ again.
"We will try to implement a more targeted and localized lockdown and segmented and granular approach on the hotspots of infection," he said.
Año said one of the pressing issues faced by individuals is the fear of having to go to isolation centers. He appealed to the private sector to consider setting up dedicated quarantine facilities for their employees.
Along with the call for localized lockdowns, Concepcion said the private sector through Project ARK would continue to support the government in increasing the country's testing capacity.
"When relaxing, there's a psychological effect that begins to take place when moving toward normality. This is going to be around for a while. Testing is something we fully support. Aside from the targeted lockdowns based on data analysis which I support, I want to emphasize the teaching component and making use of aggressive data-driven analysis," Zobel said.
Given the country's limited healthcare resources, Pangilinan said the conduct of tests should be targeted.
He said his group would continue to support the government in efforts to mitigate the spread of the virus.
During the meeting, ARK-PCR private implementor and Iloilo Rep. Janette Garin presented Project ARK's initial cost for pooled swab tests based on a study undertaken with the Philippine Society of Pathologists Inc. and Philippine Children's Medical Center to confirm the validity of putting swab samples of multiple individuals into a single polymerase chain reaction (PCR) test.
She said the pooled swab test of five individuals would cost P450 per head. A group of 10 would pay P350 per head and a group 20 would be priced at P250 per head inclusive of P150 swabbing fee.
Project ARK sees pooled PCR testing as a way to bring down the cost of tests and help increase testing capacity.
Pilot implementation of the pooled swab test is slated in Makati next month.
"We are going to conduct 10,000 tests using pooled testing. Based on our initial testing, five percent actually tested positive. We look forward to another phase of this collaboration. We are an essential business district, we have to keep the economy alive in the city," Binay said.
Apart from testing, Magalong, who was appointed as contact tracing czar, said there is also a need to allocate resources for tracing close contacts of positive COVID-19 cases.
Belmonte said the Quezon City government is working on a contact tracing strategy.
"Contact tracing is something we're doing and ramping up. We are working with Mayor Magalong to adopt the software and the app they have," she said.