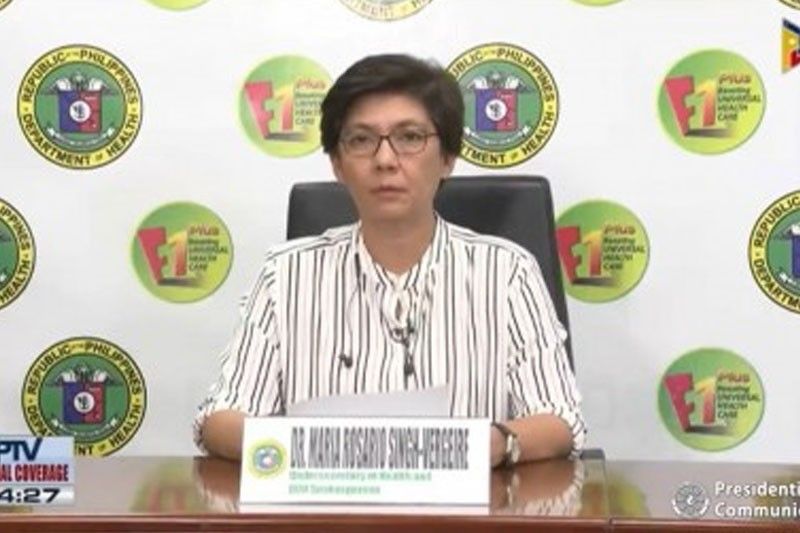 The DOH said the total number of confirmed cases had risen to 56,259 due to 2,124 new cases recorded last Sunday.
pna.gov.ph
DOH reports record single-day recoveries, deaths
MANILA, Philippines – The Department of Health (DOH) reported yesterday a new record high in the number of deaths and recoveries from coronavirus disease 2019 (COVID-19) patients in a single day.
Based on the DOH COVID-19 July 12 Bulletin released yesterday morning, 162 new deaths were documented, bringing the total number of fatalities to 1,534. This is the highest death toll since April 12 when 50 deaths were recorded.
A total of 2,009 patients have survived the virus, bringing total recoveries to 16,046. This surpassed the 807 recoveries reported last July 11.
The DOH said the total number of confirmed cases had risen to 56,259 due to 2,124 new cases recorded last Sunday.
But according to DOH Undersecretary Maria Rosario Vergeire, the increase in the number of total cases, deaths and recoveries was due to the "ongoing data harmonization" with local government units (LGUs).
Vergeire noted in the press briefing that there has also been "robust surveillance" of cases.
"Because of our efforts to speed up the collection of data from laboratories, hospitals and local government units, we are seeing a rise in reported cases, deaths and recoveries now and in the coming days," she added.
Data showed that not all of the 162 new deaths happened on Sunday. And of this figure, 51 deaths took place this July.
The rest of the reported deaths occurred during the month of June with 90, while last May recorded 20.
Of the 162 deaths, 99 came from Central Visayas; 37 from the National Capital Region (NCR); six from Central Luzon; three from Calabarzon; two each from Eastern Visayas and Zamboanga peninsula, and one from the Bangsamoro Automous Region in Muslim Mindanao.
Vergeire said the rising cases of COVID-19 fatalities is a cause of concern.
"One too many deaths is a concern. But I repeat, most of the deaths happened prior to the month of June. Only 18 deaths took place last week," she added.
Numbers improving
However, despite rising cases, DOH says indicators of COVID-19 in NCR and Cebu City are improving.
For NCR and Cebu City, which are being closely monitored for rising number of cases, the case doubling time (CDT) is improving.
Data show the NCR had posted a CDT of 8.89 days last Sunday, up from 8.39 days last July 3. On the other hand, Cebu City registered CDT of 8.25 days and 7.95 days on July 12 and July 3, respectively.
It also stated the country's reproductive number of R0 had increased from 1.09 as last June 17 to 1.23 last June 22.
"It increased slightly… but this is because of the rising cases in Cebu and NCR due to community transmission… R0 pertains to the number of people that may have gotten the virus from an infected individual," she said.
The official, however, maintained that despite the slight increase, the country is still "faring better in terms of R0 number" relative to the global average.
Vergeire added the country's goal is to bring down the R0 to below 1.
CSC eases rules
Meanwhile, the Civil Service Commission (CSC) has relaxed its rules on the hiring and reassignment of government health and social workers to ensure timely delivery of essential services amid the COVID-19 pandemic.
"To ensure uninterrupted delivery of crucial services to fight the COVID-19 pandemic, the Civil Service Commission has revised rules to ensure faster filling up of vacant positions resulting from promotion of those involved in providing essential services in this time of state of national health emergency," CSC chairperson Alica dela Rosa-Bala said in a press statement yesterday.
In its Resolution No. 2000659 promulgated on July 8, the CSC has exempted professional medical and social positions from the coverage of Section 96 of the 2017 Omnibus Rules on Appointments and Other Human Resource Actions (ORAOHRA).
Section of 96 of ORAOHRA states that government agencies "shall not fill vacancies resulting from promotion until the promotional appointment have been approved/validated by the CSC, except in meritorious cases, as may be authorized by the Commission."
"The conditional exemption from Section 96 of the 2017 ORAOHRA, as amended, are for health-related, social workers, and the like for agencies not previously exempt," the CSC said in its new resolution.
The CSC said the concerned agencies may now fill vacant positions through the commission's own online recruitment and selection procedure, provided that the CSC will be provided with a copy of their guidelines. Elizabeth Marcelo