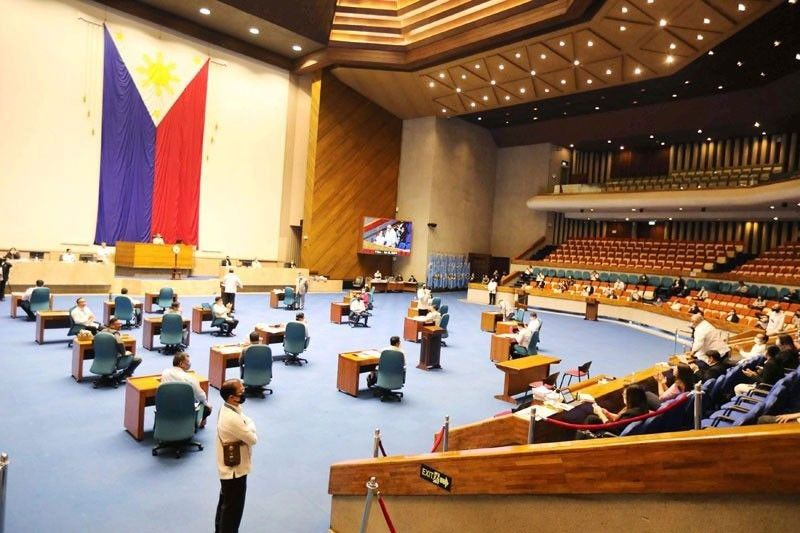 Ways and means committee chairman Joey Salceda and Deputy Speaker Mikee Romero said the chamber is ready to pass measures to increase funding to boost testing and hospital capacities of the DOH when the House convenes in special session as requested by Malacañang.
Boy Santos, file
House eyes additional DOH budget for testing, hospital beds
Edu Punay
(The Philippine Star) - July 8, 2020 - 12:00am
MANILA, Philippines — The House of Representatives is looking into providing additional funding to the Department of Health (DOH) to boost its programs to combat the coronavirus disease 2019 (COVID-19) pandemic, lawmakers bared yesterday.
This developed as a public health expert warned yesterday that 137 hospitals nationwide are in the "danger zone," with their occupancy rates already at more than 70 percent.
Ways and means committee chairman Joey Salceda and Deputy Speaker Mikee Romero said the chamber is ready to pass measures to increase funding to boost testing and hospital capacities of the DOH when the House convenes in special session as requested by Malacañang.
They cited the need to provide more funds to the DOH amid reports of increasing COVID-19 patients in some hospitals and the recent record-high new daily cases.
Salceda explained that sufficient health care measures against the disease are necessary in reopening the country's economy, following months of community quarantine measures.
"We will have to steel the nerves of our people. They will have to feel assured that we have their back. It's hard to do that if they keep fearing that, if they get sick, they will have nowhere to go to get treated, or that it will cost them a fortune. That's why the House economic team has always been prepared to accommodate requests for COVID-19-related health expansion," the Albay representative stressed.
Salceda, also chairman of the House economic stimulus cluster, believed that preparing hospitals and treatment centers for COVID-19 surges will be key to maintaining consumer and business confidence. He has advised the DOH to prepare a plan to be presented to Congress.
"We want a plan from the DOH. How are we going to allocate resources? Have we conducted stress tests of our health facilities? Where is the mismatch between available capacity and potential risk biggest, and how do we address the mismatch? If we don't answer these questions, we are courting disaster," he warned.
"We have always been strongly supportive of the government's fight against COVID-19. But I have a simple trade to ask from our pandemic managers: for every allotment Congress makes, we want a coherent and comprehensive plan for that allotment and an explanation of how it fits the larger picture," Salceda appealed.
Romero, for his part, suggested to the government to further increase its testing capacity by building mass testing facilities in strategic locations, particularly Metro Manila, Southern Luzon, Central Luzon, Cebu and Davao.
"We need to meet the requirement on testing and contact tracing as soon as possible so we can already reopen businesses and prevent further damage to the economy," the 1-Pacman party-list representative pointed out.
Romero, an economist, explained that the country is still behind the ideal 3-percent positive rate set by South Korea on testing capacity.
"We all need to work double time and hand-in-hand to win this battle. Every action of Congress must be in sync with the executive branch," he commented.
Salceda made the same appeal, saying the current testing capacity of the DOH is not yet sufficient.
"My office has studied the daily testing rates and we always fall in between the 10 percent positive rate that Harvard public health experts identified as the ceiling to determine whether a country is doing enough tests, and the three percent gold standard for testing that South Korea set. So we're doing so-so, and can do better. We are prepared to take up proposals from the Executive to help us improve these numbers," he added.
Romero said they expect the loopholes on testing capacity to be addressed when Congress tackles the proposed Bayanihan to Recover As One Act or Bayanihan Act 2 (House Bill 6953).
The bill seeks to provide P12 billion for the procurement of PRC testing and extraction kits, supplies and materials for COVID-19 testing and for the enhancement of DOH capacity to provide healthcare services.
The House committee of the whole passed HB 6953 last June 3 before Congress adjourned sine die.
Danger zone
Citing the Nationwide Facilities Data of the DOH as of July 3, Susan Mercado, public health expert and the President's special envoy on Global Health Initiatives, said the availability of beds in 137 hospitals nationwide is "declining."
Of the 137 hospitals, 42 are in Metro Manila.
"This is the first time that we had that. We used to have occupancy rate at the very low, especially for COVID-19," she noted during an interview with The Chiefs on One News.
Mercado observed that there are many isolation facilities in the National Capital Region at 1,391. This, however, means that "people are going straight to the hospital even if their condition is mild."
"That's not a good thing because we want to reserve the hospitals for those who have moderate or severe illness," she added.
For Mercado, the imposition of a lockdown should be "localized" but this must be coupled with strict public adherence of infection prevention protocols, particularly physical distancing, frequent hand washing and wearing of masks.
"We have to get used to the fact that this is not going to go away. What we want to see in the Philippines is the ability to lock down very specific locality every time there is a COVID case," she said.
Mercado cited, for instance, a hospital in Manila which had 24 admissions from Tondo on a single night.
In such a situation, she underscored, "we need to watch and restrict movement there, test people, separate the sick from the healthy and just move on."
Mercado maintained that lockdown cannot continue because "this has a lot of socio-economic and health costs." She recommended that local government units identify where the outbreaks are
"What we want to see is quick, laser-pointed quarantine, restriction or isolation for those who are sick and who have symptoms and bring them to isolation facilities," she added.
"Obviously, here in Metro Manila as in Cebu, people were not going to isolation… Let's not forget this is a 14-day illness, so when you look at total number of positive since February, how many of them are still going around and infecting other people?" she cautioned.
On persistent reports that COVID-19 is also airborne, Mercado said it is not yet certain if the virus can live in the air for a long period of time but "definitely in hospitals, we can see that happen."
This is because in hospitals, there are many medical procedures that generate aerosols, such as intubation which may spew large amount of microscopic particles.
"In hospitals, it is really being treated as airborne illness… and that's why doctors are investing on all types of personal protective equipment," she added.
Virus mutation
According to Mercado, she will not be surprised if there is a mutation of SARS-CoV-2, the virus that causes COVID-19, because it is "in the nature of this virus to mutate."
But regardless if the virus had mutated or not, she said interventions will always be the same – keep your distance, always put the mask on and frequently wash hands.
She urged the public to get used to these practices as COVID-19 "is not going away. Instead, the illness will be like dengue which will peak during its season."
"So if you are thinking you are going to see the day when there is no COVID, that's going to be a long time. This is going to be like dengue and we have outbreaks that we have to deal with during dengue season," Mercado added. Sheila Crisostomo