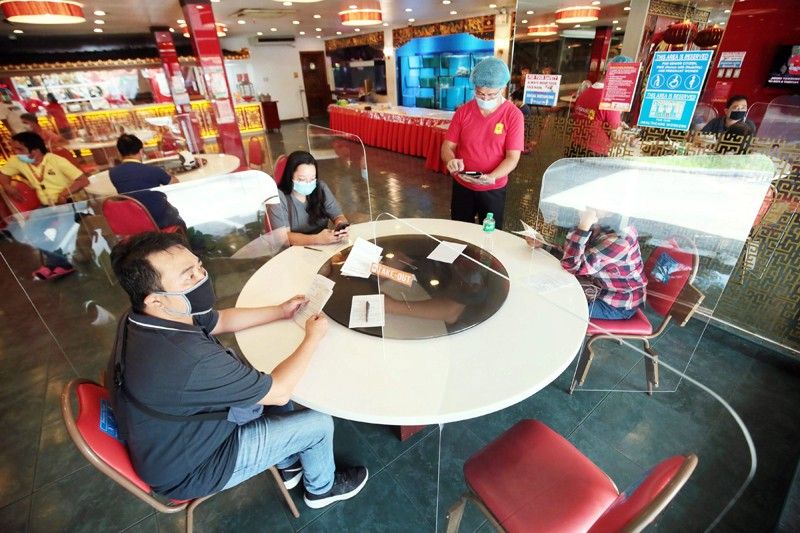 Plexiglass barriers separate customers as they fill out contact tracing forms in a Quezon City restaurant yesterday. Strict health and safety rules have been imposed on fast-food outlets and restaurants, which have now been allowed longer hours of operation.
Michael Varcas
Dine-in operations extended to 9 p.m.
MANILA, Philippines — Customers can now enjoy more time for dining in after the Inter-Agency Task Force for the Management of Emerging Infectious Diseases (IATF) approved the extended operating hours of restaurants.
Presidential spokesman Harry Roque Jr. said the IATF noted that curfew hours have been adjusted by local government units.
Curfew has been set from the previous 8 p.m to 5 a.m. to the current 10 p.m to 5 a.m., which would give workers more time to go home after their duty hours.
"For the dine-in food establishment industry, good news: not only is 30 percent capacity allowed to eat, we extended the dine-in period to 9 o'clock in the evening," Roque said.
"Because the curfew was changed to 10 p.m. to 5 a.m., so we can dine-in up to 9 p.m.," Roque added.
Those living in areas under general community quarantine (GCQ) are allowed to operate at 30 percent capacity. Areas under modified general community quarantine are allowed to operate at 50 percent capacity.
Meanwhile, Roque added that golf enthusiasts can continue playing the "outdoor, non-contact" sports as long as minimum health standards – such as wearing face masks, social distancing and no sharing of equipment, among others – are observed in the fairways.
However, Roque said clubhouses and in-house restaurants located inside golf courses should also be subjected to 30 percent capacity in GCQ areas.