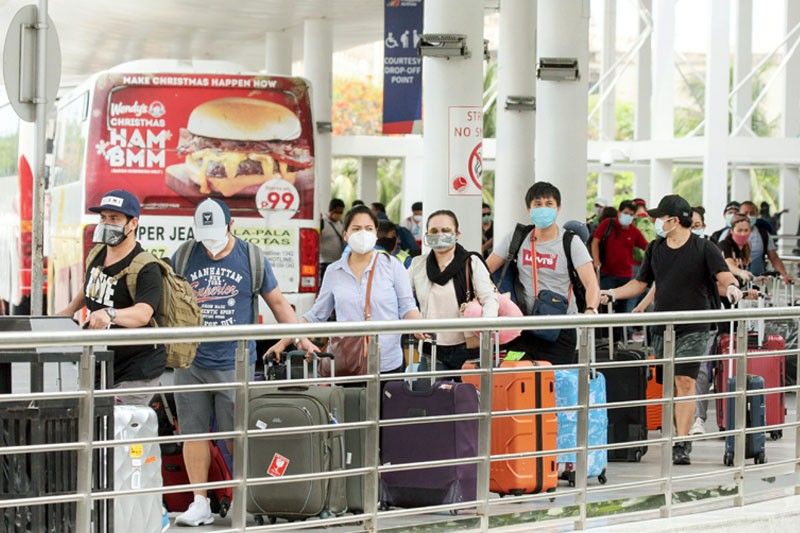 Busloads of overseas Filipino workers cleared of the coronavirus arrive at NAIA Terminal 2 yesterday for flights taking them to the provinces. Lower photo shows another group of OFWs gathered at the Parañaque Integrated Terminal Exchange waiting for buses to take them home after they completed the quarantine period.
Krizjohn Rosales and Edd Gumban
Duterte wants cleared OFWs sent home
MANILA, Philippines — President Duterte has given agencies one week to send home 24,000 overseas Filipino workers (OFWs) who underwent quarantine as a precautionary measure for the
coronavirus pandemic.
Some OFWs who were repatriated from countries affected by the pandemic have complained about having to remain in quarantine facilities even after the 14-day isolation
period has lapsed.
Previous reports said some OFWs who tested negative for the virus were still not allowed to go home because of delays in the certification process.
"The President has informed DOLE (Department of Labor and Employment), OWWA (Overseas Workers Welfare Administration) and DOH (Department of Health) that they
only have one week to ensure that all 24,000 OFWs who are waiting for their test results will go home to their respective provinces," Roque said yesterday in a statement
delivered over state-run television PTV-4.
"The President said this morning, about 1:30 a.m., that they can use all government resources and all modes of transport – bus, airplane, ship – to send our OFWs home," he added.
At a separate press briefing, Roque said all test results of OFWs should be released within the week. He said all OFWs to be sent home have health certificates since they have been subjected to PCR or polymerase chain reaction tests.
"All results should be negative. But the President did not ask what delayed the release of the results. All the results should be out this week so that everyone can go home," the Palace spokesman said.
"To those who do not have copies of quarantine certificates, which is needed for you to go home, do not worry. OWWA already has a system that will allow you to secure a copy of your certificate before you board an airplane or ride a bus or ship," he added.
Roque said agencies may use military assets to bring the OFWs to their respective provinces if their means of transportation are not enough.
"The President also wants to expand the capacity of provinces to conduct physical tests so the OFWs who are about to arrive can undergo quarantine and PCR tests in their respective provinces," Roque said.
Exodus
Thousands of stranded overseas Filipino workers were finally allowed to go home yesterday to their provinces and be reunited with their families months after staying in quarantine.
Labor Secretary Silvestre Bello said from the quarantine facilities in Metro Manila, the stranded OFWs boarded buses bound for Bicol, Ilocos, Cagayan Valley, Cordillera Administrative Region (CAR) and Central Luzon.
Bello said flights were also made available for OFWs going home to Cagayan de Oro, Tacloban, Bacolod, Davao, Cebu, Iloilo and Zamboanga.
"More flights will be arranged to bring OFWs to their home provinces until tomorrow (Wednesday)," Bello said.
Upon orders of President Duterte, the composite team of Philippine Coast Guard (PCG) and Overseas Workers Welfare Administration (OWWA) arranged daily trips for 8,000 OFWs via the Parañaque Integrated Terminal Exchange (PITX) and the Ninoy Aquino International Airport.
Over 3,000 workers flocked to the Ninoy Aquino International Airport (NAIA) Terminal 2 bound for their respective provinces.
The OFWs arrived at NAIA terminal 2 on board air-con buses and lined up for registration to get their boarding passes after filling some requirements.
OWWA also bared that about 100 pregnant OFWs are staying in quarantine facilities, waiting to get a ride home.
OWWA chief Hans Cacdac said that eight of the 100 pregnant OFWs have already given birth while completing the mandatory quarantine and swab tests.
Cacdac said OWWA has arranged chartered flights as well as ship and land transportation to bring home 8,000 OFWs a day until Wednesday to their home provinces.
Cacdac said over 20,000 more OFWs who were displaced due to the coronavirus disease (COVID) pandemic are expected to return home until June.
Joanna Concepcion of Migrante complained that many OFWs have been staying in quarantine facilities for more than two months, long before they finally completed the mandatory quarantine and COVID test.
PCG spokesperson Commodore Armand Balilo said the shipping firm 2Go would be tapped to help transport OFWs to the provinces.
Balilo said the 2Go shipping lines would provide the vessels for workers going back to the Visayas and Mindanao.
Bello said DOLE would bring home 24,000 OFWs who have completed the mandatory quarantine in different facilities and tested negative for COVID-19.
The OFWs were just required to present their quarantine passes from the Bureau of Quarantine or from the PCG's negative list from COVID-19 to join the three-day OFWs Return program.
Based on OWWA data, about 8,500 repatriated OFWs are staying in OWWA quarantine facilities. Of the number, 7,500 have completed quarantine, but still could not go home due to delay in the release of test results coming from the Philippine Red Cross (PRC).
The League of Provinces of the Philippines has assured the OFWs that they are ready to accept homecoming workers amid the pandemic.
League president Marinduque Gov. Presbitero Velasco said that the provincial governments are preparing for the return of OFWs amid concerns that the workers could spread the virus.
Velasco said they are preparing rapid testing for the returning OFWs.
Ormoc City Mayor Richard Gomez had expressed frustration over the lack of coordination among concerned agencies that arranged the homecoming of the OFWs to their provinces.
"It only takes one infected person to get to our city to infect a hundred innocent people because of carelessness from the national government agencies," he said.
Ormoc officials only received a text message from the National Anti-Poverty Commission that there are busloads of displaced domestic helpers waiting to cross to Eastern Visayas from Matnog port in Sorsogon.
Gomez, in his personal Facebook page, asked where are the protocols set by the Inter-agency Task Force on Emerging Infectious Diseases (IATF) and the National Task Force Covid Shield that state that the local government units should be informed at least three days before the arrival of OFWs.
The Philippine National Police (PNP) yesterday opened its over 4,000 quarantine control points to OFWs going home to the provinces.
PNP chief Gen. Archie Francisco Gamboa said policemen manning checkpoints would speed up verification of motorists transporting OFWs out of Metro Manila.
He said buses transporting a large group of OFWs would be allowed easy passage at checkpoints.
Relatives of OFWs who want to fetch them in Metro Manila would also be allowed to pass through the checkpoints provided the driver is alone and should show valid
identification cards. Mayen Jaymalin, Rudy Santos, Emmanuel Tupas, Romina Cabrera, Ghio Ong, Lalaine Jimenea