DOH gets DBM nod to hire 15,000 health workers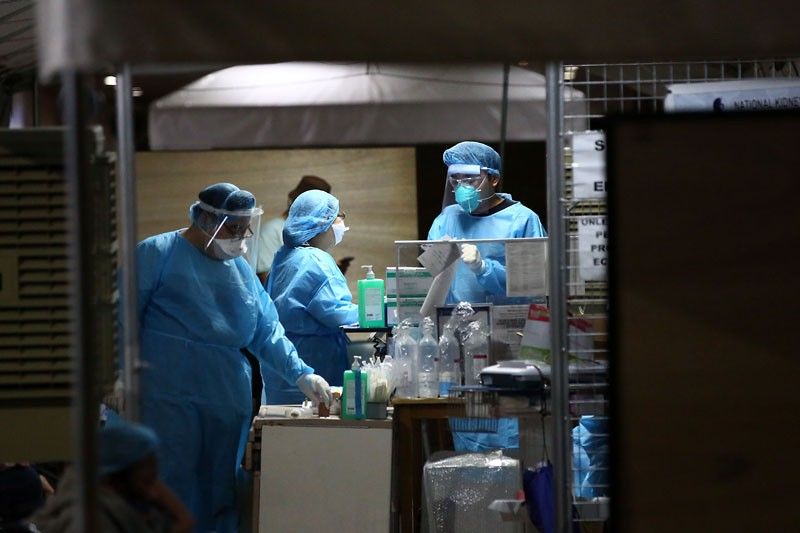 MANILA, Philippines — The government will hire more than 15,000 health workers to increase the number of frontliners in the fight against the coronavirus pandemic.
"To boost the number of healthcare frontliners, the DBM (Department of Budget and Management) has approved the request of the DOH (Department of Health) for the engagement of an additional 15,757 healthcare professionals under contract of service for a period of three months," President Duterte said in a report submitted to Congress last Monday.
The DBM approved a P2.7-billion outlay for the hiring of additional health personnel. The DOH originally sought a budget of P5.2 billion to hire 17,757 personnel, according to the President's report submitted to Congress last April 14.
The budget for the hiring will be charged against available released allotment of the DOH under the 2020 budget.
Duterte said as of April 22, the DOH has received requests from seven
hospitals for emergency hiring of healthcare personnel and has approved 701 slots for hiring in five hospitals.
The agency has redeployed a total of 639 nurses to its office and to local hospitals handling coronavirus cases. A total of 130 healthcare personnel have been trained to collect and encode case data, 14 of whom are now assigned to 12 hospitals in Metro Manila
"This number is expected to increase as 97 HRH (human resources for health) were scheduled for deployment to 51 hospitals last 24 April 2020," Duterte said in the report.
The President also reported that as of April 23, a total of 1,101 COVID-referral hospitals have been designated across the country, with every region having at least one hospital. The total number of dedicated beds for coronavirus cases is 7,732 while the total number of mechanical ventilators for both private and public hospitals is 1,381.
Duterte said the DBM has approved and issued a special allotment release order for P45.717 billion to cover the funding requirements for DOH's COVID-19 response.
The order includes the allotment of P1.35 billion for the purchase of 1,500 units of mechanical ventilators to serve the needs of DOH hospitals, selected local government and military hospitals and the Philippine General Hospital.
In his public address last Monday, Duterte vowed to buy more protective equipment to ensure the safety of frontliners.
"We still lack (protective equipment), we are still in the process of buying several protective personal protection kits for our frontliners and medical people. I am informed that this will be completed in due time," he said.
Outbreak response body
Senators, meanwhile, are pressing for the immediate creation of an agency that would lead in the country's preparations and response to disease outbreaks.
Sen. Grace Poe said investments to build and enhance the country's expertise in disease prevention and control have become imperative as the COVID-19 has caught nations unprepared and scrambling for solution.
"We need to catalyze support for a proactive and efficient health system with increased capacities to prevent and control the spread of new or recurring infectious diseases," Poe said.
COVID-19 has so far infected three million people across the globe, killing over 209,000. Not only health, but all sectors are left with no choice but to adapt to the new norm, implementing the necessary adjustments for survival, she said.
"We need to re-strategize, restructure and reinvent our systems if we are to stay afloat and cope with the scourge and disruption brought about by COVID-19, including the threat of new diseases," the senator said.
Poe has filed Senate Bill 1450 or the "Pandemic Preparedness and Response Act" that seeks to establish a Center for Disease Control (CDC) to strategize and lead in communicable disease control and prevention and fortify the country's preparedness and response to public health crises.
Under the bill, the CDC shall spearhead the formulation of a national strategy to anticipate and address public health emergencies and provide proper direction on such health threats.
The center is also envisioned to provide consultation and assistance to other nations and international agencies to collaborate and partner in improving the effectiveness of disease prevention and control mechanisms.
Sen. Richard Gordon earlier pushed for the upgrading of the Research Institute for Tropical Medicine in creating the country's CDC.