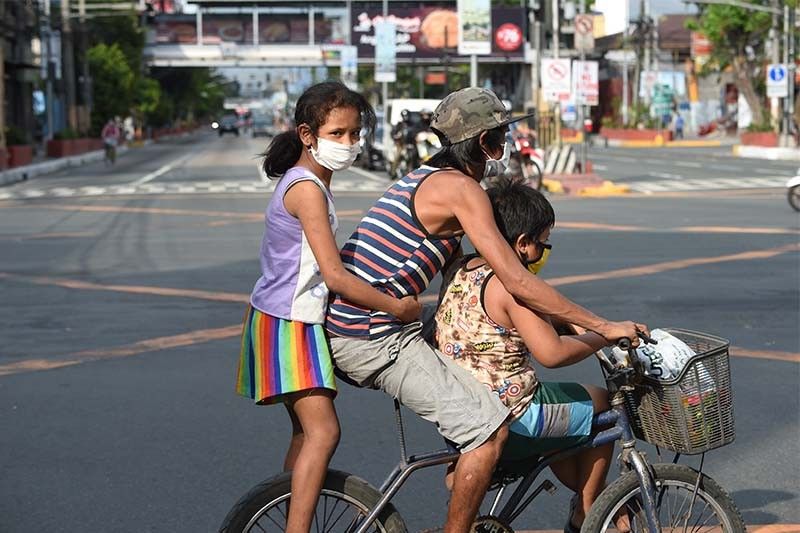 A father with his children aboard their bicycle crosses an almost empty road in Manila on March 20, 2020, after the government imposed an enhanced community quarantine against the rising numbers of COVID-19 coronavirus infections. Philippine President Rodrigo Duterte ordered about half the country's population to stay home for the next month in a drastic bid March 16 to curb the rising number of new coronavirus cases.
AFP/Ted ALJIBE
CHR: Human rights, writ of habeas corpus remain during state of national emergency, calamity
MANILA, Philippines (Updated 2:26 p.m.) — A national state of emergency does not suspend human rights and the writ of habeas corpus in the country, the Commission and Human Rights said.
This follows Interior and Local Government Undersecretary Martin Diño's remarks in a radio interview that "human rights are withdrawn during State of Emergency."
In a March 21 interview on Superadyo dzBB, he said: "Wala na hong karapatan. Tandaan niyo, State of Emergency ngayon. Ang karapatan pantao ay nawawala pagdating ng State of Emergency... 'Pag ka ho may state of emergency, 'yung writ of habeas corpus ay nawawala na po yan."
Diño's assertion is incorrect. The 1987 Constitution only allows the suspension of the privilege of the writ of habeas corpus—a safeguard against arbitrary arrest and detention—in extraordinary circumstances. A state of emergency is not among those circumstances.
An earlier state of national emergency, declared in September 2016 and never lifted since then, did not suspend the privilege.
In a statement, the human rights commission said "there may be acceptable restrictions" during the state of national emergency, such as freedom of movement in support of social distancing.
"But restrictions must also follow human rights standards, such that they should be lawful, necessary, proportionate, and should not be used to target specific groups, minorities or individuals," the Commission stressed.
Government guidelines
President Rodrigo Duterte ordered an "enhanced community quarantine" across Luzon from March 17 to April 12, among the latest stringent measures enforced to curb the spread of the novel coronavirus disease.
Under the guidelines, movement is restricted and only essential workers and those doing essential trips—such as buying groceries and medicines—are allowed to leave the house.
Duterte also issued Proclamation 929 and placed the entire country under State of Calamity due to the coronavirus disease on March 16. Prior to this, Duterte on March 8 declared public health emergency, through Proclamation 922.
Neither declaration did not contains a provision declaring a suspension of the writ of habeas corpus—safeguards against warrantless arrest—nor did it state that human rights are no longer given.
The Constitution also holds that the privilege of the writ of habeas corpus shall only be suspended "in cases of invasion or rebellion or when the public safety requires it."
CHR also pointed out that even DILG circular states that there shall be "no violations of human rights," amid the implementation of the enhanced community quarantine.
Part of the DILG Memorandum Circular 2020-062 reads: "LGUs are to ensure that no violations of human rights are committed by any border patrol staff or any employee or officer granted authority by it to perform tasks relative to the implementation and maintenance of the enhanced community quarantine."
NUPL: There are and there should be rights during emergencies and calamities
The National Union of Peoples' Lawyers also stressed that "there are and should be" rights during emergencies and calamities, although these may be limited and regulated.
NUPL issued a legal opinion on Sunday night on questions relating to the quarantine enforced across Luzon.
The group of lawyers noted that even with the most extreme situation, the Constitution, which includes the Bill of Rights and Social Justice provisions, remains operative.
"The right to life, to health, to basic social services, to free expression, free press, participation in matters of public concern, and many other basic rights are not quarantined, and even gain more importance and significance during situations such as the present one," they added.
As It Happens
LATEST UPDATE: January 19, 2021 - 6:04pm
Photo shows members of the Philippine National Police deployed in Manila amid COVID-19 threat. The STAR/Edd Gumban
President Rodrigo Duterte on March 16, 2020 declares an enhanced community quarantine over all of mainland Luzon, an expansion of an earlier general community quarantine over the National Capital Region.
The entire National Capital Region—16 cities and a municipality—is under community quarantine from March 15 to April 14, which means the enforcement of social distancing measures like letting fewer people on public transportation, reduced store hours, and the possibiity of curfews.
According to a memorandum issued by the Palace on Saturday, March 14, the quarantine means that "movement of people shall be limited to accessing basic necessities and work; and uniformed personnel and quarantine officers shall be present at border points."
Travel restrictions in and out of the capital will also be implemented.
January 19, 2021 - 6:04pm
Tuguegarao City will be placed under enhanced community quarantine from January 20 to 29 due to the rising number of COVID-19 cases in the city.
Cagayan Gov. Manuel Mamba approved the request of Tuguegarao Mayor Jefferson Soriano to place the city under ECQ for 10 days.
According to the Cagayan Provincial Information Office, the city currently has 246 active cases.
April 29, 2020 - 7:51pm
Batangas, one of the provinces hardest hit by the novel coronavirus, has reported no new cases of the disease for two consecutive days.
The provincial DOH Office says the number of COVID-19 cases in the province stood at 91 with no new cases as of Wednesday afternoon.
Lipa City has the most cases with 26, followed by Batangas City (21) and Nasugbu (11).
Tanauan City has the fourth most cases with eight, followed by Bauan (5) and Alitagtag (3). Cuenca and Sto. Tomas City had two cases each, while the municipalities of Calaca, Lemery, Lian, Lobo, Mabini, Mataas na Kahoy, Padre Garcia, San Jose, San Juan, San Pascual and Taal had one case each, respectively. — The Filipino Connection
April 29, 2020 - 5:39pm
Quezon City's Task Force Disiplina has been instructed to withdraw its complaint against Michael Rubuia whom city "enforcers" were caught on video beating with sticks over alleged quarantine violations.
The QC government says in the same statement that the enforcers of Task Force Disiplina have been issued show-cause orders for their actions. They may also be put on preventive suspension.
It also says Ruguia will be released to the city's drug rehabilitation center "in view of his positive drug test."
A police report on the April 27 incident did not mention the beating by task force personnel nor that he Ruguia had tested positive for drugs.
More on that incident here: QC to investigate 'local authorities' caught on video beating man lacking face mask
April 28, 2020 - 10:26pm
A 72-year-old Person Deprived of Liberty at the Correctional Institution for Women-Mandaluyong who had tested positive for COVID-19 died on Monday, the Bureau of Corrections says Tuesday.
She was the first confirmed COVID-19 case at the correctional facility and had been hospitalized on April 13 "after experiencing pneumonia symptoms," BuCor says.
"It can be recalled that her admission to the hospital triggered the contact tracing and isolation of those PDL that had contact with her days before she was brought to the hospital," BuCor also says.
Of 130 PDLs tested, 47 have been confirmed to have COVID-19.
A CIW PDL who had been admitted to East Avenue Medical Center on April 13 and who died on April 21 has also been confirmed to have had COVID-19. The results of the test, done on April 14, were only released on Monday.
April 27, 2020 - 2:59pm
Two new confirmed COVID-19 cases were reported in Lipa City on Monday even as the total recoveries jumped to five out of the 26 confirmed cases so far, the Lipa City government said.
Mayor Eric Africa announced that two male patients, ages 78 and 27 years old, tested positive for the virus, raising the city's total infections to 26 – the most in Batangas province. — The Filipino Connection