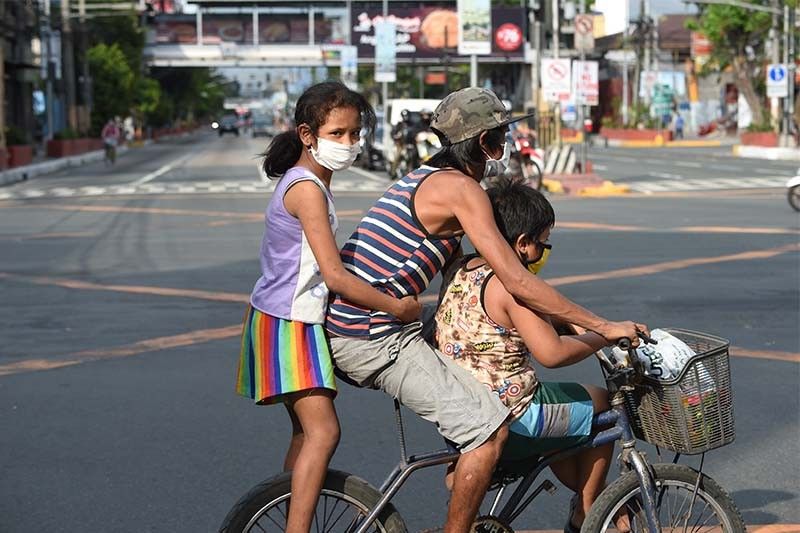 A father with his children aboard their bicycle crosses an almost empty road in Manila on March 20, 2020, after the government imposed an enhanced community quarantine against the rising numbers of COVID-19 coronavirus infections. Philippine President Rodrigo Duterte ordered about half the country's population to stay home for the next month in a drastic bid March 16 to curb the rising number of new coronavirus cases.
AFP/Ted ALJIBE
CHR: Human rights, writ of habeas corpus remain during state of national emergency, calamity
MANILA, Philippines (Updated 2:26 p.m.) — A national state of emergency does not suspend human rights and the writ of habeas corpus in the country, the Commission and Human Rights said.
This follows Interior and Local Government Undersecretary Martin Diño's remarks in a radio interview that "human rights are withdrawn during State of Emergency."
In a March 21 interview on Superadyo dzBB, he said: "Wala na hong karapatan. Tandaan niyo, State of Emergency ngayon. Ang karapatan pantao ay nawawala pagdating ng State of Emergency... 'Pag ka ho may state of emergency, 'yung writ of habeas corpus ay nawawala na po yan."
Diño's assertion is incorrect. The 1987 Constitution only allows the suspension of the privilege of the writ of habeas corpus—a safeguard against arbitrary arrest and detention—in extraordinary circumstances. A state of emergency is not among those circumstances.
An earlier state of national emergency, declared in September 2016 and never lifted since then, did not suspend the privilege.
In a statement, the human rights commission said "there may be acceptable restrictions" during the state of national emergency, such as freedom of movement in support of social distancing.
"But restrictions must also follow human rights standards, such that they should be lawful, necessary, proportionate, and should not be used to target specific groups, minorities or individuals," the Commission stressed.
Government guidelines
President Rodrigo Duterte ordered an "enhanced community quarantine" across Luzon from March 17 to April 12, among the latest stringent measures enforced to curb the spread of the novel coronavirus disease.
Under the guidelines, movement is restricted and only essential workers and those doing essential trips—such as buying groceries and medicines—are allowed to leave the house.
Duterte also issued Proclamation 929 and placed the entire country under State of Calamity due to the coronavirus disease on March 16. Prior to this, Duterte on March 8 declared public health emergency, through Proclamation 922.
Neither declaration did not contains a provision declaring a suspension of the writ of habeas corpus—safeguards against warrantless arrest—nor did it state that human rights are no longer given.
The Constitution also holds that the privilege of the writ of habeas corpus shall only be suspended "in cases of invasion or rebellion or when the public safety requires it."
CHR also pointed out that even DILG circular states that there shall be "no violations of human rights," amid the implementation of the enhanced community quarantine.
Part of the DILG Memorandum Circular 2020-062 reads: "LGUs are to ensure that no violations of human rights are committed by any border patrol staff or any employee or officer granted authority by it to perform tasks relative to the implementation and maintenance of the enhanced community quarantine."
NUPL: There are and there should be rights during emergencies and calamities
The National Union of Peoples' Lawyers also stressed that "there are and should be" rights during emergencies and calamities, although these may be limited and regulated.
NUPL issued a legal opinion on Sunday night on questions relating to the quarantine enforced across Luzon.
The group of lawyers noted that even with the most extreme situation, the Constitution, which includes the Bill of Rights and Social Justice provisions, remains operative.
"The right to life, to health, to basic social services, to free expression, free press, participation in matters of public concern, and many other basic rights are not quarantined, and even gain more importance and significance during situations such as the present one," they added.
As It Happens
LATEST UPDATE: April 8, 2020 - 5:30pm
Photo shows members of the Philippine National Police deployed in Manila amid COVID-19 threat. The STAR/Edd Gumban
President Rodrigo Duterte on March 16, 2020 declares an enhanced community quarantine over all of mainland Luzon, an expansion of an earlier general community quarantine over the National Capital Region.
The entire National Capital Region—16 cities and a municipality—is under community quarantine from March 15 to April 14, which means the enforcement of social distancing measures like letting fewer people on public transportation, reduced store hours, and the possibiity of curfews.
According to a memorandum issued by the Palace on Saturday, March 14, the quarantine means that "movement of people shall be limited to accessing basic necessities and work; and uniformed personnel and quarantine officers shall be present at border points."
Travel restrictions in and out of the capital will also be implemented.
April 8, 2020 - 5:30pm
The Department of Foreign Affairs welcomes home nine Overseas Performance Artists (OPAs) who returned from Tokyo, Japan.
Based on the release, the contracts of the OPAs were pre-terminated due to the slowdown of the global economy caused by the COVID-19 pandemic.
"The DFA and the Department of Labor and Employment (DOLE), through the Philippine Consulate General in Osaka and the Philippine Overseas Labor Office - Overseas Workers Welfare Administration (POLO-OWWA), respectively, coordinated with the local manning agency of the OPAs to facilitate their repatriation," the statement reads.
April 8, 2020 - 10:19am
The Philippine Arena in Bulacan will be ready to accept COVID-19 patients by next week, National Task Force against COVID-19 chief implementer Carlito Galvez Jr. says.
The repurposed facility will be equipped with three tents that can accommodate around 300 asymptomatic coronavirus patients or those only with mild or moderate symptoms.
The facility can later on be expanded to cater to up to 2,000 patients. It would be able to serve patients coming from Quezon City, Caloocan, Malabon, Navotas, Valenzuela and Bulacan.
April 8, 2020 - 9:33am
The wing designated for coronavirus patients at the National Kidney and Transplant Institute has reached its full capacity.
The hospital said it can only accept kidney patients under investigation dependent on dialysis treatments. They will be admitted to tents at the emergency room - COVID Field until test results show they are negative.
"Patients with moderate to severe pneumonias shall be transferred to other hospitals designated as COVID-19 facility," the hospital said in a statement.
April 7, 2020 - 12:43pm
All circulars and orders of the Supreme Court related to COVID-19 will remain in effect until the end of the extended enhanced community quarantine.
SC spokesperson Brian Hosaka said the special session of the high court in Baguio City will also be canceled.
"We will be releasing the corresponding orders once they have been signed by the Chief Justice," Hosaka said.
April 7, 2020 - 9:54am
Cabinet Secretary Karlo Nograles confirms that the Inter-Agency Task Force for the Management of Emerging Infectious Diseases (IATF) recommended the extension of the enhanced community quarantine in Luzon.
Nograles, also IATF spokesperson, said the task force formally recommended to the Office of the President the extension of the implementation of the ECQ in Luzon until April 30.