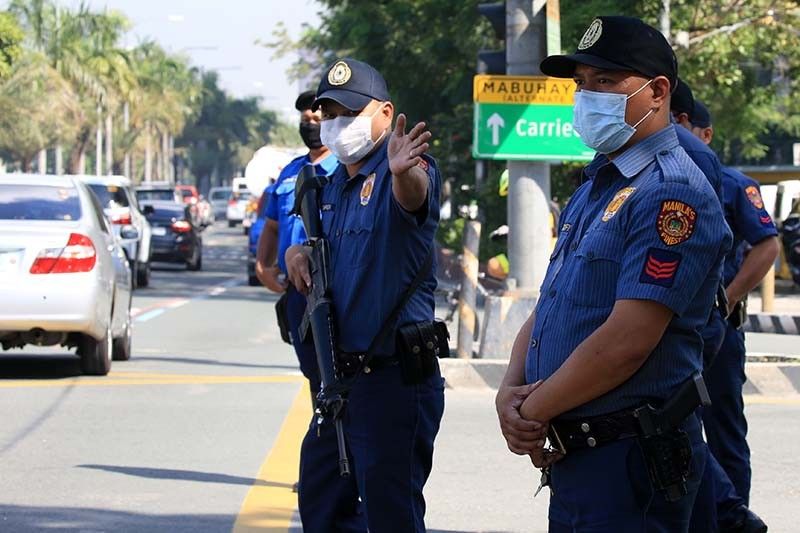 Photo shows members of the Philippine National Police deployed in Manila amid COVID-19 threat.
The STAR/Edd Gumban
Government disowns quarantine advisory with 'window hours' for travel
MANILA, Philippines (Update 1: March 22, 2020; 8:11 a.m.) —The Interagency Task Force on Emerging Infectious Diseases on Saturday night disowned supposed graphics imposing hours where heading out to buy in the market will only be allowed.
According to the supposed directive, which has been spreading online, representatives of households are only allowed out at certain times of the day. The advisory, which officials say is unauthorized, bears the logos of government agencies such as the Philippine National Police and the Department of Health.
Justice Undersecretary Markk Perete told reporters that the directive with window hours is "unauthorized."
"Specifically, the time periods set are not authorized," Perete, who is also the spokesperson of the Justice department, explained.
TIGNAN: Hindi po otorisado ang paglalathala nito.

#PNPLabanSaCOVID19 #PNPKakampiMo #TeamPNP #WeServeAndProtect pic.twitter.com/kNJzK6nx9A

— PNP Tweets (@PNPhotline) March 21, 2020
The PNP likewise released a graphic saying that the advisory is "not authorized."
Justice Secretary Menardo Guevarra, a member of the task force, for his part said: "Walang ganyang ka-specific na guidelines na galing sa IATF. (The IATF did not release guidelines that specific) That is unauthorized."
The Luzon-wide enchanced community quarantine took effect at midnight on March 17 and the government the government has been refining the guidelines for it in clarificatory briefings and issuances.
READ: COVID-19 task force allows outbound flights during Luzon quarantine
Guevarra earlier said that violators of the enhanced community quarantine may face charges for resistance and disobedience to a person in authority or non-cooperation, following Republic Act 11332 is the "Mandatory Reporting of Notifiable Diseases and Health Events of Public Health Concern Act."
Philippine courts and the prosecution will be "physically closed" starting Monday, March 23. This means inquest prosecutors, who determine whether a person arrested without warrant should be detained and charged, will also be on "on call" basis.
They will only open when the matter raised to them are deemed urgent, such as hearings for bail, petitions regarding the writ of habeas corpus and other matters of liberty.
Perete said they are already coordinating with the PNP and the Department of the Interior and Local Government. "They will relay to the local units," he added.
Quarantine passes amid Luzon lockdown
President Rodrigo Duterte placed Luzon under enhanced community quarantine, restricting movement outside homes, as the government grapples with the rapidly rising COVID-19 infections in the country.
Some localities also imposed curfews, and many other local government handed out a "quarantine pass" that would allow a member of the family to leave the house and buy necessities.
Cases of COVID-19 breached the 300th mark in the Philippines on Saturday.
The Department of Health recorded 77 new infections by afternoon, bringing the total of confirmed cases to 307.
The government also announced a new fatality, while five patients meanwhile have recovered. – with reports from Gaea Katreena Cabico