Curfew, shutdown of malls in Metro Manila during quarantine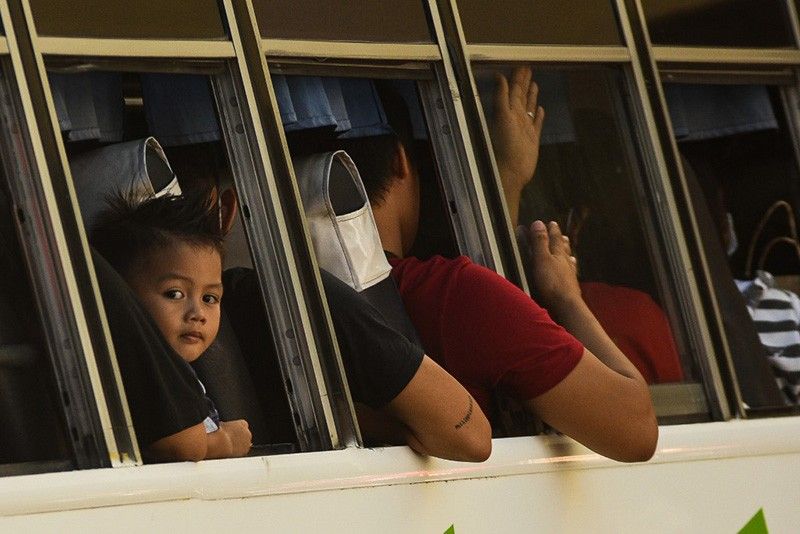 MANILA, Philippines (8th update, 3:59 p.m.) — Metro Manila mayors called for a nine-hour curfew during the community quarantine of their cities as among the measures seen to prevent further infections of the novel coronavirus disease or COVID-19.
Moments after Malacañang released guidelines on the management of the region-wide quarantine on Saturday, the Metro Manila Council announced that the 17 mayors unanimously agreed to a resolution to pass ordinances that will eventually set an 8 p.m. to 5 a.m. curfew.
The mayors aim to have the curfews to cover the period set for the lockdown or quarantine from March 15 to April 14. A curfew will reduce and restrict movements in public spaces.
"Of course there are exceptions; these are [the] workers responsible for essential tasks. Meaning doctors, medical teams, food delivery. All of those will be exempted... grocery stores, supermarkets," Metro Manila Development Authority General Manager Jojo Garcia said.
Curfew unenforceable without ordinances
The resolution to impose a curfew by Sunday was made without the backing of ordinances as of Saturday. An ordinance per city will authorize security personnel to enforce a curfew and penalize violators.
The mayors called on their respective legislative councils to immediately pass the local legislation for the period of the quarantine.
The Department of Interior and Local Government made clear that the Metro Manila Council and the Metropolitan Manila Development Authority's announcement on the curfew will not be immediately implemented. It will instead be carried out per city upon the passage of a corresponding ordinance.
Since crafting laws are expected to take time, it is likely that each city or municipality will have a different timeline and starting date for the curfew.
Justice Secretary Menardo Guevarra also told Philstar.com that the measure will depend on each of the cities. "Without an ordinance, no arrests as in detention can be made (over the curfew)," he said in a text message.
A curfew in Metro Manila, however, is not part of the law on the declaration of a public health emergency nor is it among the measures listed on the Palace-issued memorandum for the community quarantine under a Code Red Sublevel 2 alert.
There was also no indication that the Department of Health, as well as members of the Inter-Agency Task Force for the Management of Emerging Infectious Diseases, recommended the imposition of a metro-wide curfew.
Mall closures inconsistent with labor guidelines
Besides the implementation of the curfew, malls are being asked to close down temporarily during the lockdown, in contrast to President Rodrigo Duterte's earlier announcement encouraging retail establishments to remain open.
"And then also, we requested for the malls... if those malls could be closed first... What could remain open are supermarket, grocery, banks and other essentials again," the MMDA representative said in mixed Filipino and English.
"Like our mayors said, during this time, who will look for new shoes and clothes. Those are not necessities. It's not a priority. So we don't need to hoard or panic."
The shutdown of malls that could deprive retail workers of wages is inconsistent with the Department of Labor and Employment's Advisory No. 11. It states that "all manufacturing, retail and service establishments are advised to remain in operation during the community quarantine period, provided that social distancing and other safety and health measures are strictly observed."
Asked by Philstar.com about the order to close malls, Megaworld Lifestyle Malls and SM Supermalls all said they are still evaluating it.
"Our malls still have to receive the directive and I think discussions are still ongoing," said Harold Geronimo, senior AVP for public relations at Megaworld Corp.
Ayala Malls, on the other hand, will implement early closure of its malls in Metro Manila starting at 7 p.m. on Saturday.
Asked when will they will reopen, Tin Enriquez, consumer engagement marketing manager of Ayala Malls told Philstar.com: "We are all standing by but for now, we will close 7pm today for all Manila malls."
Ayala Malls operates 17 malls in the National Capital Region.
Offhand, the sweeping policy, which is not included in the law that grants the declaration of a public health emergency, is set to affect over 700,000 mall workers earning for a living, most of whom were already affected by dismal retail sales and closures amid the virus outbreak. — Ratziel San Juan reports from Prinz Magtulis, Kristine Joy Patag and Camille Diola
Related video: