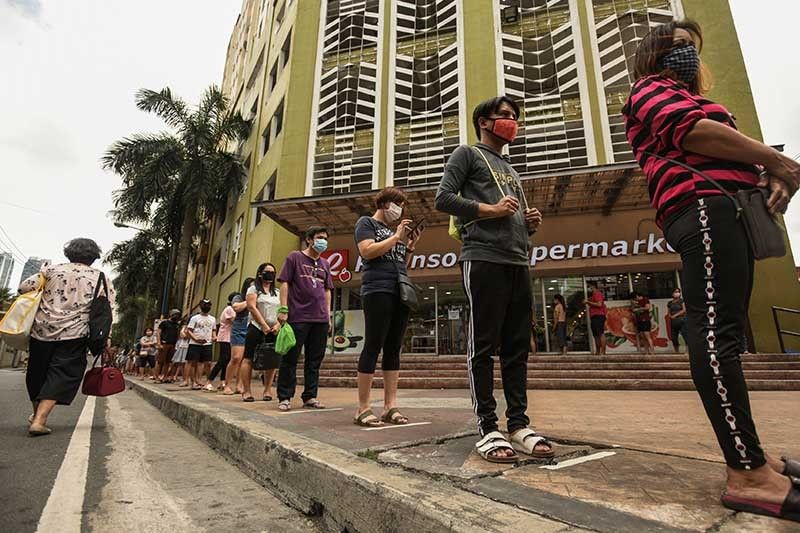 Shoppers stand apart as social distancing measures, amid concerns of the COVID-19 coronavirus, while queueing outside a supermarket in Manila on March 17, 2020.
AFP/Maria Tan
Philippines logs three more deaths as COVID-19 infections breach 200
MANILA, Philippines (5th update, 5:40 p.m.) — There are fifteen new coronavirus infections in the Philippines, bringing the country's total count to 202 on Wednesday afternoon.
The Department of Health also reported three additional fatalities, raising the death toll to 17.
The country's 15th fatality was a 58-year-old Filipino male from Lanao del Sur who had a travel history to Malaysia.
The man, identified as Patient 201, was admitted at Amai Pakpak Medical Center in Marawi City on March 10. He passed away Tuesday morning, a day before he was confirmed to have been infected.
DOH said he died due to acute respiratory disease syndrome secondary to COVID-19. The man also had a pre-existing diabetes mellitus.
The 16th death was a 65-year-old male from Pasig City who had a travel history to London, United Kingdom.
He was brought to The Medical City in Ortigas on March 10 and died on Tuesday evening due to ARDS secondary to COVID-19 and pneumonia. The man had pre-existing hypertension and diabetes mellitus.
A 86-year-old woman from San Juan City also passed away. The woman who was admitted at Cardinal Santos Medical Center had no travel history and no exposure to a known COVID-19 patient.
She expired on early Tuesday morning due to "septic shock secondary to pneumonia-high risk secondary to COVID-19. The woman had chronic kidney disease secondary to hypertensive nephrosclerosis, ischemic heart disease and peripheral arterial occlusive disease.
Elderly people, those with underlying medical conditions and individuals who are immunocompromised are at higher risk of contracting severe COVID-19 disease.
Recoveries
The Philippines has a total of seven recoveries after the DOH announced three more patients have recovered.
A 24-year-old Filipino from Makati City became the country's fifth recovery. The man tested negative twice for COVID-19 and was discharged on Sunday.
Another repatriate from the virus-hit Diamond Princess cruise has recovered. The 36-year-old male from Camarines Sur tested negative twice for the illness as confirmed by Jose B. Lingad Memorial Regional Hospital.
A 34-year-old male from Quezon City became the seventh person to recover from the disease in the Philippines. The man tested negative once for COVID-19 with the second test awaiting results. He was discharged from Makati Medical Center on Sunday.
The jump in new coronavirus cases in March after a month-long lull prompted President Rodrigo Duterte to place the main island of Luzon under enhanced community quarantine, in an unprecedented move to arrest the spread of the contagion.
He ordered some 55 million people to stay home and suspended mass transportation for a month.
The chief executive on Tuesday declared a nationwide state of calamity.
The proclamation enjoins all government agencies to render full assistance in combating the spread of the virus.
The novel coronavirus pandemic has infected nearly 200,000 people and caused almost 8,000 deaths worldwide, with most of the fatalities in hotspots such as China and Italy.