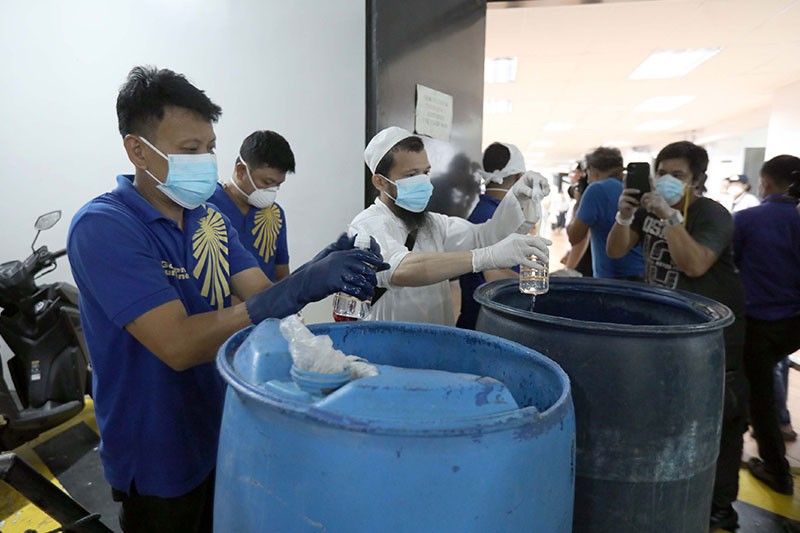 A prayer room in San Juan City was temporarily closed for disinfection after the Department of Health announced that the fifth case of COVID-19 regularly visited there.
The STAR/Felicer Santos
First local COVID-19 transmission case, wife among 3 new deaths in Philippines
MANILA, Philippines — The Department of Health on Thursday evening reported three new deaths among the country's 52 confirmed cases of COVID-19, bringing the total death toll to five.
All of the fatalities died less than a week after being confirmed to have COVID-19.
These include the fifth case, a 62-year-old Filipino man who is the Philippines' first confirmed local transmission of the virus that causes COVID-19, as well as his 59-year-old Filipino wife.
The late couple were residents of Rizal who were later admitted to the Research Institute for Tropical Medicine.
RELATED: Local transmission of COVID-19 confirmed, DOH announces 6th case
The DOH on Thursday night said that "[the sixth case] suddenly experienced difficulty of breathing and was intubated late evening of March 11. She expired the same night from acute respiratory distress syndrome due to severe pneumonia secondary to COVID-19. Repeat chest x-ray showed progressive pneumonia," reads the Health Department's Thursday evening announcement.
Her husband also expired late evening on March 12 "due to acute respiratory distress syndrome from severe pneumonia secondary to COVID-19." He was a known Diabetic and Hypertensive who developed Acute Kidney Injury.
In a related development, Cainta Mayor Kit Nieto said Thursday night that he may place the entire town under quarantine, "pursuant to the president's pronouncement...and further considering the presence of three confirmed cases of the subject virus situated in Barangays San Isidro and San Andres."
The Cainta local government will still have to hammer out the details of the declaration, which is allowed when a municipality has at least two confirmed cases of COVID-19.
The 37th case, an 88-year-old female Pasig City resident who was later admitted at the Philippine Heart Center, was also pronounced dead.
"[She] was confirmed with COVID-19 on March 11 and was reported to have existing hypertension. The patient expired this afternoon, with Acute Respiratory Failure as the cause of death."