Local transmission of COVID-19 confirmed, DOH announces 6th case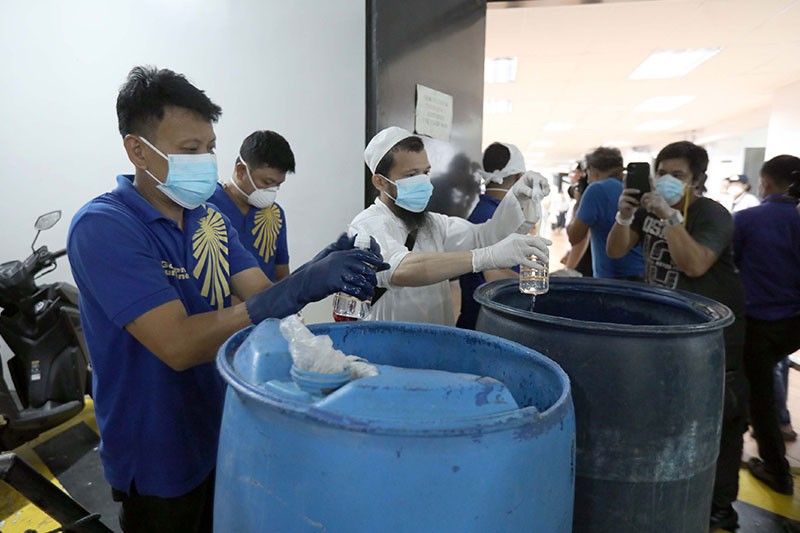 MANILA, Philippines (Update 1, 3:30 p.m.) — The Department of Health on Saturday confirmed that the country's fifth case of Coronavirus Disease 2019, a man with no travel history, was indeed due to local transmission of the virus.
"The DOH confirms that the previously reported fifth case of [COVID 19] is the first case of local transmission in the country after verification with the Bureau of Immigration showed that the patient had no recent travel history," Health Secretary Francisco Duque III said in a Saturday media briefing.
"The DOH is currently exhausting all its efforts to identify others who may have come in contact with the confirmed cases to ensure that this localized transmission does not progress to community strand."
The 62-year-old Filipino COVID-19-infected patient is "known to have regularly visited a Muslim prayer hall in Barangay Greenhills, San Juan City."
RELATED: Philippines has first local case of COVID-19
He experienced cough with phlegm on February 25 before being diagnosed less than a week later with severe pneumonia.
Initially under the care of Cardinal Santos Medical Center in San Juan, the patient was transferred to the Research Institute for Tropical Medicine.
RELATED: San Juan prayer room regularly visited by COVID-19 patient shuttered
Meanwhile, his 59-year-old wife was announced as the country's sixth confirmed COVID-19 case.
In response to the local transmission of the virus, the Health department raised the alert level of the outbreak to Code Red sublevel 1 and is set to recommend the declaration of State of Public Health Emergency to the Office of the President.
"With this code red, the DOH has recommended the Office of the President for the declaration of the state of public health emergency which will facilitate...mobilization of resources, ease processes, including procurement of critical logistics and supplies and intensifying reporting and quarantine measures," Duque said.
The Health secretary also said that the Code Red alert is a precautionary measure that will mandate the government and health care providers to prepare for the worst.
"I'll just clarify that this is a preemptive call to ensure that national and local governments and private and public health care providers can prepare for possible increase in suspected and confirmed cases," he said.
"This declaration is a signal to all concerned agencies, Local Government Units and health care providers to be ready to implement planned response measures. We are continuously reminding everyone to practice personal protective measures such as hand hygiene, social distancing, and proper cough etiquette. Avoid unnecessary travel and postpone mass gatherings, as well."
Meanwhile, the Health department is gearing up for two different scenarios: localized transmission (current) and sustained community transmission.
"At this stage of localized transmission, intensified contact tracing and home quarantine of close contacts of confirmed cases, improved hospital preparedness, enhanced severe acute respiratory illness surveillance, and activation of other laboratories outside of RITM to increase capacity to diagnose are now being implemented," Duque said.
"However, once there is sustained community transmission — or an increasing number of local cases whose links cannot be established — the strategy will be shifted from an intensive contact tracing to the implementation of community-level quarantine (or lockdown), and/or possibly, suspension of work or school."
The hypothetical lockdown and/or suspension would be implemented at the municipal, city or provincial scale, depending on the conditions.
"Augmentation of health staff from unaffected areas and uniformed personnel will also be facilitated."