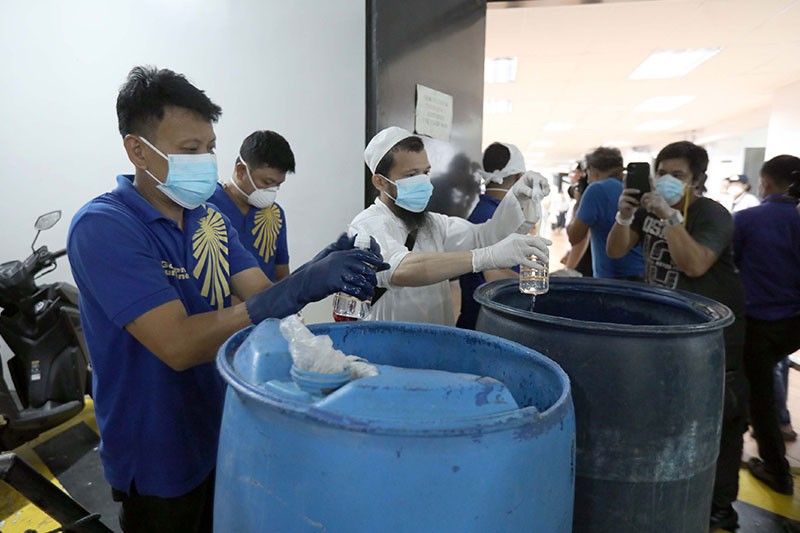 A Muslim prayer room in San Juan City was temporarily closed for disinfection after the Department of Health announced that the fifth case of COVID-19 regularly visited there.
The STAR/Felicer Santos
San Juan prayer room regularly visited by COVID-19 patient shuttered
MANILA, Philippines — A Muslim prayer hall in San Juan City was temporarily shut down on Friday after a man who frequently visited the place tested positive for the coronavirus disease.
San Juan City Mayor Francis Zamora said he ordered the disinfection, sanitation and closure of the said prayer room in Brgy. San Juan hours after the Department of Health reported two more Filipinos contracted the virus.
One of the two new cases of COVID-19 in the country was a frequent visitor of the prayer hall. The 63-year-old Filipino has no history of travel outside the Philippines, making him the first local case in the country.
Health chief Francisco Duque III said it is premature to say that this case can be treated as a confirmed local transmission of the virus.
After experiencing cough with phlegm on February 25, he sought medical consultation in a Metro Manila hospital on March 1 and was admitted with severe pneumonia.
The Cardinal Santos Medical Center said it took care of the patient before he was transferred to the Research Institute for Tropical Medicine.
The Health department and the city government of San Juan are tracking the individuals who have been in contact with the man since he displayed symptoms of COVID-19.
The CSMC said "all those who have had contact with the patient have no symptoms" as it committed to take care of its patients and employees.
Zamora called on the public to exercise safety precautions against COVID-19.
"I encourage the public to stay calm, practice proper hand washing using soap and water or alcohol and execute proper cough etiquette. Finally, avoid going to crowded places keeping at least a one-meter distance from other people," he said.
The other case is a male Filipino who had a travel history to Japan—a country with 360 confirmed cases and six deaths from the illness.
The 48-year-old male returned to the Philippines on February 25 and experienced chills and fever starting on March 3. He tested positive on March 5.
"He is currently stable and admitted in the RITM," Duque said.
The Philippines has a total of five confirmed cases of COVID-19, three of whom are Chinese nationals. One of the Chinese died, while the other two recovered.
The virus has spread to some 80 countries and territories and infected more 95,000 people after first emerging in China late last year. The global death toll from the epidemic stood at 3,200.
As It Happens
LATEST UPDATE: August 3, 2021 - 3:22pm
Follow this page for updates on a mysterious pneumonia outbreak that has struck dozens of people in China.
August 3, 2021 - 3:22pm
Authorities in Wuhan say they would test its entire population for COVID-19 after the central Chinese city where the coronavirus emerged reported its first local infections in more than a year.
China is battling its largest coronavirus outbreak in months, confining the residents of entire cities to their homes, cutting transport links and rolling out mass testing as the fast-spreading Delta variant challenges its zero-Covid strategy and homegrown vaccines.
Beijing had previously boasted of its success in crushing the virus, allowing the economy to rebound and normal life to return while swathes of the globe have struggled with the pandemic that has killed more than four million people worldwide. — AFP
August 3, 2021 - 8:11am
The United States hits President Joe Biden's goal of administering at least one dose of a COVID-19 vaccine to 70% of adults almost a month late, as the newest wave of infections pushed hospitalizations to levels seen last summer.
Biden's administration had initially targeted Independence Day on July 4 to reach the goal and declare victory over the worst of the pandemic.
But falling vaccination rates, particularly in politically conservative regions in the South and Midwest, and among younger people, those with lower income and racial minorities, meant the objective was missed. — AFP
August 2, 2021 - 7:56am
Thousands of anti-lockdown demonstrators defied a court-ordered protest ban on Sunday and gathered in the streets of Berlin, resulting in scuffles with police.
Police said some protesters had "harassed and attacked" officers and ignored roadblocks, disrupting traffic in parts of the German capital.
"They tried to break through the police chain and pull out our colleagues. This led to the use of irritants, batons and physical violence," Berlin police tweeted.
A police spokesman said some 5,000 protesters had turned out. More than 600 were detained. — AFP
July 31, 2021 - 3:36pm
US President Joe Biden says "in all probability" new guidelines or restrictions would be imposed in the United States in response to a resurgence of COVID-19 cases.
Asked if Americans should expect new recommendations from health authorities or new restrictive measures, the president responds, "in all probability," before leaving the White House by helicopter for the weekend. — AFP
July 31, 2021 - 2:01pm
China races Saturday to contain its worst coronavirus outbreak in months as fresh cases were reported in two more parts of the country including the sprawling megacity of Chongqing.
The highly contagious Delta variant has already been confirmed in the capital Beijing and four other provinces, prompting mass testing and putting more than one million people under lockdown.
More than 200 infections nationwide have been linked to a Delta cluster in eastern Jiangsu province, where cleaners at an airport in the city of Nanjing first tested positive on July 20. — AFP