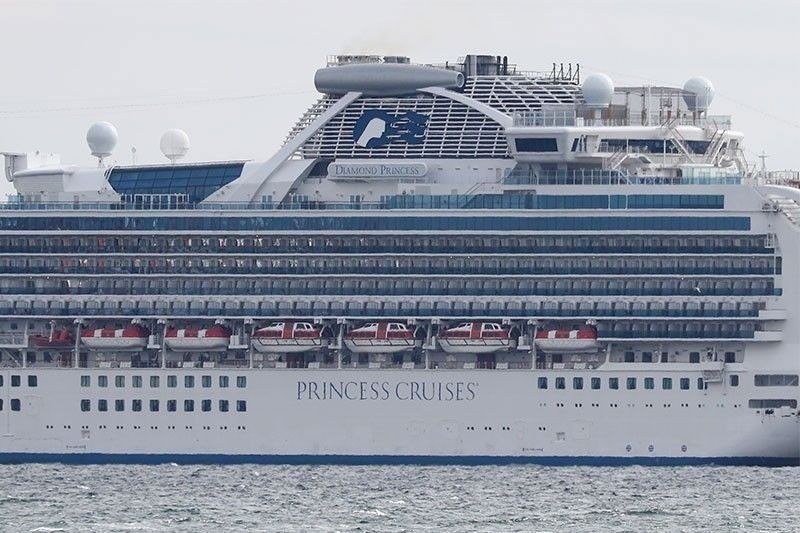 The number of infected Filipinos on the ship has reached 59, the Department of Health reported. The ship had 538 Filipino crew and passengers.
AFP/Behrouz Mehri
Infected Pinoys on ship hits 59
MANILA, Philippines — More than 400 Filipino crew and passengers of cruise ship Diamond Princess will arrive today after accepting offers of repatriation to escape an outbreak of coronavirus disease 2019 (COVID-19).
The number of infected Filipinos on the ship has reached 59, the Department of Health (DOH) reported. The ship had 538 Filipino crew and passengers.
Health Assistant Secretary for public health Ma. Rosario Vergeire said at a press conference yesterday that the 400 repatriates do not include the 59 who acquired the virus while on board. The Diamond Princess is docked in Yokohama, Japan.
"Those positive are in a hospital facility (in Japan). They are being monitored and undergoing treatment," she said.
Vergeire reported that of the 59 cases, two have already recovered. The latter would not be joining the repatriation, as special arrangements would be made for their return to the Philippines.
The official could not ascertain how many exactly will join the repatriation because they will again undergo screening before disembarking from the ship.
She added there are less than 20 Filipinos who will not join the repatriation, as they are "essential personnel" of the cruise ship.
Under the plan, two carriers will bring home the repatriates. Upon arrival at the Clark International Airport, they will be brought directly to the New Clark City (NCC) where they will undergo a 14-day quarantine.
Vergeire added that 20 medical teams – composed of 10 doctors, nurses, nursing assistant and utility personnel – will take turns monitoring the passengers.
"While aboard the aircraft from Japan to Clark International Airport, regular monitoring will be done and individuals who will manifest signs of respiratory illness will be separated and isolated in one area of the aircraft," she said.
Those who manifest signs of respiratory illness during the flight will immediately be brought to an identified hospital for isolation and management.
"We will ensure that infection control and quarantine protocols will be strictly followed by our kababayans and the health workers that will man the quarantine facility," she added.
But Vergeire said they could not grant the request of Capas Mayor Reynaldo Catacutan not to put all of the repatriates in NCC located in the Tarlac municipality.
She maintained that having many quarantine facilities is "not rational and it is for public health reasons why we have decided on having only one facility for now."
"We don't want to increase the risk of exposure of other individuals if we distribute them in different parts of the country. Transporting them to the identified facility is already tedious," she added.
"With that request coming from our local government official, we deemed it wise not to accede to that request because it is not really rational at this point because we are going to bring home persons or our kababayans coming from a ship which is highly infected," Vergeire said.
The DOH official has assured the public that they would be "working doubly hard to ensure the safety and welfare of the quarantined patients as well as civilians in the vicinity."
Vergeire also revealed there are now 63 Filipinos in four countries who are infected with COVID-19.
The latest is a 43-year-old Filipino permanent resident in Singapore. He is now in stable condition.
The United Arab Emirates account for two cases – a 43-year-old man in "unstable" condition and a 34-year-old male who is now stable.
There was one case in Hong Kong: a domestic helper who had taken care of a person found to be infected.
She added none of these individuals have traveled to the Philippines 14 days before they tested positive for the virus.
Longer quarantine
Meanwhile, the DOH also said it is open to lengthening the 14-day quarantine for Filipinos repatriated from areas where cases of COVID-19 infection have been reported amid claims that the incubation period of the virus could be longer than two weeks.
Vergeire said her agency is continuously monitoring and validating information about COVID-19, which has infected more than 78,000 people in 29 countries.
"Actually, this is evolving, that's how we always say it. We are not saying that for now it's really 14 days. We are going to be assessing them every day, regularly, so that we will know how we can deal with the situation," Vergeire said.
"Once we see and assess that we would need to extend the quarantine period, then we may be doing that because of these factors," she added.
There are indications that the incubation period of the virus could be longer than the presumed 14 days, according to media reports. A 70-year-old man from the Chinese province of Hubei who was infected with the virus reportedly did not exhibit symptoms until 27 days later.
A Chinese medical expert has also been quoted as saying that recovered COVID-19 patients may still be carrying the virus even after their health condition has improved.
Vergeire said the Filipinos who are about to return home have finished their 14-day quarantine onboard the vessel. They would again undergo a 14-day quarantine when they arrive in the Philippines.
"That's why it was part of the decision of the inter-agency task force to have another 14-day quarantine period here in the Philippines because of that consideration, where we have assumed that the exposure of these individuals is sliding and not at the same day or at the same time," Vergeire said.
"Right now, there has been a lot of accounts where their incubation period was nine days, incubation period of 19 days. And there was this study that we have... they have studied the different incubation period of several patients; and this was published. And based (on) that, it still states that the zero to 14 days is still valid as of this time," she said.
Vergeire noted that the incubation period of World Health Organization and the United States Center for Disease Control and Prevention is still zero to 14 days.
"We are also making sure that if and when we will be revising our guidelines because of all of these experiences from the ground like longer incubation period and all, that we are prepared, we are trying to prepare for that also," she said.
"But for the meantime, what we advise our patients or our persons under monitoring, especially those being discharged from hospitals, that we still would monitor them," the DOH official said.
"And also anybody who exhibits signs and symptoms can always call the hotline. And also, we have their numbers, we will be texting or calling them for follow-up."
Civil Aeronautics Board executive director Carmelo Arcilla said they have finalized arrangement with the Japanese government for the repatriation of the Filipinos.
The first batch of Filipino seafarers will depart at 5 a.m. from Haneda, Japan onboard PAL Airbus A330, while the second batch on board PAL Airbus A321 will depart at 7 p.m. from Haneda.
Magsaysay Maritime Corp., the manning agency of the Filipino seafarers, has assured their families that they would be given enough protection against the disease.
"Magsaysay has been working in close contact with the DOH, the Department of Labor, the POEA (Philippine Overseas Employment Administration), OWWA (Overseas Workers Welfare Administration) and the Philippine embassy in Japan to ensure that all our Filipino seafarers working onboard the ship are protected from harm," the agency said in a statement. – Rudy Santos