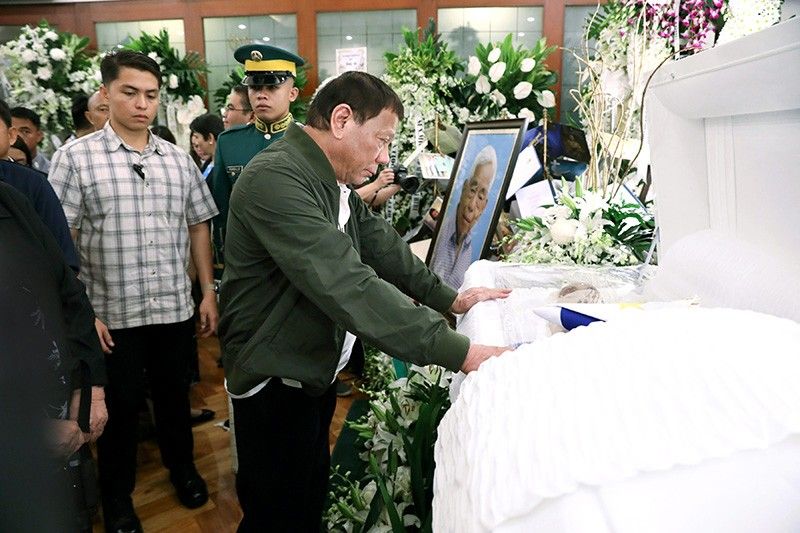 President Duterte visits the wake of former Senate president Aquilino Pimentel Jr. at the Heritage Memorial Park in Taguig City on Tuesday night.
Senators, political leaders pay tribute to Pimentel
MANILA, Philippines – Former Senate president Aquilino "Nene" Pimentel Jr. was praised and honored by his colleagues and friends during a necrological service held in his honor at the Senate yesterday.
Senate President Vicente Sotto III presented Senate Resolution 17 to the Pimentel family, expressing the chamber's sympathy and condolence on the death last Sunday of one of the country's democracy heroes.
In his eulogy, Sotto said Pimentel served as his mentor and was always accommodating whenever his counsel was needed.
"His humility, simplicity in style and decorum make us all proud that we were his friends. He will be greatly missed. He had been a leading light of this chamber, not only in good times but also during trials and darkest moments," Sotto said.
"Thank you for the wisdom I realize only now: one can enter politics, and pass away still honorable," he said.
Emotional during the necrological service was Sen. Pia Cayetano, who considered Pimentel as a father figure and mentor.
"Tito Nene did great things, there is no doubt of that. But for me and those who knew him well, we remember him for the small things. For what is greatness without kindness? Without humility and compassion? Traits I saw in my mentor and seatmate. Beyond the brilliant legislator and defender of democracy that he was, I got to know a kind and gentle person," a tearful Cayetano said in her eulogy.
For her part, Sen. Risa Hontiveros called Pimentel one of the country's finest statesmen. She said Pimentel protected and defended the country and would have made a good president.
"Though no longer in public office, we still sought his advice on matters of public concern, particularly in the committees on local government and constitutional affairs. His vast knowledge and experience in law and government as lawyer, mayor, legislator and Cabinet member made him a great fount of wisdom in the public sphere; and his patriotic heart and courage made him a great statesman," Sen. Sonny Angara said.
Sen. Aquilino "Koko" Pimentel III, son of the late Senate president, broke down in addressing the service. "We don't want this to happen. But it will happen, and it has happened," he said.