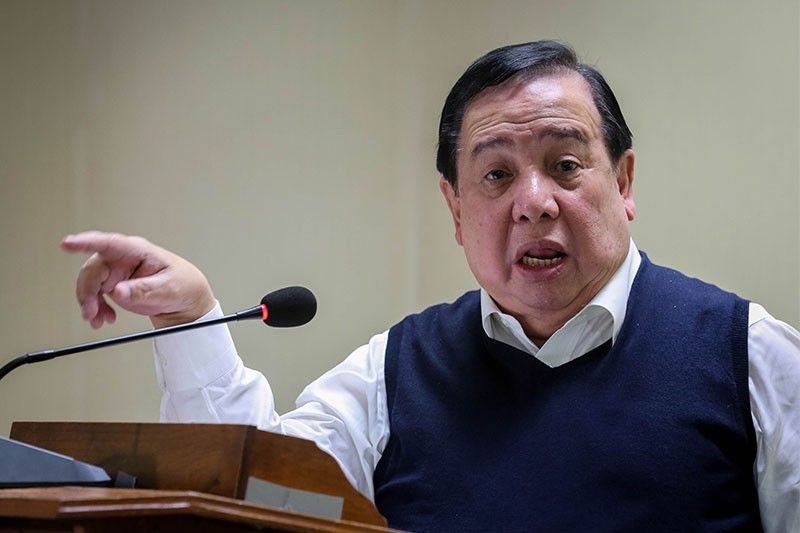 Sen. Richard Gordon releases blue ribbon committee preliminary report on rogue cops inquiry in Senate on Friday.
The STAR/Geremy Pintolo
Controversial Pampanga drug bust was 'hulidap' — Gordon
(Philstar.com) - October 18, 2019 - 4:03pm
MANILA, Philippines — The controversial anti-illegal drugs operation in Pampanga in 2013 was a case of "hulidap," Sen. Richard Gordon said Friday.
Gordon recommended the filing of charges against former Philippine National Police chief Oscar Albayalde, then police provincial director, for being part of the "hulidap" and subsequent cover-up on the policemen involved in the incident.
"Talagang hindi buy bust. Ang pakay ay hulidap. Ni walang test buy," Gordon said in a televised press conference.
"Hulidap" is a portmanteau of the words "huli" or catch and "hold-up" and refers to police officers staging an arrest to extort money from innocent civilians.
The senator also pointed out that the commanding officer at the time was Albayalde.
"Bakit hindi kumikibo si Albayalde that time? Hinuli mga tao niya at pati siya sinuspinde," the senator said.
"It was a comedy of lies, errors. Sinasadya eh," Gordon said, referring to the 2013 incident.
Gordon stressed that Albayalde was aware of the drug operation even before his men in Pampanga carried it out in 2013.
Citing the report of the Senate blue ribbon and justice committees, Gordon said Albayalde, Major Rodney Baloyo IV and other alleged Pampanga "ninja cops" are guilty of malfeasance, misfeasance and nonfeasance.
However, it would up to the courts to decide on the charges against Albayalde and the other policemen.
Justice Secretary Menardo Guevarra said his agency would review the Senate committee report first before recommending the possible filing of charges against Albayalde.
"Needless to say, any new or additional respondent will be given sufficient opportunity to submit his counter-affidavit and other controverting evidence as part of procedural and substantive due process," Guevarra said. — Patricia Lourdes Viray
As It Happens
LATEST UPDATE: January 17, 2020 - 11:32am
Senate Minority Leader Franklin Drilon calls on the Department of Foreign Affairs to cancel the passport of Guia Gomez Castro, a former barangay official in Manila's Sampaloc district who has been tagged as a supposed "drug queen."
Castro, former barangay chairperson of Barangay 484 Zone 48 has been confirmed to have left the country on September 21 for Bangkok, Thailand.
This was days before her name was made public as in cahoots with 16 police officers in "recycling" seized drugs for sale ont the street. Nine of these lawmen have been killed by motorcycle-riding gunmen.
"It appears that Mrs. Castro does not intend to return to the country and face the warrants of arrest issued against her since 2002 for violation of Republic Act 6425 or the Dangerous Drugs Act. Hence, she is a fugitive from justice," Drilon says.
"The jurisprudence clarifies that mere commission of a crime and subsequent flight thereto sufficiently meets the definition of a fugitive," Drilon says.
"Hence, the DFA, to avoid miscarriage of justice and by virtue of the Philippine Passport Act, can validly and lawfully cancel her passport so we can restrict Castro's movement, and summon her back to the country to face charges against her," Drilon, a former Justice secretary, says.
January 17, 2020 - 11:32am
Baguio City Mayor Benjamin Magalong hopes justice will be served to the victims of "ninja cops," pilice officers who allegedly steal seized drugs to sell them again.
Magalong, former director of the police Criminal Investigation and Detection Group, who testified at the Senate against former Philippine National Police Gen. Oscar Albayalde hailed the former police chief's indictment by the Justice department as "a positive development", as he sees the importance that the Filipino people "are entitled to know what really transpired in Lake Shore, Pampanga in November 2013." -- The STAR/Artemio Dumlao
January 16, 2020 - 6:22pm
The panel of prosecutors who reinvestigated criminal complaints on the 2013 Pampanga drug raid finds probable cause to charge ex-PNP chief Oscar Albayalde and 13 other cops for violating graft laws.
JUST IN: DOJ finds probable cause to charge ex-PNP chief Oscar Albayalde with violation of graft laws over "ninja cops" controversy involving a Pampanga drug raid in 2013. @PhilstarNews pic.twitter.com/fVNtuZpnUc

— Kristine Patag (@kristinepatag) January 16, 2020
October 28, 2019 - 4:57pm
President Rodrigo Duterte will leave the criminal liability of the 'ninja cops', or police officers who allegedly sold drugs that were seized in a police operation, to the Office of the Ombudsman, News5 reports.
Duterte on ninja cops: For your criminal liability, it belongs to the Ombudsman.

— News5 AKSYON (@News5AKSYON) October 28, 2019
The police Criminal Investigation and Detection Group last Monday filed a criminal complaint against former Philippine National Police chief Oscar Albayalde by including him in an amended complaint against 13 so-called "ninja cops" from a controversial 2013 Pampanga drug raid.
Albayalde was accused of violating Section 27, Article II of Comprehensive Dangerous Drug Act (misappropriation, misapplication or failure to account for seized drugs), Section 3 (a) and 3 (e) of the Anti-Graft and Corrupt Practices Act, Article 171 (falsification by public officer) and Article 208 (negligence) of the Revised Penal Code.
The complaint was filed before the Department of Justice.
October 21, 2019 - 11:00am
Former PNP chief Oscar Albayalde is included in the list of respondents in the complaint filed before the DOJ over the 2013 "ninja cops" scandal.
Former PNP Chief Oscar Albayalde was included in the list of respondents in the complaint filed before the DOJ. This is in line with the alleged multi-million peso illegal drugs raid by Ninja Cops, in 2013 in Pampanga.?@PhilippineStar? pic.twitter.com/nD4cH4saZE

— evelynzmacairan (@EZMacairan) October 21, 2019
October 21, 2019 - 9:23am
The Philippine National Police places all key positions under probation for three months while all promotions are on hold as the agency undergoes an "internal cleansing on steroid."
"I have ordered the massive revamp beginning at the national headquarters down to the regional level. We expect fresh ideas, fresh enthusiasm and fresh resolve," PNP officer-in-charge Lt. Gen. Archie Gamboa announces in a media briefing Monday.