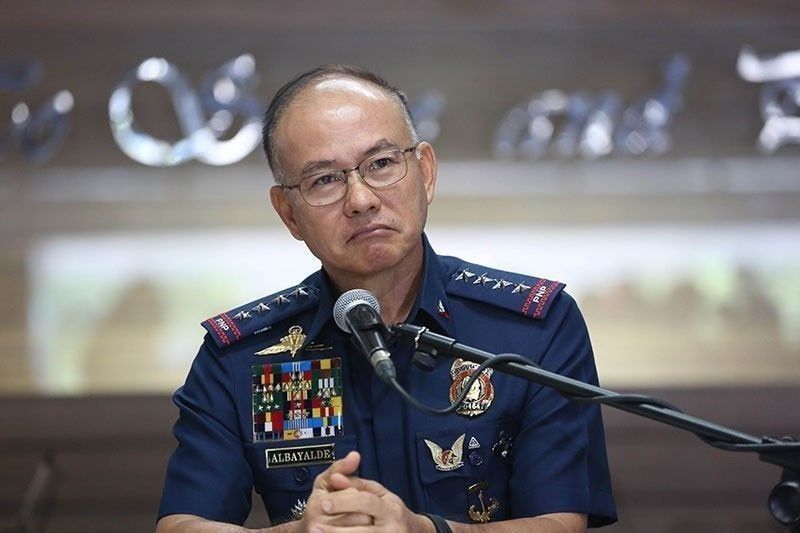 File photo shows Gen. Oscar Albayalde, who stepped down from his post as the chief of the Philippine National Police.
The STAR/Boy Santos, File
Albayalde faces criminal raps over 2013 drug raid
(Philstar.com) - October 21, 2019 - 11:12am
MANILA, Philippines (Updated 12:44 p.m.) — The Criminal Investigation and Detection Group filed a criminal complaint against former Philippine National Police chief Oscar Albayalde.
The CIDG—the primary investigation arm of the PNP—included Albayalde on the list of respondents in the amended complaint against the 13 so-called "ninja cops" from the controversial 2013 Pampanga drug raid submitted to the Department of Justice on Monday.
Albayalde was accused of violating Section 27, Article II of Comprehensive Dangerous Drug Act (misappropriation, misapplication or failure to account for seized drugs), Section 3 (a) and 3 (e) of the Anti-Graft and Corrupt Practices Act, Article 171 (falsification by public officer) and Article 208 (negligence) of the Revised Penal Code.
"All elements are present in this case when [Police Senior Supt.] Albayalde deliberately failed to file and prosecute the case against [Police Supt. Rodney] Baloyo and his team because they were his men," said the CIDG's referral complaint addressed to Prosecutor Benedicto Malcontento.
The complaint stemmed from an operation in Pampanga in 2013 where 13 policemen led by Baloyo were accused of making off with shabu worth P648 million at the time and setting free alleged drug lord Johnson Lee.
Albayalde was the provincial director of Pampanga when the anomalous drug raid happened.
The scandal led to the resignation of Albayalde as the country's top cop.
In a message to The STAR reporter, Albayalde welcomed the filing of the CIDG complaint, saying he would now be given due process.
Last Friday, two Senate blue ribbon and justice committees said that Albayalde and the 13 cops were "guilty of malfeasance, misfeasance and nonfeasance" and recommended that they be charged for misappropriation of drugs.
The two Senate panels said that Albayalde also violated the Anti-Graft and Corrupt Act.
Original drug complaint
The original complaint filed by the CIDG against the 13 policemen was dismissed by prosecutors in 2017 but Justice Secretary Menardo Guevarra ordered a reinvestigation following a Senate inquiry that revealed alleged irregularities in the raid.
Last Wednesday, the DOJ officially reopened its investigation into the questionable Pampanga drug raid.
All respondents, except Baloyo, were present in the preliminary investigation. He is detained at the New Bilibid Prison after the Senate cited him in contempt for "lying" and being "evasive" during a legislative inquiry. — Gaea Katreena Cabico