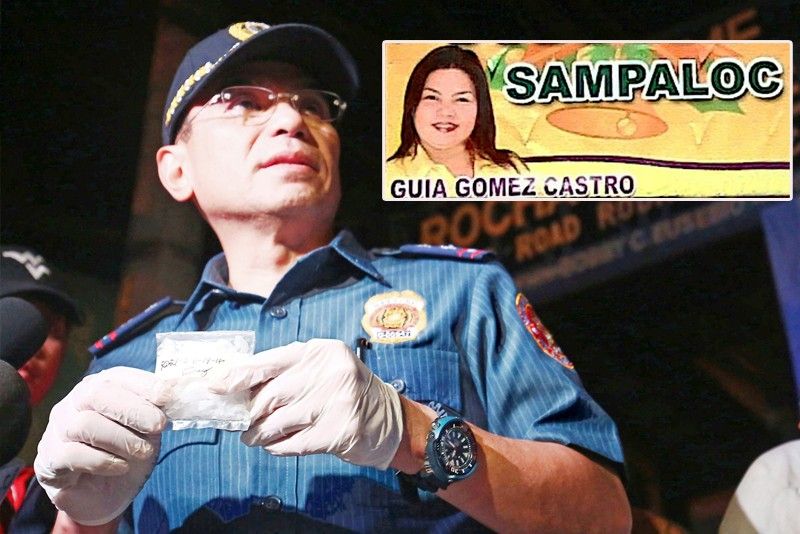 NCRPO director Maj. Gen. Guillermo Eleazar holds a sachet of shabu following a raid on a drug den in Pasig City in this file photo. Eleazar said they are building a case against a former barangay captain responsible for reselling seized illegal drugs with the help of rogue cops. Manila's alleged drug queen, identified as Guia Gomez Castro, is seen in this political streamer (inset) taken several years ago in Sampaloc, Manila.
Miguel de Guzman
'Drug queen' named, but out of the Philippines
Non Alquitran
(The Philippine Star) - September 26, 2019 - 12:00am
MANILA, Philippines — Police are building a case against a former barangay captain accused of reselling or recycling illegal drugs seized in law enforcement operations with the help of rogue cops.
The Philippine Drug Enforcement Agency (PDEA) said corrupt policemen have been selling shabu worth P16.6 million daily in cahoots with Guia Gomez Castro, tagged as the drug queen of Sampaloc, Manila where the University Belt is located.
Castro, former captain of Barangay 484, Zone 48, is allegedly being protected by the so-called "ninja" police officers and other politicians.
"We are coordinating with various courts in Metro Manila where she was charged with drug offenses, prior to working for her extradition for her to answer for her misdeeds. We want to lock her up behind bars," said National Capital Region Police Office (NCRPO) chief Maj. Gen. Guillermo Eleazar.
The Bureau of Immigration (BI) confirmed yesterday that Castro left the country last Sept. 21 on a Cebu Pacific flight for Bangkok, Thailand, just days after arriving in the Philippines from Vancouver, Canada on Sept. 18.
BI spokesman Dana Sandoval said immigration personnel did not flag Castro before she left the country due to the lack of derogatory record.
Eleazar said Castro's involvement in the illegal drug trade has been an "open secret" in Manila but was only confirmed after her cousin, Porferio Pementera, was arrested in April this year and his wife Ivy Rose in February last year.
Police said Castro was in cahoots with 16 police officers in recycling drugs. Nine of these lawmen have been killed by motorcycle-riding gunmen.
"We are studying if the drug queen is responsible for the purging of some of the involved cops," Eleazar said.
Meanwhile, the rest of Castro's ninja cops are already retired, dismissed or went on absence without leave. One of these cops, identified as Cpl. Jolly Aliangan, was arrested and detained by the National Bureau of Investigation in a previous operation.
The Metro Manila police chief said they were keen on having Castro extradited to the country to face charges.
U-belt empire, political endeavors
Castro allegedly owns several high-rise buildings in her neighborhood and several places in Manila and Eleazar claimed they are gathering evidence that these were "fruits of her crime" so the government could sequester them.
Sources told The STAR that Castro ran for councilor in the 4th district of Manila in the 2016 elections but lost.
Manila Mayor Isko Moreno, however, clarified yesterday that Castro is no longer chair of Barangay 484 – a post she just won last May.
"She was elected in the last elections, but in April to June this year, she applied for a leave of absence from her office," Moreno said, stressing that she has not returned to her office since, which prompted the barangay council to approve a resolution removing her from the post.
The number one barangay board member assumed her post, per the rules on succession.
Eleazar said the Philippine National Police (PNP) was also continuously monitoring the activities of 22 more policemen involved in drug recycling, five of whom were assigned in Metro Manila.
A total of 854 police officers are under the government's drugs watchlist, according to PDEA. Of the number, 372 are still in active service, including at least 22 ninja cops.
'Due diligence'
Senate President Vicente Sotto III hit back yesterday at the PNP leadership, which earlier asked the chamber to exercise "due diligence" before disclosing the identities of rogue police officers allegedly involved in the pilfering and selling of drugs seized from drug traffickers.
Sotto bristled at the statement issued on Tuesday by PNP spokesman Brig. Gen. Bernard Banac saying the Senate is merely a recipient of various information, including sensitive ones, that remain of public interest even if they are confidential in nature.
"What do they mean by due diligence? We are merely recipients of information. All information that reaches us is used in aid of legislation, so if there are unfavorable incidents, and to prevent them from happening again, we incorporate it (information) in the laws. That is all we have," a visibly irked Sotto told reporters.
"What do they want us to do? Not to listen?" he said.
The Senate on Tuesday voted to authorize the Blue Ribbon and justice committees to lift the secrecy over the information divulged by Baguio City Mayor Benjaminn Magalong last week to senators in executive session.
The vote meant, among others, that the committees can provide Duterte the information given confidentially by Magalong and other witnesses.
Sen. Panfilo Lacson included a case folder of a drug case involving a police official among the information that can be disclosed by the two panels.
Sotto said the Senate and its committees are not the courts or prosecutors. It is up to the other branches – the executive and judiciary – to act on information from Congress.
The transcript of the executive session with Magalong has already been transmitted to President Duterte, according to Sen. Richard Gordon, chairman of the two committees.
PDEA director general Aaron Aquino, meanwhile, clarified that drug recycling was not rampant, contrary to his recent pronouncements and that he was simply answering questions from senators.
He admitted that the government may not be able to eradicate the drug menace by the time Duterte steps down in 2022.
He said only 42 percent of the 42,045 barangays in the country have been cleared of the drug problem midway through Duterte's term, with the remaining 58 percent the most challenging due to the level of drug use.
"I think what I can do is 70 percent in terms of drug clearing of villages," Aquino said. – With Paolo Romero, Robertzon Ramirez, Cecille Suerte Felipe, Emmanuel Tupas