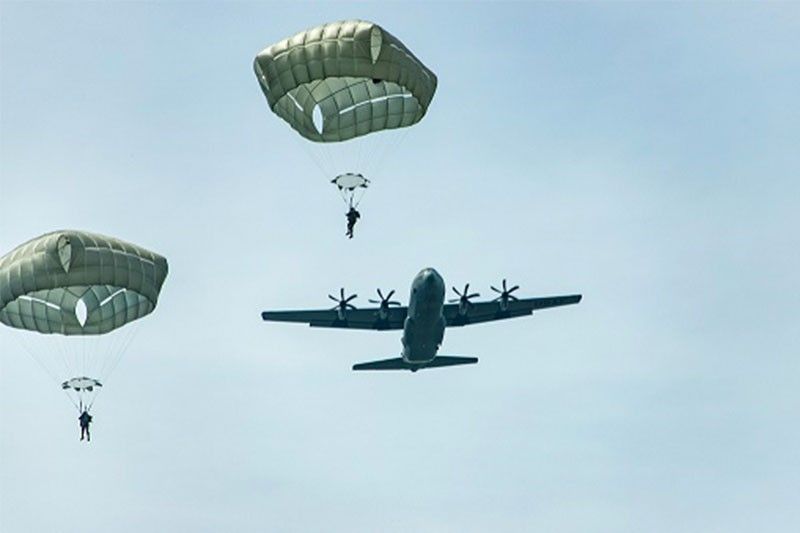 In this Sept. 22, 2019 photo, US and Philippine paratroopers conducted a combined jump during a Combined Airborne Operation at Basa Air Base in Pampanga.
US Army/Release
Philippines, US hold joint air exercises
(Philstar.com) - September 23, 2019 - 5:10pm
MANILA, Philippines — To enhance technical expertise in airborne operations, the Armed Forces of the Philippines launched bilateral exercises with their US counterparts.
The AFP, along with the US 4th Infantry Brigade Combat Team and the 25th Infantry Division, started a bilateral airborne operation last Thursday, which would last until Wednesday.
Philippine Army commander Lt. Gen. Macairog Alberto said the joint exercise also strengthens combat interoperability with their US counterparts.
"This training will enhance our troops' technical expertise in airborne operations, enabling our combat units to better respond to future contingency operations and other security challenges," Alberto said.
The joint drills between Filipino and American troops build both forces' technical competence, fosters interoperability and provides a greater understanding of how allies work together, the US Embassy said in a release.
US Army Alaska's Brig. Gen. Gregory Day said they are committed to working with their Filipino counterparts to improve airborne capabilities.
"We appreciate the opportunity to train here and the hospitality shown by our partnered forces has been incredible," Day said.
The Philippines and the US have been allies for over 70 years following the signing of the 1951 Mutual Defense Treaty.
The two countries are planning to conduct over 300 security cooperation activities in 2020 as agreed upon during the recently concluded Mutual Defense Board and Security Engagement Board meeting. — Patricia Lourdes Viray