Philippines, US plan 300 'security cooperation activities' in 2020
September 13, 2019 | 4:13pm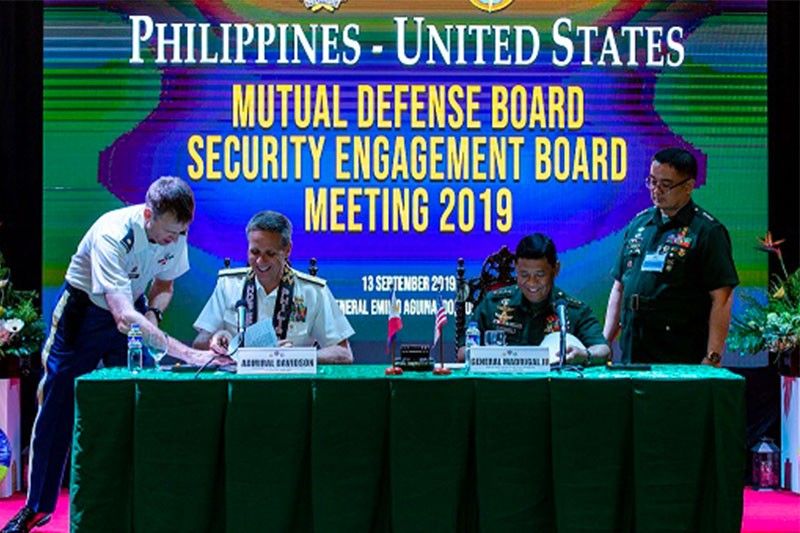 MANILA, Philippines — The Philippines and the United States have agreed to conduct more than 300 security cooperation activities next year.
This was the result of the recently-concluded 2019 Mutual Defense Board and Security Engagement Board (MDB-SEB) at military headquarters Camp Aguinaldo.
The planned activities for 2020 have increased compared to the 281 activities this year, the US Embassy in Manila said in a media release.
Although no specifics on the activities were given, the embassy said the Philippines and the US reaffirmed their alliance through enhancing cooperation in counterterrorism, maritime security, cyber security, humanitarian assistance and disaster relief.
Adm. Philip Davidson, commander of the US Indo-Pacific Command, said the two allies addressed regional security challenges in the meeting.
"We will continue to stand together on the foundation of common interests and values. Our national security, including economic security, is reliant on a free and open Indo-Pacific and a rules-based international order," Davidson said.
Armed Forces of the Philippines chief Gen. Benjamin Madrigal Jr. said the enhancement of defense cooperation between the two countries is the only way to move forward and prepare for challenges.
The MDB started in 1958, a few years after the two countries signed the 1951 Mutual Defense Treaty while the SEB was formed in 2006.
The board serves as a central forum for the armed forces of both countries to coordinate and plan military activities for the upcoming year. — Patricia Lourdes Viray